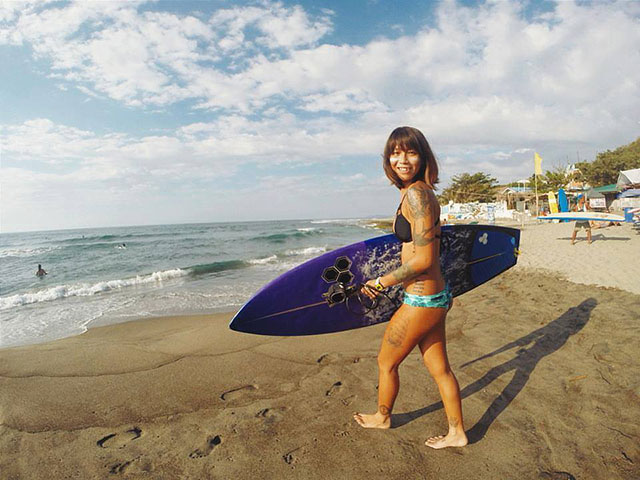 Name: Camille Pilar
Age: 28
Occupation: Writer; barista, El Union Coffee
Current place of residence: San Juan, La Union
Where did you live before moving to La Union, and what was your job then?
I lived in an apartment in Kapitolyo, Pasig and worked at Meridian International College (MINT) in McKinley Hill, Taguig. I taught English and Communication subjects to Media, Music, Film, and Business students.
When did you move to La Union?
I moved to La Union in October 2014, making it two years since!
What made you decide to move?
I wanted a simpler but richer life. Rich not in the monetary sense but in terms of quality of life. It was getting close to impossible to enjoy life in Manila. You get robbed of your time when you spend it powerless in traffic. Retail therapy becomes an easy escape, and soon, you spend more than you earn. It becomes too easy to live a life you can't afford, thus a life you can't love, when you are landlocked in the city. In Manila, I felt that I wasn't in control of my life. Moving to the province has since liberated me from that feeling of being trapped.
How did your friends and family react when you told them of your decision to move?
They were very supportive, and I am thankful for that. I will always be thankful for friends and family who trust my vision, even when it's slow to unfold at times.
Continue reading below ↓
Recommended Videos
Describe a typical day in your life in La Union.
I wake up earlier, sans alarm! When there are waves, I surf before going to work. I work at El Union, a specialty coffee shop in the middle of surf town. On our days off, my partner Harold and I spend time with our dogs (we have three!) at the beach. We surf more. We cook at home. We clean the house. We go to bed early. These are the simple joys of adulthood!
What do you love most about living in La Union?
I love being part of a highly creative and energetic community of like-minded individuals who also see the value in provincial living. Here, we support each other's ventures. I consider myself lucky to be friends with hardworking individuals who have put up their own businesses here, so whenever I need something—from bread to bikinis to surf accessories—I get it from people who make these things with love.
What challenges do you encounter living in La Union?
When you move to a new place, you have to make sure your presence will add to the community and not take away from it. We respect the locals here and those who have moved here before us. We follow their lead, and we integrate ourselves slowly but sincerely. We're still at that stage where we're learning from everyone; and when the opportunity to make ourselves useful arises, we take it. We help by giving what we can, especially when it means lending skills we were fortunate enough to develop in the city, such as teaching, writing, and designing.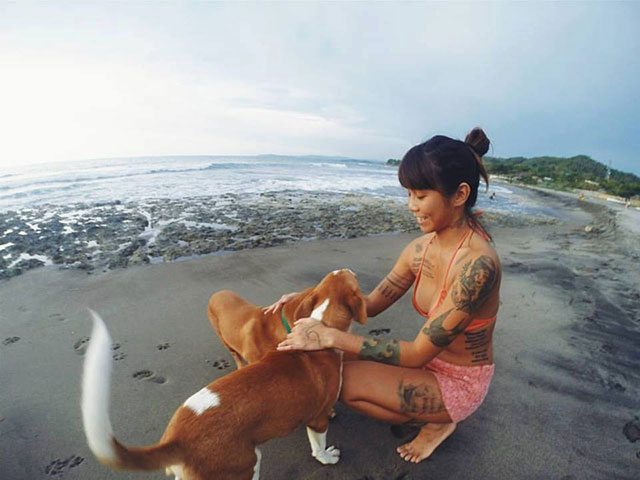 What do you miss most about living in Manila?
I definitely miss my friends there, although they've been coming to La Union to visit me and that makes me happy. It's an instant getaway for them and a mini reunion for us at the same time. The next time I'm in Manila, I'll definitely go on a food crawl because there have been a lot of amazing food and drink places that have opened since. I'll also swing by Fully Booked, because I miss being surrounded by all those books and art supplies!
In what ways have you changed since your move?
Living in a tourist destination shows you just how much garbage people leave behind when they're on vacation. As residents, we strive to help by reducing our own use of plastic. Harold and I do our own beach clean-ups when we walk our dogs. Since we're always on the beach anyway, it just makes sense to pick up trash that gets washed up or left behind. After all, this is home.
What lessons have you learned from your move?
Here, I've learned to give fully and from the heart. When you travel and move to different places, you see that kindness is the real currency of the world. Only when you are good to other people will you be truly good to yourself.
***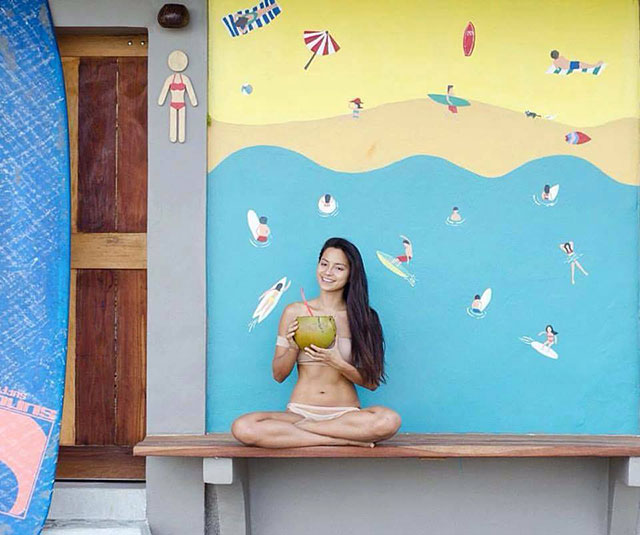 Name: Pia Lopez
Age: 27
Occupation: Commercial model; officer, Gubat Sorsogon Surfriders Association 
Current place of residence: Gubat, Sorsogon
Where did you live before moving to Sorsogon, and what was your job then?
I was living in Manila working as a commercial model, which I still do until now.  Before that, I was living in Maui, Hawaii, and working for a non-profit organization that focuses on agroforestry, reforestation, and indigenous societies.
When did you move to Sorsogon?
The move was gradual. I started splitting my time between Manila and Sorsogon in August last year. It started out with a week here and the rest of the month in the city. Now, I barely last five days in Manila.
What made you decide to move?
I did not really decide, it just kind of happened. I guess it started out with a journal entry. Just a little background, I grew up everywhere: Georgia, Colorado, Hawaii, and partly in Central America. But I was born in the Philippines, and I've always felt strongly about moving back. So more than three years ago, I wrote my goals down: live a purposeful life, still model but blend my passion for traveling and surfing with it, explore my home country, and live according to my beliefs.
I specifically wrote in my journal that I would travel to different surf spots in the Philippines, and end up working with the locals and an NGO about local empowerment, surf, ecotourism, and environmental stewardship. Within two years, this was actualized. I am very grateful.
How did your friends and family react when you told them of your decision to move?
My friends are happy for me. I remember my childhood best friend, Inna, saying it's what I've always wanted and she genuinely shares my joy. And I know my Ma is so glad. She lives her dreams; she is the perfect example of "making it happen." She taught me to be independent by just her example. She taught me how to heed my own calling.
Describe a typical day in your life in Sorsogon.
I wake up and drink this local robusta coffee or sometimes Lakad Bulan tea, which is made from banaba leaves. If the waves are good, we surf early or just work on projects with the Gubat Sorsogon Surfriders Association (GSSA). Our present projects right now include education on marine wildlife and rescue trainings, organizing surf national competitions, and tutoring kids. Sometimes there are meetings. And I have to keep up with the work in Manila, sending auditions and such. My boyfriend and I go to the farm often; there, the food is so fresh. We surf in the afternoon with the kids and his sister. And at night, the kids come by the house to fix and shape boards and just to spend time.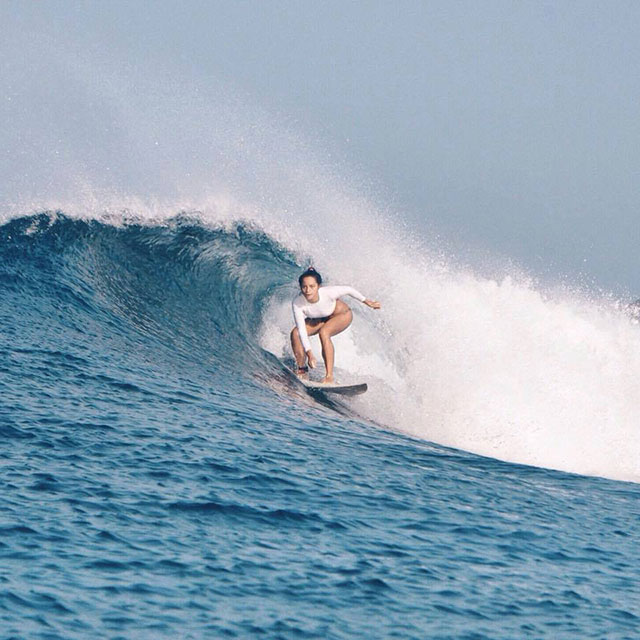 What do you love most about living in Sorsogon?
GSSA and gata (coconut milk). The surfing group I am a part of really makes the place for me. There is a sense of ALL here, a collective effort to ensure each other's well-being, a sense of camaraderie in the surf, and a feeling that everyone is working for something good. Plus, there are countless uncrowded surf spots here. I love so many things about this place.
But most of all, I love my boyfriend, Bidge. He has dedicated his life to mentoring the kids, emphasizing education, environmental stewardship, athleticism, and how to be outstanding citizens through surfing. I love being around people who are committed to their ideals.
What challenges do you encounter living in Sorsogon?
The biggest challenge I experience here is working against entities that see surfing and the ocean as "tourist products" and not as "people-, community-building" forces. It's hard to see over-development of pristine places. It's hard to see people capitalize on the pure things, but we don't give up.
What do you miss most about living in Manila?
I miss my close friends and this one restaurant called Pipino in Teachers Village.
In what ways have you changed since your move?
I'm a lot happier. More content.
What lessons have you learned from your move?
I'm learning more about balance. Even living in Sorsogon, I am constantly traveling still. I have to remind myself—because I sometimes forget—that this is what I want. This is my dream life, and I am very grateful. That's when the exhaustion just vanishes.
***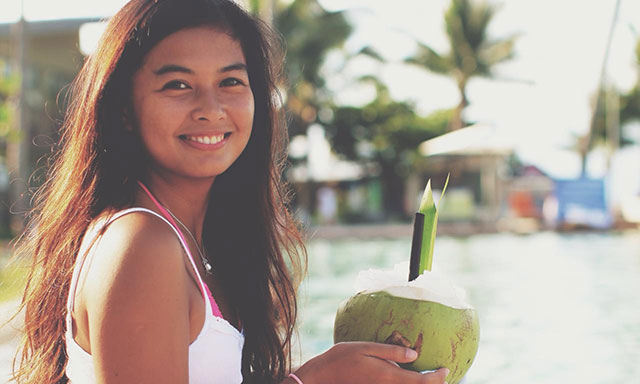 Name: Jovanne Lagman
Age: 25
Occupation: Freelance architect; contractor; business owner, Surfskwela Surf School
Current place of Residence: Baler, Aurora
Where did you live before moving to Baler, and what was your job then?
Before I moved to Baler, I was residing in Alabang, Muntinlupa City. I was studying in UP Diliman, taking up architecture.
When did you move to Baler?
I moved to Baler after I graduated in September 2015.
What made you decide to move?
I've loved Baler since the first time I visited the place in 2013 because of surfing. Since that first visit, I've only been a weekend warrior to Baler because my studies were my priority at the time. Once I graduated, I decided to move here.
How did your friends and family react when you told them of your decision to move?
They had gotten used to seeing me travel to Baler on weekends for years, so my deciding to move here was not a big shock to them.
Describe a typical day in your life in Baler.
A typical day would always start with a morning surf session, followed by work and site visits in the afternoon. Time between work and play would be spent with family and friends. On weekends, my time is typically split between the surf school I run, Surfskwela, and entertaining weekend visitors, friends, and family from Manila.
What do you love most about living in Baler?
Baler offers different activities for tourists and endless surf breaks for surfers, but what I love most about living here is the culture that the locals uphold and the hospitality that they exude. The spirit of simplicity is everywhere in this place, which aligns with the identity I've always had even when I was living in the city. There is something about this place that makes me feel safe.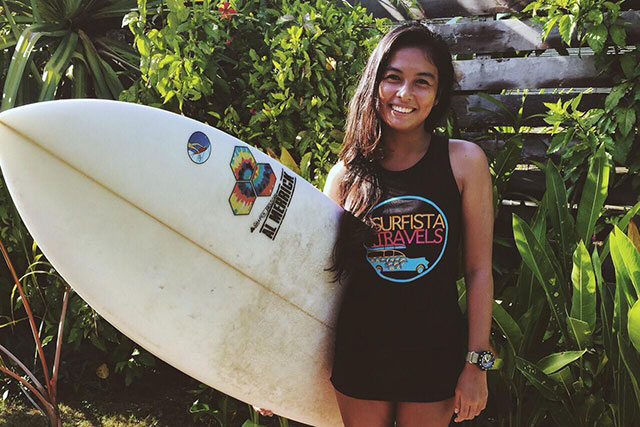 What challenges do you encounter living in Baler?
Compared to living in the city, fluctuations in electrical power are more common, and there's a greater lack of services from the government, such as garbage collection, cleanliness, and urban planning development (proper roadways, sidewalks, and coastline planning).
What do you miss most about living in Manila?
As much as I love simplicity and local cuisine or home-cooked food, I would always visit Manila to eat at my favorite restaurants and visit the cinemas!
In what ways have you changed since your move?
My body clock has changed—I'm up at 5am and asleep by 9pm now. There is a big difference between provincial time and city time, so the way I used to accomplish tasks in the city is faster than in Baler, mainly because everything done in Manila has to be given leeway for distance and time constraints. In Baler, everything is within reach.
What lessons have you learned from your move?
Since my move, the biggest lesson for me has been pushing myself to become successfully independent. As a fresh graduate, I was challenged to immediately ground myself and establish my career in Baler. I am fortunate to be given opportunities by people who are supportive and mentors who always offer a hand when I'm in need.
***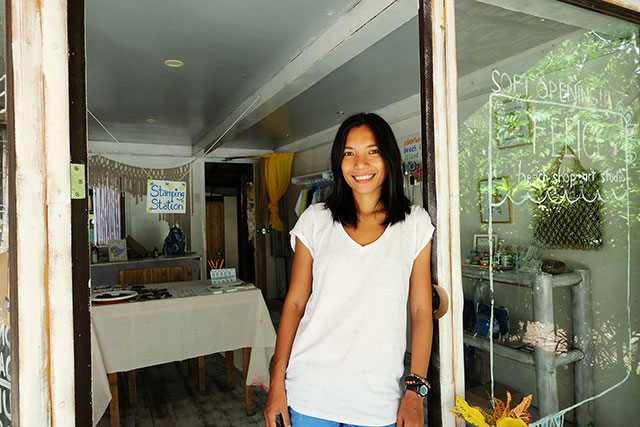 Name: Jof Sering
Age: 32
Occupation: Owner, Felice Beach Shop and Art Studio
Current place of residence: General Luna, Siargao
Where did you live before moving to Siargao, and what was your job then?
I was in Manila, doing various fashion-related jobs such as fashion buying, styling, and designing, and also dabbling in TV commercials and movies as a costume designer and production designer. I was also working on Felice, my own brand of beach-inspired art and accessories, on the side.
When did you move to Siargao?
I moved here with my then-boyfriend, now-husband, Fabio, in September 2015.
What made you decide to move?
Since my parents are originally from Surigao, my family would often spend vacations in Siargao. So even before I graduated from university, I was already thinking of living in Siargao for six months. However, I had no idea how I was going to do that on just my college savings, and there weren't that many work opportunities for me on the island then.
In 2008, I moved to Boracay and worked in a hotel just because I wanted to live on an island. This was a turning point in my life; I realized then that island living was truly in my blood. I moved back to Manila in 2010, but the dream of living on an island again was not far from my mind.

Last year, a friend of mine who's a wedding coordinator asked me to style a wedding in Siargao. Fabio and I flew to Siargao that September for the wedding project, and we never left. We got married in Siargao the following May, and by June this year, I opened the Felice beach shop and art studio here with my sister and business partner, Tara.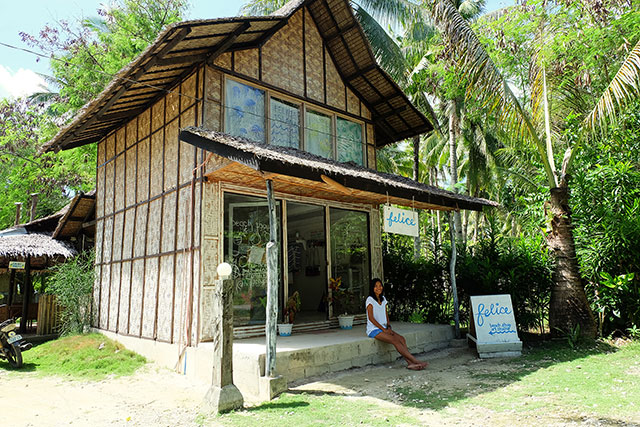 How did your friends and family react when you told them of your decision to move?
When I moved to Boracay in 2008, my parents weren't as ecstatic as I was. They're more city people, so moving to an island wasn't their cup of tea. When I moved to Siargao years later, my parents were less worried because, being originally from Surigao, the island is familiar to them. It was an easy transition with less resistance. But they were still dumbfounded by my decision, since the island they remembered was all dirt roads and nothing much. When they recently came to visit for my wedding, they were both surprised that there are now all these restaurant choices and other newly developed spaces.
Describe a typical day in your life in Siargao.
I wake up at around 6 a.m. but don't get up 'til about 7:30 a.m. Fabio and I then prepare breakfast and let our dog out of the apartment to play with her siblings. We stay at and co-manage Tawin Homestay, an apartment rental space that's great for long-staying guests, so checking up on our guests is part of our morning routine. At 9 a.m., I hop on my motorbike and drive to Felice, and at 10 a.m., I open shop. I hold gymnastics, hip hop dance, and art classes for kids at Felice, and at 3:30 p.m., if there's a class scheduled, I prepare snacks and materials for them. At 5 p.m., once I've closed shop, I sometimes head to the beach just to be alone; sometimes I head straight back home. I have early dinner with Fabio, and we just hang out or watch a movie at home until we go to bed at around 9 or 10 p.m.
What do you love most about living in Siargao?
What I love most about living in Siargao is the laidback lifestyle. Compared to the island where I used to live, it's also nice and quiet, and has a lot of coconut trees! Plus, Tawin Homestay where we live is right in the jungle close to the mangroves. It's so peaceful here. We're lucky to be living in this beautiful landscape.
What challenges do you encounter in living in Siargao?
One of my biggest challenges is getting good vegetables. There are organic farms that are great for a vegetarian like me, but other basics like carrots and potatoes come from other parts of Mindanao, and they usually end up feeling squishy when they arrive at the market. Also, proper waste disposal on the island. There's an organization called Sea Movement that's trying to find solutions to this problem. Hopefully in time, proper systems will be in place before the island becomes highly developed.
Another major challenge is the balancing act of work and play! Just because I live on an island doesn't mean I play all day as I would like to; I have so many things to do within the day, and sometimes a day passes by so fast just like in the city. I chose to stay here because I wanted to slow down, take good care of myself, and be creative. However, sometimes, I end up doing admin work all day and missing the sunset.
What do you miss most about living in Manila?
I miss my family the most. Most of them are still living there so the main reason I come to the city is to visit them.
In what ways have you changed since your move?
I'm more relaxed in Siargao, and living here, having my own business, and starting my own family is really aligning me with my goals. The island's inherent energy is magical and that's why people stay—they want to feel more of that magic. I feel it in the smallest things, from the road on the way to the shop, to when I park my bike by the boulevard that has such a beautiful view of the other smaller islands. Legend has it that there's gold or some treasure hidden underneath the island—who knows? Maybe that's where all the magic is coming from.
What lessons have you learned from your move?
One lesson I'm still trying to master is the elusive act of balancing work and play. It's still a recurring learning curve for me.
***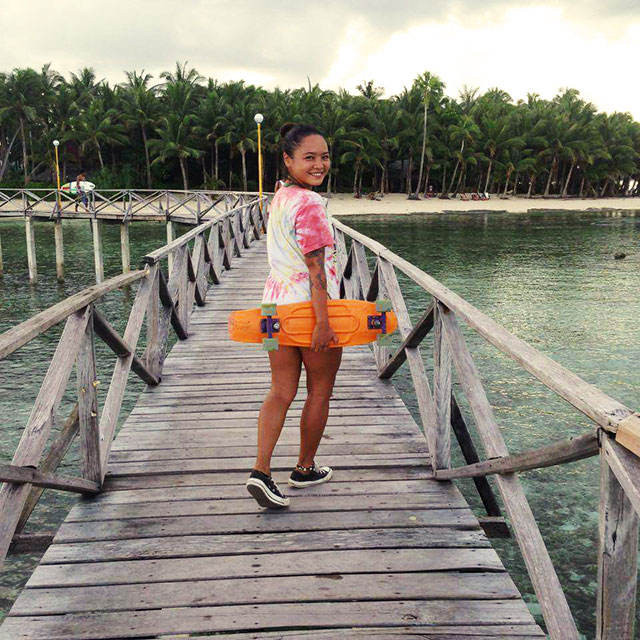 Name: Camille Banzon
Age: 29
Occupation: Hostel owner, The Hangout; freelance writer
Current place of residence: General Luna, Siargao
Where did you live before moving to Siargao, and what was your job then?
I lived in Mandaluyong before I moved to Siargao. I was a freelance writer and was an editor for an arts and culture website.
When did you move to Siargao?
I moved to the island in September 2015.
What made you decide to move?
Siargao is possibly the most beautiful (and coolest) place I have ever seen in the Philippines, and moving here was something I had thought about just days after my first visit. When I visited the island in June 2015, I wasn't expecting to be swept off my feet. I knew I wanted to go back in September and stay for at least six months. But an opportunity came to open my own guesthouse, and that obviously prompted me to move to the island. Aside from that, the surf is amazing, the food is delicious, and the locals are warm and lovely. It's easy to feel at home on the island, and as long as you do good, good things will happen to you.
How did your friends and family react when you told them of your decision to move?
At first they thought that I had completely lost my mind. Some of my friends thought that maybe I was just "soul-searching" or that I was trying to escape from something in the city. Thinking about it, maybe they were right; I wanted to escape the stress and the pressures of living in such a bustling environment. My mom and aunt have been supportive all throughout this transition, because I keep telling them how beautiful the island is and how much I feel at ease in this place.
Describe a typical day in your life in Siargao.
A typical day would start early: I'll water the plants, feed my dog, and check if everything is neat or at place in the hostel. Then I would usually see if there's an opportunity to surf in the morning. I'd cook lunch, and then mostly hang around the house with the guests and friends who regularly come by the hostel. On some days we'd take a walk and go to the beach, or skate and bike around.
What do you love most about living in Siargao?
The best thing about living in Siargao (aside from having unlimited waves to surf and beautiful beaches) is the simplicity that goes with the lifestyle. People don't have a lot here, but they are some of the happiest and most helpful people I've met in my life. As long as they are able to do what they want, like surfing, eating well, and being with people they love, they are content and kind-hearted. For me, this kind of behavior is inspiring and rare in the city. It defines the real island life, which I've been longing to experience every day since I started traveling.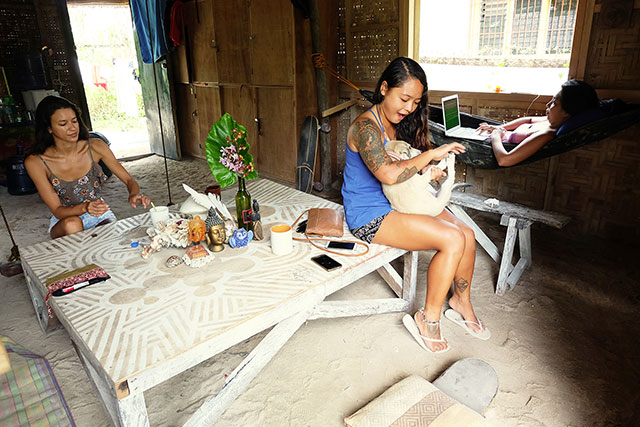 What challenges do you encounter living in Siargao?
Being born and raised in the city, I expected to have a hard time transitioning from living a life filled with easy comforts to living in a place with limited resources and services. Honestly, I don't find it difficult at all. It was easy for me to be used to sand and sun every day. But there are some things that I find challenging, like finding a dentist, seeking medical assistance, or having the freedom to choose which brands of products I like. However, this living situation teaches me to always take care of myself and make sure that I am not physically hurt, and that I shouldn't be picky.
It was a challenge communicating with the locals but I am slowly learning the local language, and rather than a challenge, I look at it as a learning experience.
What do you miss most about living in Manila?
Seeing my family and the friends I grew up with on a regular basis is something that I definitely miss most about living in the city. Another thing I miss is watching gigs and shows, and experiencing the arts and culture scene in Manila. I don't miss the fast food, the party scene, and the traffic at all.
In what ways have you changed since your move?
I could say I've become calmer, more patient, and more easygoing. It's hard to be stressed in a place like Siargao. Even if I run a business and constantly encounter problems, I believe that having a relaxed mindset is the key to having an easy life. This didn't apply when I was living in the city, especially with the traffic, pollution, and harshness that exists in having to maintain a job or survive a professional setting. I've learned how to be more compassionate, especially since I have to deal with such a wide array of personalities day in and day out. I've become less materialistic, and I was able to let go of certain vanities that would only exist when I lived in the city (like going to the salon, shopping for clothes, spending a lot on food). I could also say that I've become a better cook since moving to Siargao. I'd always experiment in the kitchen and have my friends and guests eat the food I make. It makes everyone happy, too!
What lessons have you learned from your move?
The most important lesson I've learned is that it is possible to live simply and be completely happy. I've also learned that home is relative. I remember writing something in my journal months after I made the move. It was about the concept of home and how I have learned and realized that my perception of change develops as I move. I wrote to myself: "Sometimes I will miss home and sometimes I will be happy that I am gone. Sometimes I'll feel the urge to look back. Whatever I do, I should know that my home is not a house. It is when I wake up in the morning and feel the bliss that goes with seeing coconut trees, feeling the strong greeting of sunshine and the invite of the ocean."
Follow Cheekie on Twitter.
EXPLORE COSMO