Catcalling may seem like a harmless "expression of appreciation" to those who dole it out, but to the persons on the receiving end… that's definitely not the case. Words like "fear," "panic," and "threat" come to mind as sexual harassment is, as Senator Risa Hontiveros put it in a roundtable discussion on May 5, "ultimately a question of power between or among the sexes and genders."
At the informal forum, Senator Hontiveros pushed for support of the proposed Safe Spaces Bill (S.B. No. 1326) looking to penalize catcalling, wolf whistling, and homophobic or transphobic slurs to name a few, which are often hurled at women and LGBT persons on the streets and other public spaces. It also aims to clearly define sexual harassment in public spaces, the corresponding penalties for such acts, and to educate children in schools on the subject matter.
Essentially, once passed as a law, the Safe Spaces Bill will make safe space ordinances like the ones in effect in Quezon City and Baguio City a nationwide thing.
While waiting for it to become a law, though, Senator Hontiveros' office, together with gender advocate organizations UST Hiraya, UP Babaylan, and Grrrl Gang Manila have taken on an initiative to help foster a more secure environment for women and members of the LGBT community.
They've partnered with bars and restos around the Metro to create Safe Space Zones that would hold the management accountable for any form of sexual harassment that has been experienced and reported by a patron in their establishment. Here's a list of these women- and LGBTQ+- friendly places to date:
IN MANILA:
Cubix Boradgame: Café and Bar
Four Monkeys Bar and Kitchen
Ballroom Billiard Hall
RGD Restobar
Allen's Eatery
Tapsi (along Sampaloc Asturias St.)
Samgyupsalamat, Fusebox Branch
Mineski Infinity Internet Café (along Dapitan St.)
933 Co Working MNL
Zoyy's Republic
The Pit 1210
Willgates Internet Café, P. Noval Branch
Willgates Internet Café, V. Concepcion Branch
Laurenz Bistro
Acustica Restobar
Breeze Restaurant & Bar
Polytechnic University of the Philippines
Continue reading below ↓
Recommended Videos
IN MAKATI:
XX XX Bar, La Fuerza Compound
IN Q.C.:
Cup Fiction
Uncle Moe's Shawarma Hub
IN PASIG:
You can also check out the map below: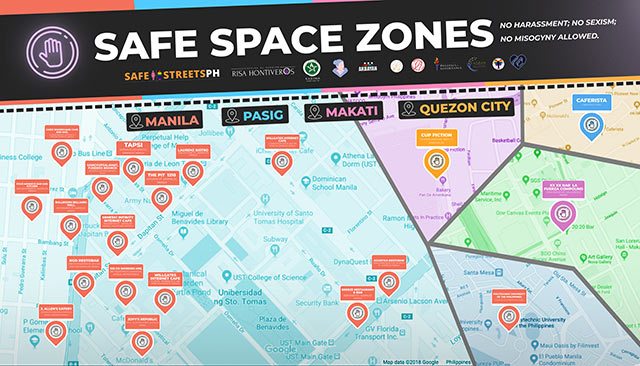 These establishments have read, agreed to, and signed the Safe Space Zones Policy, which outlines the management's duties when it comes to incidences of sexual harassment and discrimination.
Founder of UST Hiraya Stef de Guzman explains, "So kunwari, if sa isang Safe Space Zone, you are harassed or discriminated against, may responsibility yung management to help you and to ask the offender to leave the establishment. And a lot of the establishments around our university, gusto [rin nila 'to] kasi they want their establishments to be safe spaces for the students 'cause they want to protect us kasi kami yung lagi nilang patrons."
According to de Guzman, besides getting these establishments on board with the Safe Space Zones Policy, they also take it upon themselves to check in with management on a weekly basis to see if there have been any incidents of harassment or discrimination. They also leave their contact details with the establishments in case they have updates to report or need assistance in upholding the said policy.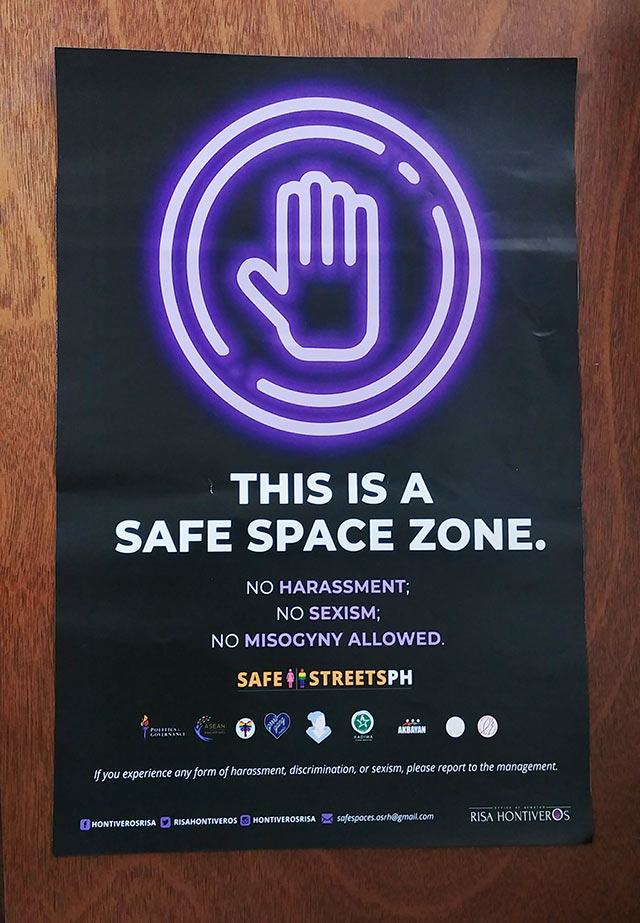 Now, we know you're probably feeling underwhelmed by the numbers, but fret not. These establishments are only the beginning, assures Vince Liban, Punong Babaylan of UP Babaylan. They've already touched base with more bars and restaurants in the Q.C. area and are working to put up the poster pictured above to mark them as Safe Space Zones. They're also continuously looking to partner with more organizations to expand the reach of the Safe Space Zones.
Regardless of SOGIE (Sexual Orientation and Gender Identity and Expression), what clothes a person is wearing, and whether or not he/she has been drinking—everyone has a right to feel secure and protected equally under our laws. Civil action like the setting up of these Safe Space Zones can go a long way to help change cultures and attitudes that go against these principles.
If you, your organization, or establishment would like to participate in the Safe Space Zone efforts, you may contact the Office of Senator Risa Hontiveros through safespaces.osrh@gmail.com, her Facebook page, Twitter, or Instagram.
You may also report sexual harassment, gender-based discrimination, and sexism that you have experienced at Safe Space Zones directly through the channels mentioned above.
EXPLORE COSMO