Just a reminder that, even though she might put on a brave face on social media, Selena Gomez still has very vulnerable, very human feelings like the rest of us.
In an emotional segment on Apple TV+'s docuseries Dear..., Selena got very real about how body-shaming from internet trolls truly impacts her—and yeah, that means she also admitted that she hasn't always been 100% honest about the subject in the past.
"I lied," she said of some of her past social media displays of seemingly-impenetrable levels of self-love and body confidence. "I would go online and I would post a picture and I would say, 'It doesn't matter. I'm not accepting what you're saying.'"
In reality, Selena said that instead of being blissfully unaffected by the hate, she would actually be "in the room posting that, crying my eyes out, because nobody deserves to hear those things."
As anyone who follows Selena on Instagram or TikTok knows, she regularly shuts down body-shamers and makes it clear that she loves her body at all sizes. In January, she famously responded to trolling about her appearance at the 2023 Golden Globes in an Instagram Live video with her 9-year-old sister (and date for the event), Gracie Elliot Teefey.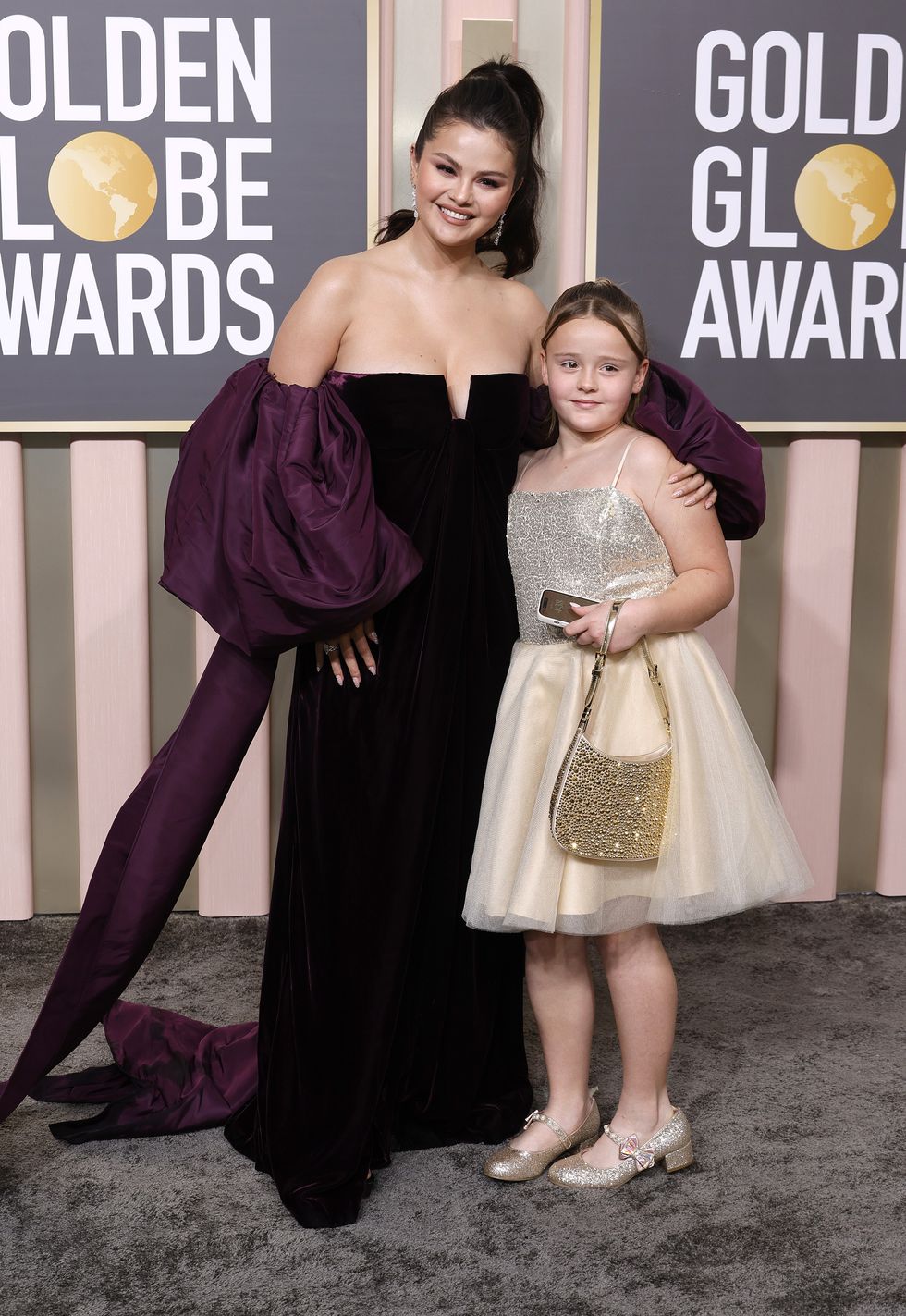 ADVERTISMENT - CONTINUE READING BELOW ↓
"I'm a little bit big right now because I enjoyed myself during the holidays," Selena explained before getting a "yeah" of solidarity from Gracie and adding, "But we don't care."
In her confession on Dear..., Selena explained that she's purposefully put forward a DGAF attitude about body-shaming because she wanted that to be true not just for her, but for fans and followers who would see her responses to trolls.
"I was posting these things saying it doesn't bother me because I didn't want it to bother other people who are experiencing the same thing," she explained (per Page Six). "Getting shamed for what they look like, who they are, who they love, I just think it's so unfair....I don't think that anybody deserves less than."
As she's pointed out in the past, Selena also reiterated that her ongoing battle with Lupus impacts her weight, which she's explained tends to fluctuate depending on her current medication regimen. Sadly, even after she went public with candid posts about how her chronic health issues impact her weight, she still finds herself "being shamed for gaining weight because of my Lupus."
In February, she detailed the role her Lupus treatment (which, as she also pointed out, is important for her health) plays in her weight fluctuations in an emotional TikTok live video.
"When I'm taking it, I tend to hold a lot of water weight, and that happens very normally. When I'm off of it, I tend to kind of lose weight," she explained at the time, adding that she's "Not a model, never will be."
"I just wanted to say and encourage anyone out there who feels any sort of shame for exactly what they're going through and nobody knows the real story. ... I just want people to know that you're beautiful," she added in the video (per Buzzfeed News). "Thanks for supporting me and understanding...If not, go away. 'Cause honestly, I don't believe in shaming people for [their] body or anything."
***

This article originally appeared on Cosmopolitan.com. Minor edits have been made by the Cosmo.ph editors.
ADVERTISMENT - CONTINUE READING BELOW ↓