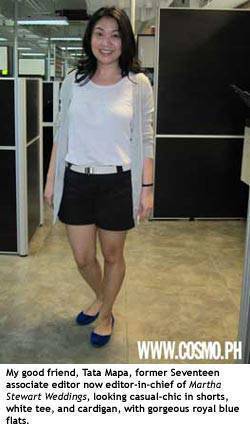 I'm so thrilled that shorts have finally climbed the fashion tier and are now considered stylish. I was just browsing
"Haven For The Hip And Fashionable Set"
here at Cosmo.ph and found it wonderfully refreshing that what I wore in college is now considered in vogue.
You see, being a student in the 90s, I was surrounded by peers who wore button-down tops, designer jeans, and heeled loafers. I, on the other hand, went to class in shorts, t-shirts, and sandals. I know I've gotten flack for this in the past, for my informal way of dressing. At one point, one of my guy orgmates pointed to my outfit—a Sesame Street baby tee borrowed from a roommate, red checkered shorts I've had since high school, and leather Birkenstocks—and said:
"
That's
what you wore today, like everyday that's what you wear?"
I was embarrassed, but what could I do? That was the time I knew nothing about shopping and didn't really have the resources to arrive decked to the nines in school. Besides, my outfits were COMFY and I felt my aesthetic made sense.
[readmore]
Another fashion faux pas I remember was wearing a Giordano striped pique collared tee and pants to a movie premiere, when all the girls were wearing little black dresses. I'll be forever thankful to my friend Henry, the org members' committee head, who kept me company during the movie and made me feel at home amidst the sea of slinky semi-formal wear.
It's ironic though, that if I wear the exact same outfit today, and then pair it with killer heels and maybe a gold lame belt, I wouldn't feel a notch self-conscious
at all
. In fact, I know I'd feel fierce and
fasyon
(I just read earlier that men's trousers are supposed to be trendy this season; also, I started wearing pique and collared shirts again last year).
During my magazine years, I came to realize that I tended to overdress because of this underlying fear of being ridiculed for not being outfitted well for any occasion. Eventually I snapped out of this and actually started going to events—and to the office once I found out it was okay—in shorts and easy tops (see Cosmo Beauty Ed Nicole's cute tank-and-denim combo); of course paired with good footwear and accessories. These days, I'd like to think I've struck a balance between my choices in casual and event wear. I now dress by mood and follow my own fashion(able) pulse.
Mariel Chua is the former beauty editor of Cosmopolitan Magazine Philippines. Visit her personal blog at http://nyminutenow.com.
ADVERTISMENT - CONTINUE READING BELOW ↓