Don't you just love it when you get a closer look into the lives of your favorite celebrity couples? Every time you watch their latest vlog or double tap their most recent Instagram posts, it's like you feel good that you know a little bit more about them, and that somehow, they're just like us! That's how we feel whenever we get content from Kryz Uy and Slater Young. Early this year, the SkyFam (and the rest of the internet, tbh) were in for a treat when they launched their very own Skypodcast.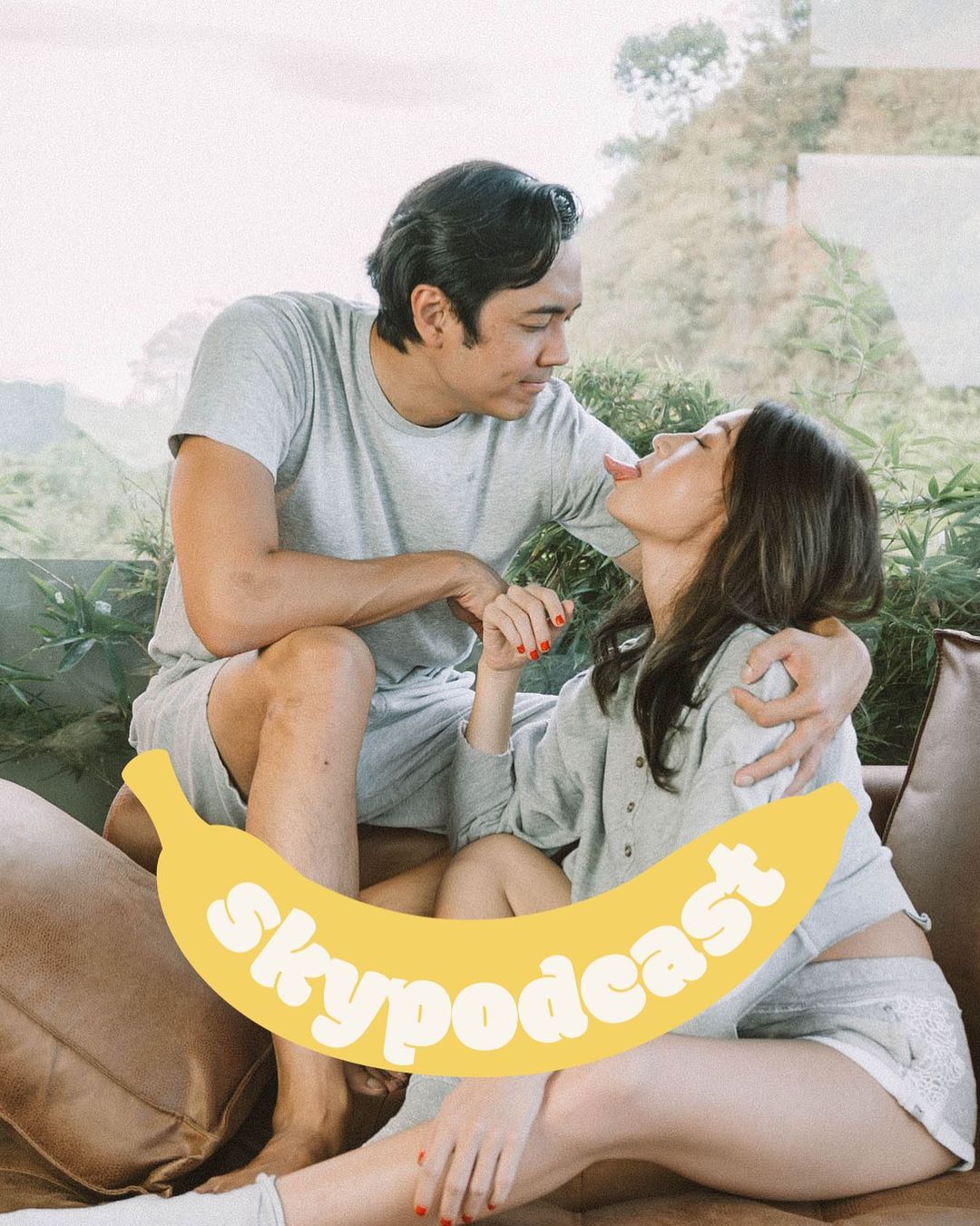 As one of the top podcasts in the Philippines, we knew we just had to check it out for our Slow Down With Cosmo series. Every week, we listen to a podcast and share our first impressions, favorite episodes, and takeaways to give you an idea of what you can expect to hear. We pick a podcast, listen to the first episode, and then randomly choose four other episodes, depending on our own interests. 
ADVERTISMENT - CONTINUE READING BELOW ↓
Our past reviews include Stories After Dark, Wake Up With Jim & Saab by celebrity couple Jim Bacarro and Saab Magalona, and Ang Walang Kwentang Podcast by director Antoinette Jadaone and spoken word artist Juan Miguel Severo. This week, we tuned in to Kryz and Slater's convos in the Skypodcast.
***
First Impressions Of Slater Young + Kryz Uy's Skypodcast Episode 1

In the pilot episode, The Toilet Ghost, Slater and Kryz get candid and talk about what it was like starting their Skypodcast.   
***
"Though I don't follow Kryz and Slater's content religiously, I have seen some of their videos, specifically the #SKYPOD tour, Slater's love letter to Kryz on her birthday, and more recently, their bedroom makeover. So when I found out that we were going to be listening to the Skypodcast this week, I already ~sorta~ had high expectations! Kasi maganda yung content nila. 'Di any-any.
The first episode of the Skypodcast was short—less than 10 minutes—and medyo nanibago ako 'cause that hasn't been our experience since we started Slow Down with Cosmo. But it was short *and* sweet. It was enough to get you to check out the other topics they've covered." -Ysa
"From the title pa lang, I already had a feeling that the podcast was going to be all sorts of quirky, funny, and interesting kuwentos. I mean, they did talk about toilet seats after all, lol. Their chemistry was definitely charming and the sound of their voices together was just *so* nice to hear. ASMR?! Haha! Their pilot episode aired on January 6, 2021, so it felt very promising that I would get to listen to fresh and ~timely~ content. Plus, I noticed that they call each other 'love.' Sobrang cute lang!" -Lou
Favorite Episodes

Just Got Lucky?
"In this episode, the couple talks about success and how it's achieved. Is it hard work? Is it dumb luck? Between Kryz and Slater, I didn't expect to relate to Slater more! Like him, I'm a planner. I tend to think about long-term goals and it's so, so hard for me to just simply start a hobby or a task. It's like I have to look at something from every possible angle or I have to consider all the possible outcomes before I can commit to it. While I know that some things *need* a little bit of planning, I also sometimes wish I could just be like, 'Fuck it, let's just try and see where it goes.' 'Di ako ganong tao, but I'm working on it, haha." 
Also listened to: Life Is Boring, The Secret, and Haters Gonna Hate -Ysa
Walang Forever
"Walang Forever is the sixth episode of the podcast and it's my favorite because Kryz and Slater talked about appreciating the little things in life, especially these days. I really agreed when they said that everything is fleeting and temporary, and that 'there's beauty in impermanence.' It was a good reminder that as much as it helps to plan ahead and think about the future, it's still important to ~live in the now~ because these moments—good and bad—will all be gone someday."
Also listened to: Life Is Boring, Just Got Lucky, and Love Is The Answer -Lou
Favorite Quotes
"My favorite quote is also from my favorite episode! Slater said, 'The more I embrace being a beginner, being awkward and knowing that that's just the first step, the more I actually had fun.' I *think* he was talking about when he started vlogging here. Apparently, it took years for him to go for it kasi he wanted everything to be just right. And I'm the same way with all the ideas swimming in my head. I always think, 'Wala pa ko nito, 'di pa ready yung ganyan...' There are times when I think, UGH, WHY CAN'T I JUST HAVE [fill in the blank, lol]. The quote is a nice reminder that baby steps count and if things are just handed to you, it doesn't feel as good as when you work hard as hell for it." -Ysa
ADVERTISMENT - CONTINUE READING BELOW ↓
"Even if I liked Walang Forever the most, I gotta say my favorite quote is from the Just Got Lucky episode. It was from Kryz and she said, 'Growing and seeing progress and learning new things and improving every single day is one of the greatest journeys in life.' Iba talaga yung feeling when you accomplish something you initially thought you couldn't. Nakakatuwa lang rin 'cause you end up realizing, 'Ah, kaya ko pala 'to, e.' As a Libra (aka an overthinker, lol) this happens to me A LOT. So this quote really motivates me to just keep an open mind whenever I'm faced with new challenges.
P.S. To be completely honest, I have about eight more other favorite quotes from this episode and they're all saved in my Notes app sa phone, haha. Some include, 'Success is just about starting' and 'Life is not about being happy all the time.' But okay, let's save the rest for some other time." -Lou
Final Thoughts:
"Time flies when you're listening to the Skypodcast. It's like one minute, you're listening to the intro and the next, they're already wrapping up. Each episode is easy to digest, which makes it a fun, light podcast to listen to. Actually, as I type, I'm listening to my sixth episode! They're talking about how Kryz barely has coffee these days (can you guess which episode I'm listening to?). So I think it's safe to say that I'll continue to listen to these two." -Ysa
"I'm looking forward to listening to more episodes from this podcast. I can't wait to hear what they have lined up next because the topics that they cover are really insightful. In a fun and casual way, mapapa-reflect ka rin talaga on your life. At the same time, you'll be entertained when they share their own random thoughts, unforgettable memories, and inspiring kuwentos." -Lou
***
We're officially on Viber! Be part of our growing community and subscribe to Cosmopolitan Philippines now!