Your room, especially amid a pandemic, is the place where you rest and recharge. It's where your day begins and ends. So even if you don't think it matters, how it looks directly impacts how it makes you feel. For example, a shirt hanging on your chair or a couple of lippies on your work desk may not bother you, but when you're in a funk, the lighting might have to be just right. Or maybe having a little piece of nature within sight is essential to your mental health. Whatever it is, there are many ways to make your personal space, however small it may be, feel like a haven. The best part is you don't even have to break your bank account to do it. Here are some tips you can apply to make your tiny room the best spot in the house. 
Check out these small room design ideas.
First of all, don't overcomplicate things. 
People are overwhelmed by the idea of decorating a small room because of the pressure to make everything look cool and aesthetic, but with little space to work with, there's usually a very clear main wall (where your bed goes) and a window. You don't have to make it hard on yourself by trying to put your bed in the center to make it look ~different~. There's no harm in being practical. If you're the type of person who likes to make your bed to start the day, you may benefit from arranging your furniture in such a way that you can access both sides of it. At the same time, positioning a work desk by the window has a lot of benefits. Once you have those key pieces down, it's usually easier to decorate from there. 
ADVERTISMENT - CONTINUE READING BELOW ↓
Put a lot of thought in the lighting in your room.
Sure, it can be as easy as positioning your bed or desk right by the window to get all those rays, but if you have room in your budget, have fun with it and create a layered effect. Add an elegant overhead fixture and a couple of bedside table lamps. If you have space on your main wall, there's also the option of installing sconces (a treat for people who love to read, IMO). The team behind Tanaw Studio—interior designers Chelsea Magbanua, Ella Castañeda, Arvel Alvarez, and their marketing head, Arvin Alvarez—once told Cosmopolitan, "In general, we hope more people pay attention to lighting and ceiling works. People tend to stick to one lighting option: the general or standard lighting. But we can actually incorporate mood lighting options in the design. Switching from one lighting option to the other will drastically change the feel of your room. It can also change the overall purpose."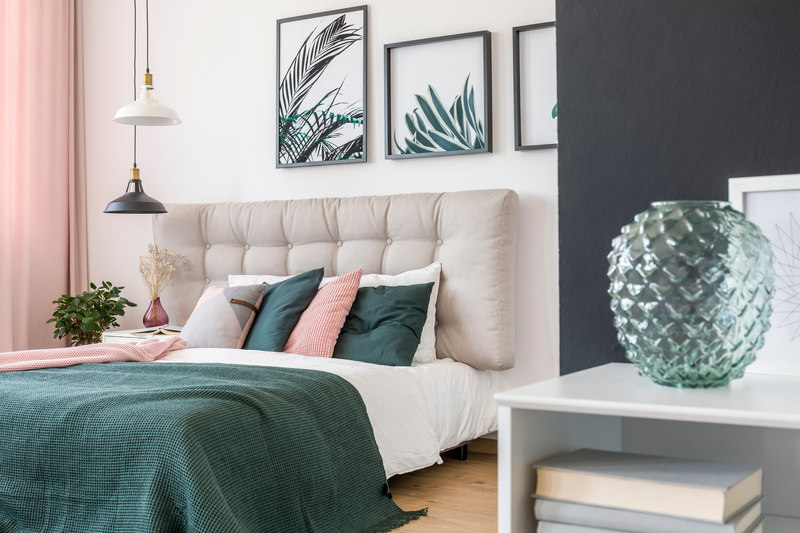 It's all about texture. 
Layering can extend to your decor as well—particularly when it comes to the fabrics and materials around you. Think about your favorite spot these days. If that's your bed, you can give it that hotel vibe by going for crisp, white sheets and adding a patterned blanket on top or maybe even some colorful throw pillows! Before you laugh this off, throw pillows are a good way to experiment with a specific fabric without committing to an entire pillowcase. White sheets also welcome different kinds of furniture: Introduce contrast by going for wooden side tables or vanity. 
Go for a bold, colored piece of furniture. 
You know, one that makes a statement. If you already tend to lean towards neutral colors, this will stand out and definitely add some character to your personal space. What about a tangerine armchair in your reading nook? Or a gorgeous tapestry right above your bed? You could even hang something on your ceiling; this will pull the eye up and make your room seem bigger than it actually is. And by the way, "bold" doesn't just mean "bright." Most people think dark walls are a no no, for example, but a dark blue or forest green shade can make your room feel cozy and intimate. Just make sure to be careful because too much darkness—especially with minimal lighting—can turn your space into a cave (unless of course, you're into that).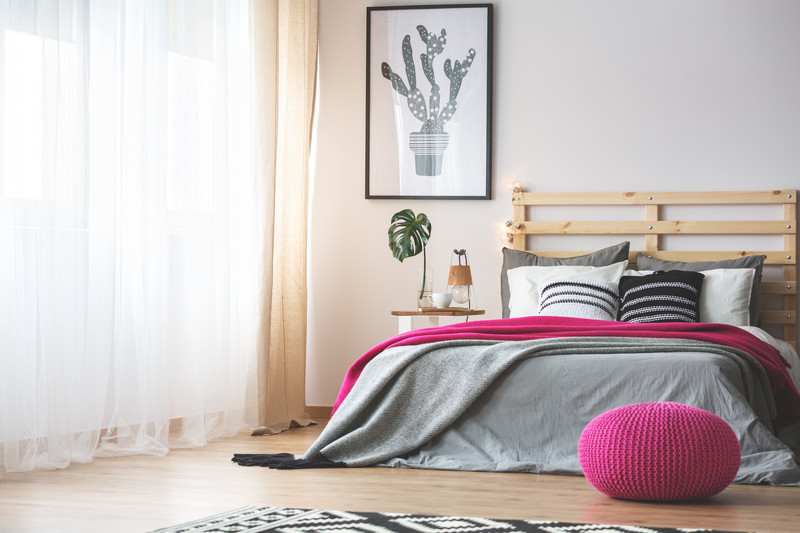 ADVERTISMENT - CONTINUE READING BELOW ↓
Avoid low furniture and think about how you can maximize your walls and ceiling.
Things that are plopped right on the floor can make the room look cramped. Pieces with legs can add some dimension and elevate your space (literally). But the secret to an airier room is a hanging shelf! Not only does it look chic, it also serves as a pretty cool storage space. You can apply this to your clothes as well; hanging racks are a clever way to display your favorite outfits and have them be super accessible.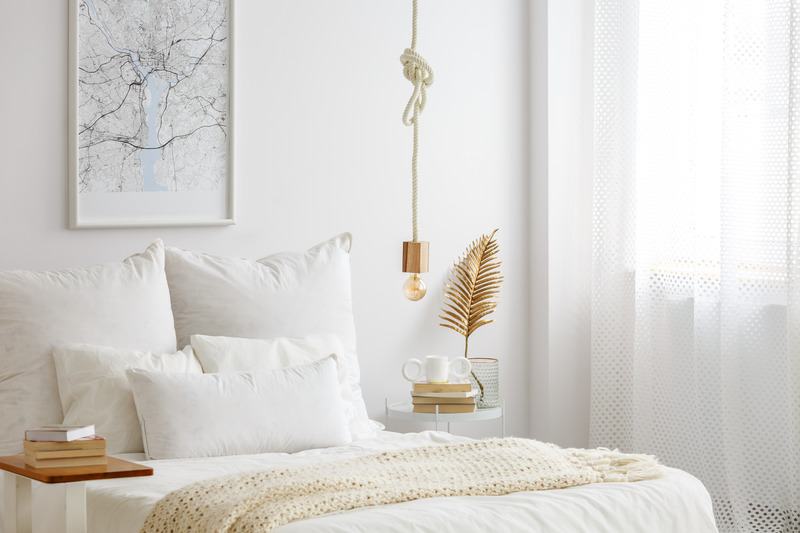 ***
Follow Ysa on Instagram.