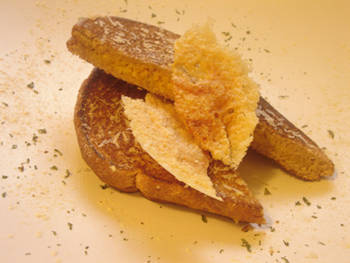 Easy, cheesy goodness

Over at my blog,
NyMinuteNow.com
, at least half of my posts are food-related. I can't help it: While I've never gone to chef school or anything fabulous like that (it's still a distant dream of mine to be able to attend the French Culinary Institute in New York City...on full scholarship), food--and the creation of food--is very close to my heart. Ever since I'd put two and two together that it's cheaper and immensely enjoyable to go to the supermarket and whip up my own fare, the kitchen has been one of my favorite places to be in.
[readmore]
When I'm not watching Giada de Laurentiis or Ina Garten whip yummy, yummy things—I, of course, am only too happy to copy—on Food Network, I'm online checking out Alton Brown's
Good Eats
episodes.
I got the perfect grilled cheese recipe from one of these
YouTube uploads
. Basically, it shows you how to spread dijon mustard on a slice of bread (just on one side), grate cheese over it, add salt and pepper, cover it with another slice, and then press onto two hot, lightly-buttered pans.
If you happen to own a panini press, I suggest we become friends.
I've made mine using a
sandok
, pressing the sandwich down as flat as I could with a big peppermill on top of the utensil (you can also use a big can of corn to do this) and flipping the sandwich back and forth—like that scene in
The Devil Wears Prada
wherein Adrian Grenier's character is standing by the stove, making a Jarlsberg cheese sandwich.
I usually accompany my sandwiches with a big pile of Nacho Cheese Doritos, but this time, I've 'kicked it up a notch' by lightly oiling a small bowl, grating fresh parmesan cheese over the bottom—forming a circle of cheese—and microwaving it for about a minute. You'll know it's done when the kitchen smells funky. What you end up with is this crispy, delicious, knock-your-socks-off accompaniment to a classic, comforting grilled cheese sandwich.
Finish this off with an icy glass of iced green tea or lemonade. And for dessert, a scoop of vanilla ice cream drizzled with chocolate syrup and topped with sliced almonds sweetly caps a truly delightful meal (or midnight snack)!
Tell me:
What's your favorite comfort food? What ultimately makes you salivate?

Mariel Chua is the former beauty editor of Cosmopolitan Magazine Philippines. Visit her personal blog at http://nyminutenow.com.
Continue reading below ↓
Recommended Videos