I've never been to therapy before, not even when I thought I badly needed it. I was a stressed working student back in college juggling a full-time job with a full-time semester load, trying to make ends meet so I could get myself that D (diploma) from my dream school. I would get roughly two to three hours of sleep every day, but I didn't care—it's not like I had a choice, really!
I found myself running on autopilot and constantly agitated due to burnout and the emotional toll of fending for myself that I projected everything onto my relationships. I remember telling my boyfriend, "If only I could seek therapy, I wouldn't be this ~toxic~," a total reflection of how emotionally unstable I was.
Desperate, I checked the rates of therapist consultations, only to back down because of its hefty cost. While I had no doubt that seeking professional help would certainly improve my well-being, I just didn't have the financial capacity to avail it, given that I needed to prioritize my school expenses first. I told myself my mental health could wait, and I could seek therapy when I'm older and more financially stable.
ADVERTISMENT - CONTINUE READING BELOW ↓
Fast forward to four years after—I finally gave therapy a chance, thanks to a new app that mental health and well-being organization MindNation launched.
MindNation mental health app:

Accessibility: Available on the App Store and Play Store for free
Signing up: All you need to do is create an account via your email. Then, verification. It wouldn't take longer than necessary. You could also check if your organization is a MindNation partner.
Navigation: User-friendly, straightforward features. No annoying and intrusive ads
Features: Mood trackers, exercises and resources (audio and visual kits), Well-Being Quiz, and 24/7/365 online teletherapy and coaching sessions and chats
Consultation prices: Well-being coach (P800), psychologist (P1750)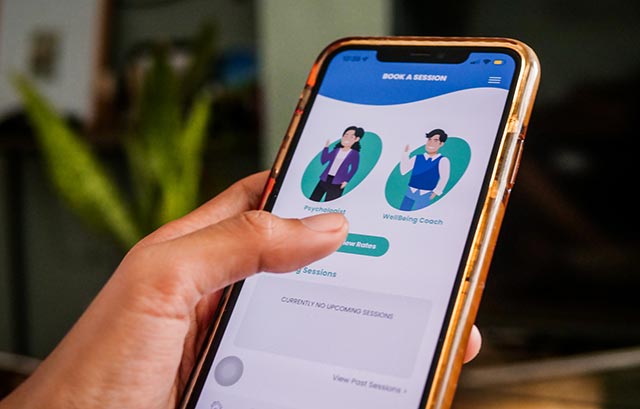 ADVERTISMENT - CONTINUE READING BELOW ↓
Recommended Videos
Upon checking the app, I was greeted with daily check-in features, where I could input how I was feeling for the day—happy, sad, frustrated, you name it. I also took a well-being quiz to measure how well I currently am on the five facets of my well-being (physical, emotional, mental, cultural, and social). IMO, it's great to stay up to date with the present state of my health, especially since I live a fast-paced lifestyle that I tend to forget about these kinds of mundane (yet so important) things. It's nice to slow down sometimes.
After doing the quick quiz, I went ahead with the chat feature and booked a MindNation psychologist. If you're not the chatty type, there are a lot of informative materials that you can browse over—including primers on mental health, podcasts, bite-sized videos, and more. I really liked that everything's already on the app so that it's easier to tailor-fit the kind of ~content~ that I want to digest based on my current headspace.
ADVERTISMENT - CONTINUE READING BELOW ↓
My first therapy session lasted for approximately an hour. I didn't really expect that a single sesh will solve all my issues right away, but this I would say: it lifted so much weight off my chest. I grew up bottling my feelings and having so many words to say with no one on the receiving end—so it took a while to get vulnerable, but when I did, it was really cathartic.
I still have a lot of things to work on, but I'm glad I'm taking small steps. I'm in college no more, yet the bad days are still there. The only difference now is that I'm putting in the effort to work on my happiness. Finally, I'm no longer settling for just surviving. I'm now living.
You can download the MindNation app from Google Play and the App Store.
EXPLORE COSMO