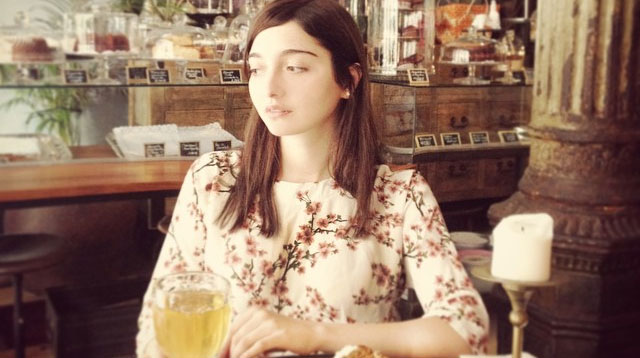 Instagram/amaliaulman
Go through Argentina-born artist Amalia Ulman's Instagram grid, and from the snaps you can figure out the story of her life: She's a provincial girl who moved to Los Angeles with hopes of making it big in the modeling industry. She loses herself in the new environment, gets a boob job, begins to take drugs, gets addicted, then goes to rehab. Post-rehab, she has a girl-next-door image, does yoga, and eats lots of fruits.
Some of her 89,000 followers (the number last year, when she was posting all those pics) enjoyed watching a girl with big dreams try to rise then crash and burn. Some of them, according to Ulman, began hating her and calling her a "dumb bitch" because she was "showing her ass in pictures."
Continue reading below ↓
Recommended Videos
What they didn't know was that all of it was fake. "I spent a month researching the whole thing," Ulman tells The Telegraph. "There was a beginning, a climax, and an end. I dyed my hair. I changed my wardrobe. I was acting."
All the while when people thought she was posting photos of her butt a la Kylie Jenner, she was performing her art, titled Excellences & Perfections.
It's nothing like teen model Essena O'Neill's Instagram account, where she posts picture perfect photos of herself and captions them with what was actually going on during the shoot or what she had to do to get her toned body. O'Neill deals with what's "real" versus what we present to the cameras. Ulman's bringing something else to the table.
"I wanted to prove that femininity is a construction," Ulman explains, "and not something biological or inherent to any woman."
Something to think about, right? Ulman says there's so much work into "being a woman," that it's "something you learn."
Ulman used the three common female online personas, which we're all familiar with: the very youthful girl who likes all things baby pink, the one with the street style or ghetto/rapper look, and the very chill and zen one, perfect for fitspiration.
The great thing about Excellences & Perfections is that it's on Instagram where users can comment on her photos and other people can read those comments. And of course people have typed a bunch of harsh things. It could've been done out of envy or out of fun. Either way, harsh is harsh. She's been called whiney for saying she wants to lose weight. She's been called a dumb bitch for photos of her behind. She's been called boring too, after her character got out of rehab and started living a clean life. "You're an idiot with way too much money and no real interests," reads one comment. It's as if women are hated for adopting a lifestyle, but the lifestyle itself is something that society has presented to us as something pretty or cool that would get us followers. Seems like a lose-lose situation for us women, right? And let's not forget there were people who enjoyed watching her struggle and mess herself up.
The good thing for Ulman is that she gets the last laugh on this one. After all, everything was scripted. Also, museums and galleries have exhibited her Instagram shots—every artist's dream.
As for the rest of us who might be living the dark reality of Excellences, we're probably better off doing what we do (provided it's not destructive) even if it's "basic" or "vanilla." If we like it, we like it. We were never meant to please everyone, but we're meant to be happy with our lives. To live them, at least, in spite of the many people telling us what to do and how to be, or telling us we're boring.
Follow Stephanie on Twitter.