Nowhere gives a better window into Chinese culture than Asia's world city. That's why Hong Kong is the must-visit destination for the most important Chinese holiday. And this year, you can go totally native with our guide to celebrating Chinese New Year like a Hongkonger!

1. Spring clean your house a few days before Chinese New Year's Eve. It doesn't matter if it is already clean because you are sweeping out bad luck to make room for good fortune in a new year. Don't miss all those nooks and crannies!

2. Paste spring couplets on red paper on either side of the door to your home. Make sure they are up and ready for the eve of the festival.

3. Go to the flower market and pick out an auspicious bloom for your home. Chinese sacred lilies and miniature orange trees are good for luck in general. Pick up a peach blossom if you want to improve your love life.

4. Join your family for a big meal on Chinese New Year's Eve. Head to Wong Tai Sin Temple for a frontline place. You'll have to battle the competition to be the first to plant your sticks of incense in the urn.

5. After surviving the mobbing of the temple and getting your face on local TV, spend the rest of the day visiting relatives, playing mahjong and dispensing or receiving red packets of cash. Head to Tsim Sha Tsui in the evening for the International Night Parade.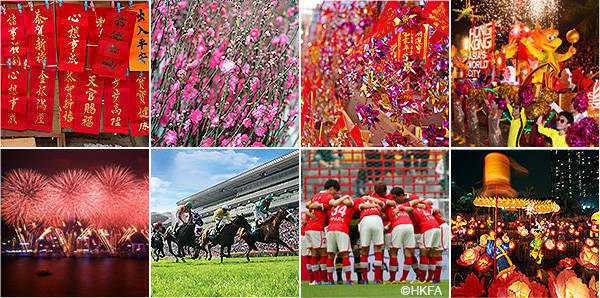 6. If you are married and female, return to your family's home for a meal on the second day of the New Year. Join thousands at the harbour for a spectacular fireworks display that night.

7. Avoid argumentative types on the third day of the year, which is unfortunately considered a likely time to get into a spat. Head to a Che Kung temple for some divine help to keep things cool. You can also hit the track for some horse racing action.

8. It's day four—go shopping! Actually, many shops stay open during the first three days of the Chinese New Year holiday, but it's still a relief to know retail therapy is available citywide again. Football fans get their own form of therapy with the much-anticipated finals of the Lunar New Year Cup held this evening.

9. Wish yourself and everyone you meet a happy birthday on the seventh day of the New Year. Called 'renri', this day is considered to be the birthday of everyone.

10. Light a lantern on the 15th day of the New Year. The last day of the festival is called the Spring Lantern Festival. Go out to see lantern displays and traditional performances. This is also a sort of 'Chinese Valentine's Day,' so don't forget those peach blossoms!
ADVERTISMENT - CONTINUE READING BELOW ↓
For more info on Hong Kong Chinese New Year celebrations, click here!