Name: Kate
Age: 35
Job: Writer, Commercial Model, Indie Film Actress
Where and when did you go? New York for 6 weeks in Spring 2007 
What made you decide to go?
I was working at what I thought was a dream job as fashion and beauty editor, but there was something amiss. Call it a quarter-life crisis, but I realized I had bigger dreams of traveling. I grew up with overprotective parents who hired a yaya to watch over me in college, and a driver to take me to and from work years after I graduated—and I was already 26 years old! I wanted to get away from it all, to be alone and fend for myself without any parental rules. My family had planned our usual California summer trip that year, so I schemed a solo extension. On what was supposed to be our last week in L.A., I flew to New York by myself for a soul-searching trip. I chose New York because I had zero relatives there. I had never been there in my life, so the thought of exploring a city that thrived in journalism and the arts excited me.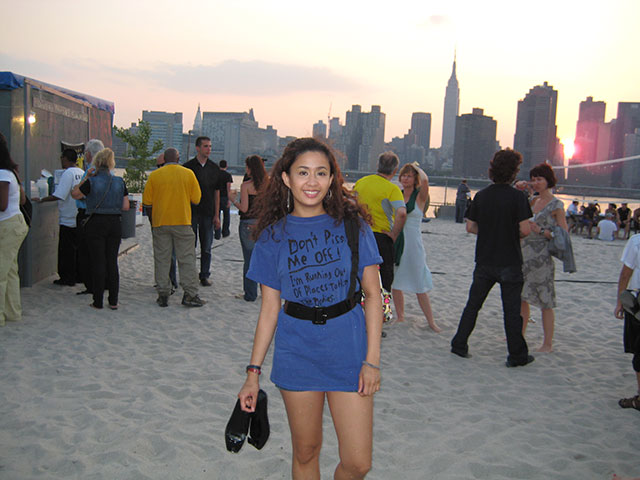 How did you prepare for the long trip?
I already had a 10-year US VISA, so the only thing I had to do was research about what to do and how to survive in New York City. I also had many years' worth of savings, so it was time to break open my piggy bank.
Continue reading below ↓
Recommended Videos
Describe your journey:
On the first week I stayed in a 3-star hotel in Manhattan for around $150/night. It was like a crash course in life as I quickly learned to navigate the subways, budgeted my daily expenses, went apartment hunting, and learned to be street-smart. On my second week I found an international guesthouse, where I got a room for $100 a night (affordable for NY standards). I checked out hostels, but couldn't find one that accepted long-term tenants. Eli Roth's Hostel: Part 2 was also showing at that time, so it freaked me out! I was on the verge of giving up finding an apartment via Craigslist when a friend helped me get an apartment in West Village for $800 a month, which was considered cheap. I moved in with two strangers—a guy who didn't seem to like my ways, and a blonde magazine intern who didn't bother to get my name. She kept referring to me as "Um" and made racist quips about Asians.
I reconnected with childhood friends I hadn't seen in over a decade and former officemates who now live in New York. I spent my days exploring the five boroughs alone, ticking things off my bucket list, checking out schools, immersing in the arts scene, and attending dance classes. Why dance classes? Before I went to New York, I had to fabricate a story where I enrolled in an arts school to further enhance my life skills. It was the only way my parents would feel secure about my departure. The cheapest one I found was Broadway Dance Center, a pay-per-class studio. I went there 1-2x a week.
It was in New York that I felt completely free. I met people in the underground dance scene, checked out publishing houses like Hearst (thanks to my friends who worked there), and interacted with deejays, dancers, artists, and writers—all young, wide-eyed, and ambitious like myself, looking for their place in the universe. My 6-week trip inspired me to pursue the things I really wanted to do as soon as I returned in Manila.
What challenges did you face?
The most difficult part was convincing my parents. I spent months arguing through blood, sweat, and tears, just to convince them to let me go. Even when I already booked my ticket to New York and had plans in order, they still tried to convince me until the very last minute to just soul-search in LA and stay with relatives who can watch over me.
I also got lost countless times. I ended up in dark alleys, wrong trains, and miscalculated locations. But by the near-end of my trip, I blended in well with the locals because tourists started asking me for directions.
What lessons did you learn from your trip?
To get to know your true self, you need to be free from constraints and expectations of society. Being alone to fend for yourself makes you more street-smart, confident, and independent.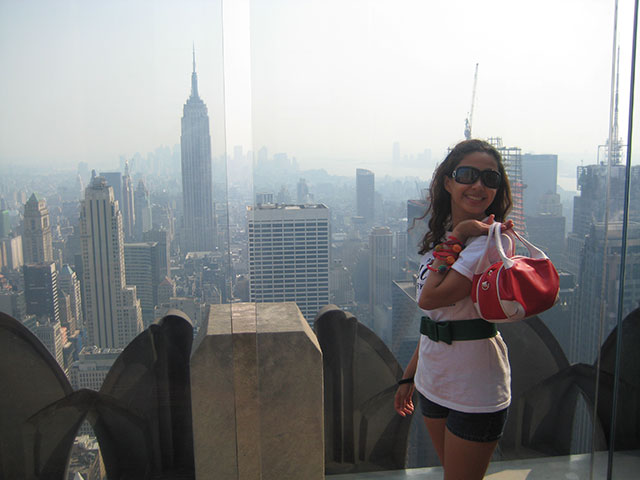 Favorite memory from the trip:
I watched my first Broadway musical, Spring Awakening, starring Lea Michele (years before Glee). I told myself I'm going to do that someday. True enough, I was desperately looking for moneymaking gigs on Craigslist when I found an audition for movie and TV extras. I found myself face to face with a casting director in Times Square. After reading lines from a script, he said, "You don't look Filipino. I like your mixed look." His secretary got my number and said they'd call me as soon as they found castings that fit my look.
Unfortunately, I had only a few days' worth of money left, and without any jobs or gigs to prolong my stay, I had to fly back to Manila. Back home, I decided I wanted a multi-faceted career in journalism, acting, and modeling. I returned to my modeling agency with a more confident outlook and landed one commercial after the other. I enrolled in a musical theater workshop and landed the lead role of our recital. I auditioned for professional stage plays and indie films—and got roles! These days I continue to juggle a career in writing, acting, and modeling, and I always look back at the day I watched my first Broadway show and how it inspired me to pursue my dreams.
How much did you spend? Roughly P300,000 just for the New York part
Who funded your trip? My parents gave me P100,000, while P200,000 came from my savings.
Did you ever travel solo again?
Yes, all the time now! I actually prefer traveling solo compared to joining groups because I can do what I want whenever I want. I'm planning my solo Euro trip soon.
What are your tips for fellow CGs who want to travel alone?
There will never be a "perfect" moment to do it, so just go now and stop waiting for the right time.
***
Name: Kara
Age: 27
Job: HR Specialist
Where and when did you go? February to July 2016 in Tokyo, Japan 
What made you decide to go?
I was four years into my job when the company offered to assign me in Japan for 6 months. I was at a point in my career where my job felt like it was routine and I was going to work because I had to. I wanted change and a new adventure so I took the offer. I wanted to prove to myself that I could be independent.
How did you prepare for the long trip?
Research, research, research! I didn't want to depend on other people, so I wrote down the places I wanted to visit, the food I wanted to eat, and the activities I wanted to do. I had to show myself that there will be a lot of things to look forward to. It was difficult for me emotionally. I was unsure until the day I left. I just had to tell myself that this is for me and that I can do this.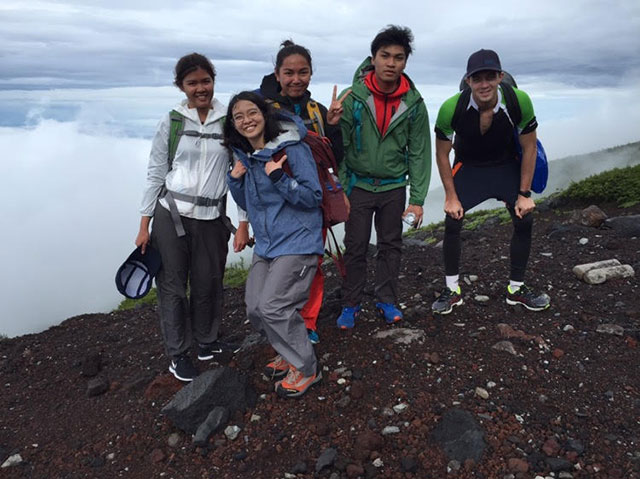 Describe your journey:
I couldn't enter my apartment as soon as I arrived. My neighbor had to help me look for my apartment keys, which were in my mailbox. I got lost on my first day of work; it took me 38 minutes to get there when it should have been only 12. I explored a lot during my six months there. I tried snowboarding for the first time in Mt. Naeba, saw the famous cherry blossoms, visited a lot of flower parks and shrines, went to a ninja park, climbed Mt. Fuji for 13 hours, and discovered the Japanese's love for baseball. I fought the loneliness by meeting up with fellow Filipinos who helped me get familiar with the whole experience.
In my free time, I did a lot of volunteer work, such as beach cleanups and taking kids with special needs to Disneyland. I did a lot of eating, drinking, and of course, karaoke! The food in Japan is the best. After six months, my contract was over and I flew back to Manila. I now have a broader and deeper understanding of different cultures and personalities, and a bigger understanding of life.
What challenges did you face?
I had to learn to speak Japanese in a short amount of time before I left Manila. I also did not know how to cook, wash my clothes, or iron, so living by myself in Japan helped me become more independent. Getting around was hard because I don't speak Japanese fluently. I had to learn survival words and familiarize myself with the transportation system. Getting used to the work environment and the people I worked with was a bit of a challenge. I had to adjust to the customs in the office and adapt to how things were done there. I am grateful that my colleagues guided me during rough days. The loneliness was the most difficult part. I would call my family and friends almost every day just to tell them about my day at work to still have that sense of home. They also visited me in Japan, and we visited places like Osaka and Kyoto.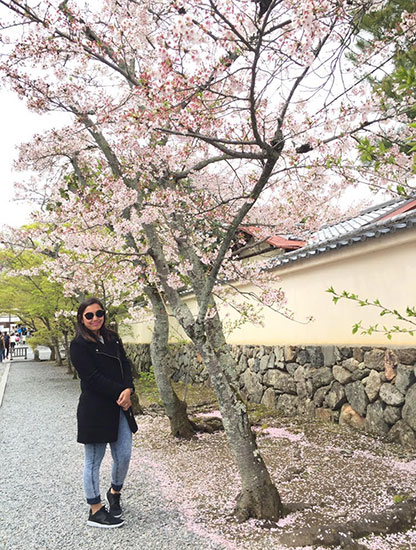 What lessons did you learn during your trip?
I learned I'm stronger than I think I am. It was challenging to leave my comfort zone and embark on this adventure, but in the end I proved I could stand on my own two feet. I became street-smart; I was always conscious of my surroundings and the people around me. I learned to trust my instincts.
What are your favorite memories from the trip?
I drank almost every day and it was hilarious to see drunken people everywhere, from the train stations to restaurants. I actually fell asleep on a shrine once from too much drinking. Watching a live baseball game was a fun experience. It made me understand why it's such as popular sport in Japan.
Who funded your trip?
I was lucky that I didn't have to pay for anything. My company paid for my lodging and monthly allowance. I made sure I lived within the allowance they gave me so that I didn't have to use up my personal savings. I budgeted everything from food to transportation and leisure. At the end of my six-month stint, I was able to save a lot from my salary.
Will you ever travel solo again?
In a heartbeat! It was a very good experience that I think everyone should try.
What are your tips for fellow CGs who want to travel alone?
Take that leap! Traveling solo is one of the best things you can do for yourself. You will get to know and love yourself more after.
***
Name: Gillian
Age: 30
Job: Teacher
Where and when did you go? 9 weeks in New Zealand, 2011
What made you decide to go?
I wanted to see if I could potentially work and live in NZ. I was 25, single, and brave then—the perfect reason to try something new and life changing. I decided to fly to Auckland, NZ, and stay there for nine weeks to immerse myself and test the waters.
How did you prepare for the long trip?
I applied for a visa at the NZ embassy in Manila. Once my visa was approved, I contacted and coordinated with my relatives and friends in NZ to let them know I was going to be there for nine weeks. I was so excited to leave and experience something new.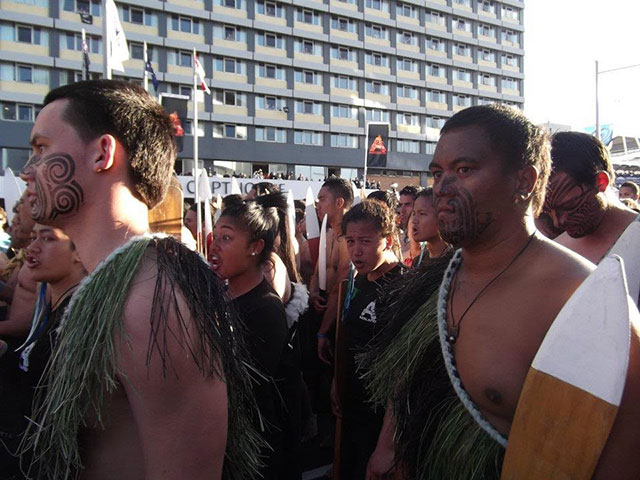 What did you do there?
I volunteered at an after-school care center, where I walked and commuted daily. It was a breath of fresh air to commute via buses and trains with a proper schedule—it made getting around so much easier. I also lost weight from all the walking that I did. NZ climate and infrastructure are so friendly for people who like to walk, jog, and run. For nine weeks my life revolved around RWC (rugby world cup, which NZ hosted that year), commuting, walking to and from work, and house hopping. It made it a bit difficult to come back home to our chaotic commute system and barely-there sidewalks in Manila.
What challenges did you face?
Getting lost when commuting. Sometimes I'd get off the wrong stop and would have no idea where I was. I'd ask help from strangers as Kiwis are some of the nicest people ever, or I'd go to the nearest dairy (that's what they call their sari-sari store) or bakery and ask for help there.
What lessons did you learn from your trip?
Immersing yourself in a different country is such an eye-opener. You learn so much about yourself, the world, and your country. I realized how independent and strong-willed I was, that being by myself is actually pretty awesome. I learned so much about a different country, its people, customs, and culture. I feel like a better person for it. I learned how both beautiful and chaotic our country is—something I wouldn't have truly known had I never stepped out.
Favorite memory from the trip:
I arrived in NZ just in time for the rugby world cup. NZ is a rugby-crazed country and they were hosting that year. It was almost two months of celebrations and parties because the All Blacks won every game. It was amazing! There were restaurants and pubs that had rugby promos and discounts just because it was the RWC and NZ was hosting and winning all the games.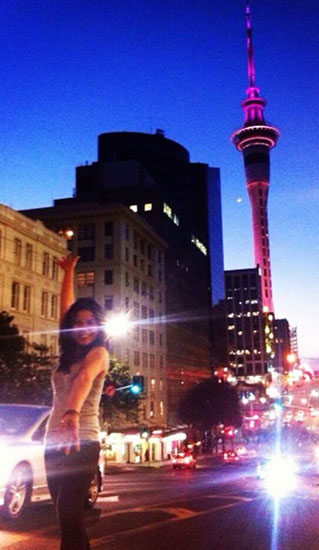 How much did you spend in the entire trip?
Airfare was about $900 USD. I stayed with relatives and friends when I was there, so it saved me heaps of money. I don't remember anymore how much I spent on personal expenses. Food there can be a bit pricey depending where you are and what you want to eat.
Who funded your trip?
My mom paid for my airfare, while everything else was from my pocket. I had savings from my job as schoolteacher and tutor.
Will you ever travel solo again? Yes!
What are your tips for fellow CGs who want to travel alone?
First, contact friends and relatives who are living in your preferred destination. Don't be shy. It's helpful to know someone there. Second, embrace being alone. You'll learn what you're truly made of when you travel by yourself. It's beautiful and chaotic. You should do it at least once in your life, even for just a few days. You'll learn a lot about yourself, as long as you take it all in, and it's worth every centavo.
Visit Kate on KateWasHere.com and follow her on  Instagram  and Twitter.