As anyone on Facebook knows, the Masungi Georeserve went viral in 2015, and it was next to impossible to book an appointment for months. Lucky for me, I have a cousin who likes to plan in advance, and last November, I finally got a confirmation call. We were scheduled to go to Masungi at the end of January.
A few weeks before D-Day, I checked some pictures on Instagram and got the shock of my life. The pictures were terrifying! By that time, I already knew I wasn't into hiking after being absolutely exhausted and dirty the last few times I tried it. I saw pictures of people smiling while climbing nets on mountains and swinging bridges, something I am NOT a fan of. What did I get myself into? I'm scared of heights! Cable cars, airplanes, roller coasters—the list goes on. 
Obviously, I didn't die. I somehow managed to live and tell my cautionary tale of a girl scared of heights who unwittingly decided to climb a mountain.
If you're like me, and the pretty pictures or the fact that it's been trending tricked you into booking a trip, I can assure you that it's possible to still have fun—even if it could feel like a near-death experience. 
Here's how I survived Masungi Georeserve:
The net of confidence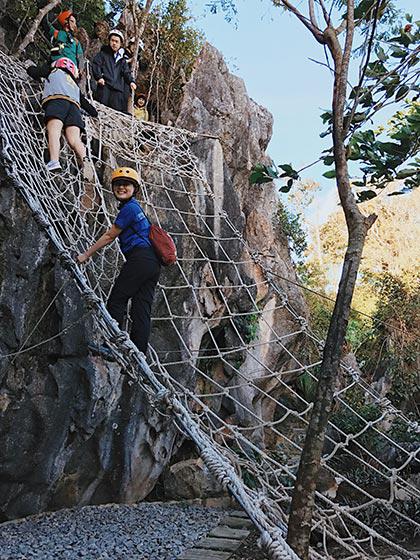 Continue reading below ↓
Recommended Videos
As the name suggests, this is a tiny, kid-friendly rope climbing net. All it did was give me a glimpse of the many, many rope nets later on in the trail. There are two sides of the net: the left side is more close-knit and stable while the right side requires larger steps and is, therefore, more difficult to climb. Guess which one I chose? No sweat!
The sapot of death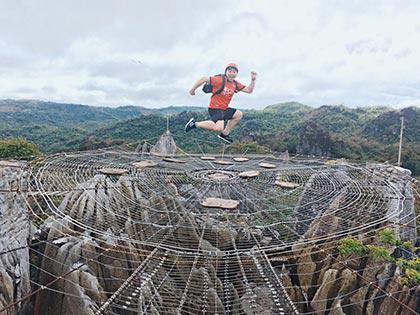 The minute I laid eyes on the web, I was paralyzed. Below the dreaded cobweb are sharp rocks that look like it came straight from a horror movie. My number one advice is to not look down while you're making your way to the center of the web. Trust the strength of the wire, and just keep walking. My legs were shaking the whole time, and my friends were experiencing the same thing. We basically crawled our way to the center. Once you're there, try and enjoy the view, just in case you decide to never do it again.
Suspension bridges of nausea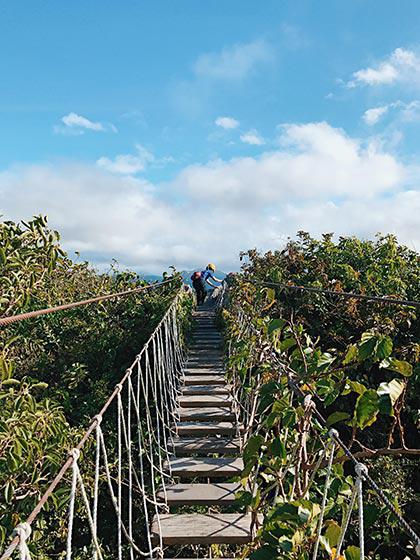 For me, suspension bridges require a lot of trust. When everyone's on a flimsy bridge made of wood planks and rope, you discover who your true friends are; they're the ones who don't freaking jump on the bridge just to make it shake more. This wasn't the only bridge on the trail, though. I got dizzy the first time, but if you're lucky, each one feels easier to cross than the last.
The scariest descent of my life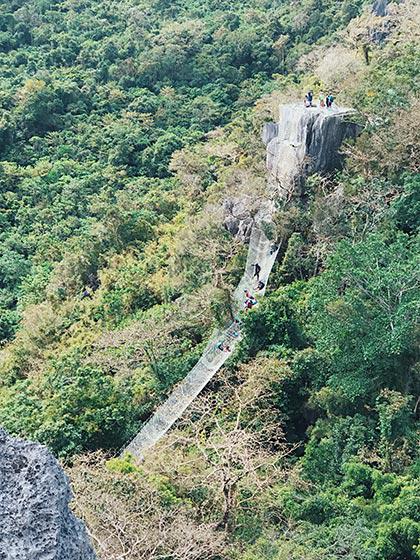 Of all the adventures I've had in my life—though I have to admit there aren't that many—this TOPS the list. The beginning was the hardest part. Standing on top of that cliff, looking down at that net of rope, I wanted to back out. I'm so lucky I had the support of my family, who encouraged me the entire time. My cousin kept saying, "One step at a time." I've never felt the will to live as much as I did while I was scaling down that cliff. I was concentrating so hard on keeping the climbing rhythm of foot-hand-foot-hand that I thought my head was going to explode. When it was all over, I had a Tom-Hanks-Cast-Away movie moment—remember when he kissed the island ground after his plane crashed? It was exactly like that.
The bayawak test of courage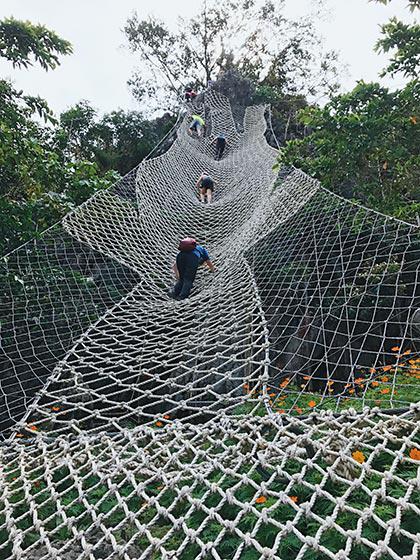 This is the last stretch of the trail. Our guide gave us a choice between climbing down one last net or taking the easier route and using the stairs. Me? Scared? After what I'd just been through, I was not going to end the trail by taking the easy way out.
Our guide showed us how to climb the net. You have to first climb down a steel ladder, then once you get to the last rung, you have to somehow climb sideways onto the net. Why they built it this way, I will never know. The ladder freaked me out, for sure. It was a short one, but it felt a lot steeper than climbing down a net. I made it, though! 
The reward? An amazing view!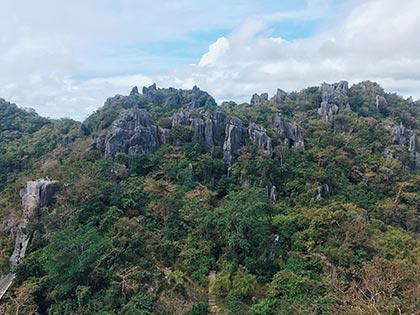 When you're done with the biggest net, you get a chance to go on a platform and see the whole length of the net beside the mountain peaks. And it is a glorious view. Savor it! Your fear and fatigue fade as the beauty of Masungi comes into focus. I felt triumphant! And you probably will, too—just take it one step at a time. 
Follow Melanie on Twitter.