If you're a certified K-drama fan, we know there are some moments when you just want to pack everything you own, leave this country, and build a life in Korea. But did you know that there are actually a lot of Koreans who want to live here. Among them is Na Sin, a 29-year-old light consultant and designer. She's also the president of Lightup Global, a company that supplies LED lights to various clients in the country. Here's how she ended up living in the Philippines:
When and why did you move here?
[When I was in grade four,] my family visited the Philippines as tourists, and we enjoyed our stay. After the tour, my dad saw a potential business in the construction industry, and he decided to put up a company here. [After a year], my mom followed my dad. My brother and I [eventually flew in to take a short English course.] We had no idea we'd be settling here for good; we didn't have a chance to say goodbye to our friends because everything happened so quickly. But we have no regrets because it became the best decision of our lives. We moved here to learn English, and now I can easily speak and write three languages—Korean, English, and Tagalog.
How is your life different from when you were in Korea?
I don't really see much of a difference because I moved here when I was [young].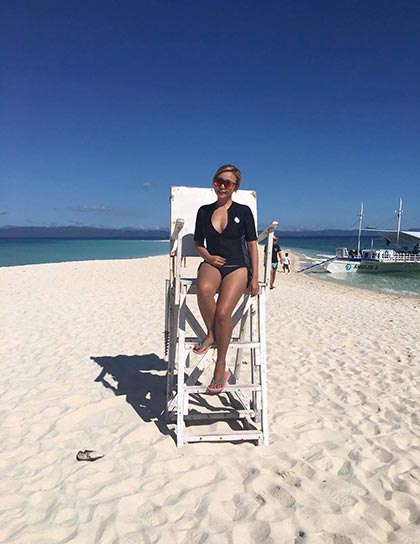 Did you study here? How did you land your current job?
I studied the rest of grade school, high school, and college here in the Philippines. I had so much fun during my teenage days! So many memories! I was a very active and naughty student. Haha!
Continue reading below ↓
Recommended Videos
My job, on the other hand, is a long story. I had different businesses and job experiences before I landed my current profession. In college, I was a part-time English teacher to Korean and Japanese students. With the money I saved up from teaching, I opened a Korean resto-bar in Makati. Then, I became interested in cosmetics so I studied makeup artistry. I got a license in Italy and put up a derma and beauty shop here.
I got bored eventually and studied lights, which is my trade now. Lights are very complicated and exciting. One light can change the entire mood and environment of the place. That's why I love my job! [It's] something different, and I never get bored because of new work places and projects. My partners and I are also working on organizing K-pop concerts. I am soon going to be a producer as well!
Do you ever experience any discrimination or bias?
Yes, of course! There are a lot of advantages [of living here], but there are also a lot of disadvantages. I speak and understand fluent Tagalog, but people assume I don't understand so they say improper things beside me or in front of me. When they do disrespect me in a way, I get really offended and hurt.
There are funny incidents when I go to provinces, too. [The locals] charge me higher rates even if I speak Tagalog because they know that I'm a foreigner. But when my brother goes to the same vendors, the price gets cheaper than what they offered me because my brother looks Filipino. Here's how one incident went:
Me: Ate, magkano 'yung Coke (1.5 liter)?
Vendor: P150
My brother (beside me): Ate, magkano 'yung Coke?
Vendor: Sir, P60 po.
Me: Ate, grabe ka, kapatid ko 'yan.
Vendor: Ay, ganun? 'Kala ko Koreana ka ma'am.
Have you dated a Pinoy before? Is it different from dating a Korean?
I've dated Filipino men twice. The difference between Filipino guys and Korean guys are the gestures and the pagiging malambing. Filipinos are very malambing and caring, but Koreans are more [into being] "manly." They aren't usually malambing to girls, and they always want to lead the relationship. With Filipinos, they go with the flow. Aside from that, dating here in the Philippines and in Korea [aren't that different]. And if you love the person, it does not matter where you are—what matters is who you're with!
What are your goals and plans?
I have a lot of goals and plans in life. First, I want to buy my own house before I turn 30. That means I have one year to make it happen. Second, I want success in my other ventures like the K-pop concerts and as a producer. Third, I want to build a foundation where I can help less fortunate children who need education and provide them with jobs when they graduate.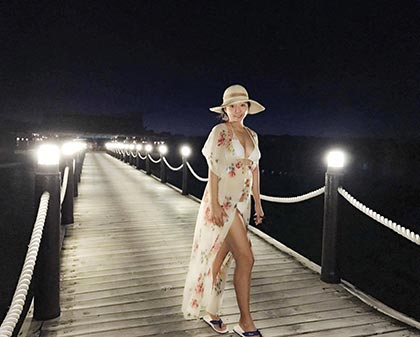 What do you love most about living in the Philippines? Why stay here instead of going back?
Filipinos are the best people I've ever met in my 29 years of existence. They are very welcoming. They are very humble, generous, kind, approachable and understanding. [In my experience], they're the only race willing to help you even if you don't know each other. If you were lost, they'll accompany you to your destination. If you're in any trouble, the whole barangay will help you solve your problems. Everyone's like family, so how can you not love this country knowing you're surrounded by all these people?
Also, the Philippines has the best beaches in the whole world. I've been to so many different countries, but I haven't seen anything like the ones here. Great sand, great water, great food, and great people! That's the reason why I travel within the country once a month! 
Follow Ginyn on Instagram.
EXPLORE COSMO