I was born in Queens, New York the year Rick Astley repeatedly swore to all and sundry how he was "never going to give you up." I left my mama's oven and came straight into the frenetic energy that New York is known and hated for. It's that energy that makes giving up the Big Apple so hard. But give it up I did when my family relocated to Davao City when I was 10. We did a total 180—from living in one of the fastest cities in the world to one of the slowest (well, back then anyway). It was a hard adjustment for me, and despite having spent the majority of my life in Davao, New York was just in my blood. I felt like I needed to move back, that there was no other city in the world that I could be completely comfortable in.
In 2013, after a decade of trying to convince my parents that I just had to leave the Philippines, I made it back into the arms of my beloved city. I was ecstatic; I felt like I could finally start living life on my terms and making moves to be the independent adult I wanted to be. The reality was that I was a far cry from being the "independent adult" I had envisioned. I was living rent-free with my gracious aunt and uncle, and my parents were sending me money every month. I basically left one pampered lifestyle to enter another pampered (more expensive) lifestyle. New York's amusements distracted me from my goal, which was to stand on my own two feet and become an accomplished career woman. I needed a reality check, and I needed to get back on track.
ADVERTISMENT - CONTINUE READING BELOW ↓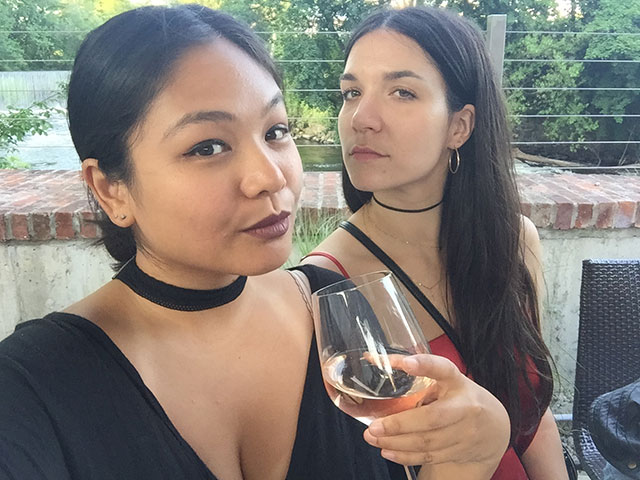 After a long day of shooting, you just need a glass of wine with your co-worker. With Laura, another styling assistant.
I started looking for writing and styling jobs or internships, since these were two things I loved and had experience in. Now, I know what you're thinking: "But you had experience already! Why intern?" Girl, let me tell you: it's New York, one of the fashion capitals of the world. I knew that getting a job wouldn't be as easy as showing up at Condé Nast with my portfolio.
ADVERTISMENT - CONTINUE READING BELOW ↓
Recommended Videos
I moved to the city fully aware that I would be starting from the bottom. And that was fine with me.
I wanted to work my way up the totem pole, proving to myself and to everyone else that I was where I was by working hard.
One day while browsing a website I follow for industry news, I stumbled upon a listing for summer interns with a prominent stylist. I didn't hesitate; I wrote an email asking for an interview. I got the position, and after the summer was over, I left with a newfound respect for the job, a better skill set, and a strong dislike for the reliance on free labor (read: interns) and the dog-eat-dog environment that pervaded the industry. Instead of banding together, the other interns and I were pitted in stereotypical girl vs. girl situations. It was like I were in an episode of America's Next Top Model, and we were all trying to undermine each other in hopes that one of us would move on to be part of the stylist's roster of assistants. It was a whole new experience for me because back in Manila, newbies in the industry all tried to help each other succeed.  
ADVERTISMENT - CONTINUE READING BELOW ↓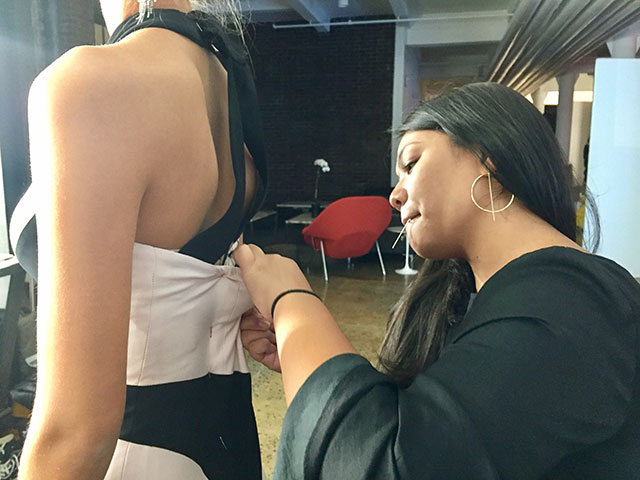 My job in a nutshell: pinning the heck out clothes to make them look beautiful on my models.
After the internship, I thought that since I had my foot in the door, I would slowly get more styling gigs as an assistant. I thought wrong—things did not turn out the way I had envisioned, and my career was at a standstill. I didn't want to intern anymore because I needed to make money, so that I could stop relying on my parents. After a month of inaction, I decided that it was time to stop chasing an impossible dream. Through my cousin, I got a job as a technician and receptionist at an optometrist's office. Never in my wildest dreams did I ever think that I would somehow end up in the medical field. Yet there I was, working a 9-to-5 desk job in the city and making minimum wage. It was a far cry from the fabulous life I thought I would be living in New York. But a girl's gotta make money, and at least a portion of my dream came true: I was back in the city that I loved. That amour I felt for New York was what fed me—at least for those first two years.
ADVERTISMENT - CONTINUE READING BELOW ↓
Then, all of a sudden, the honeymoon phase was over. Everything I loved about the city no longer enticed me; it was like a line from Charles Bukowski: "Find what you love and let it kill you."
Well, I was on life support and I needed to recover fast. I was missing my friends and family and the comfortable life I had left behind. I decided to quit my job, go home for an extended visit, and do a little soul-searching. I spent time with my family and friends, and asked around to see what opportunities there were for me back in Manila. While there were some promising leads, I decided that ultimately, leaving New York would be a step back for me. I was no longer the same person that I was when I left, and I needed to keep pushing myself to become a better, stronger me. I couldn't let a moment (or rather, several dozen moments) of weakness get to me; I needed to go back to New York and try even harder. So I kissed my parents goodbye again, and came back to the city refreshed and once again eager to prove myself.
ADVERTISMENT - CONTINUE READING BELOW ↓
#TeamPascaleGrise I love our styling team! My boss, lead stylist extraorindare, Pascale Grise on the left, and our amazing second assistant, Tania Tauthong-Kass.
Back in New York, I decided to go back to working at the optometrist's office, so that I could make money while I pursued my career again. As luck would have it, a month later, Athanasia, one of the stylists I had worked with during my internship, needed an assistant for a shoot with Macy's. I began working with her from time to time, enough that I felt like I was slowly getting my name out there as an assistant. Athanasia helped me get more freelance work by referring my name to other stylists who worked with Macy's. Around that time, I also started working with Luis and his assistant Alex, who also frequently styled for Macy's. Eventually, since I was working more and more as a freelance styling assistant, I quit the optometrist's office for good. I was working hard and taking any job available. There were periods when I was just waiting around for work, since there were months when options were scarce.
ADVERTISMENT - CONTINUE READING BELOW ↓
It was hard not knowing when I would be working next, and waiting for checks to arrive in the mail.
Then one morning, I woke up to the shrill ring of my phone. I normally sleep with it on silent when I know I'm not working the next day, but for some reason, I had forgotten to put it on mute. It was Pascale, a stylist who had found me through a referral from another Macy's stylist. Her second assistant had cancelled on her last minute, and it was an hour before everyone had to be on set for a photo shoot. I told her that I could be there in an hour, ended the call, jumped in the shower, and got ready, all under 20 minutes. Until this day, I thank God that I forgot to put my phone on silent. I spent the day as her second assistant, mostly steaming the clothes, packing, and unpacking. As a freelancer, I do my damndest to work as hard as I can and impress whomever I'm working with, in order to keep getting hired. It was a great shoot day, and Pascale was great to work with. She must have liked how I work, since a few weeks later, I met up with her for coffee and an interview. Her first assistant, Laura, was moving to California, and she was considering me as a replacement. Seven months later, after working with Pascale as her second assistant, here I am, the first assistant. I don't have to worry about work as much anymore now, since we work pretty consistently with Macy's. I have a lot more responsibilities, and I get to travel a lot for work. It's a great job, and I've already learned so much from my boss in a short amount of time. 
ADVERTISMENT - CONTINUE READING BELOW ↓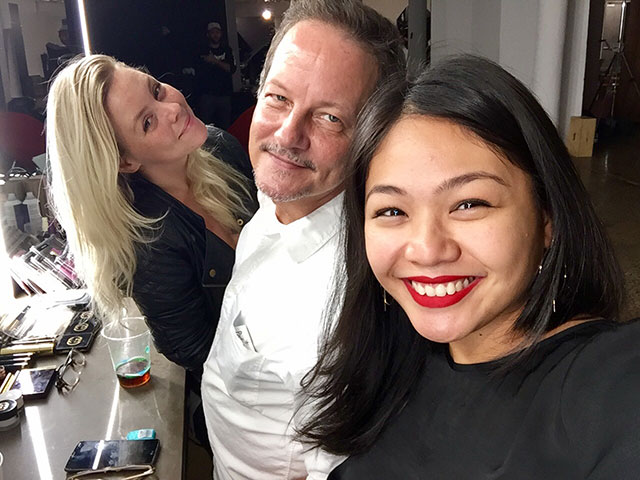 With Mr. Paul Fields, my favorite makeup artist, and his assistant Avery.
And to think that if I'd moved back to the Philippines, I would have missed out on all these amazing experiences! I'm not ruling out the possibility of ever moving back to the Philippines, but right now, at this moment in time, I can't think of any other place I'd rather be—even when the going gets tough. 
ADVERTISMENT - CONTINUE READING BELOW ↓
EXPLORE COSMO