There's no denying that Masungi Georeserve is one of the Philippines' most Instagram-worthy tourist attractions—but it's so much more than that. In fact, in October 2018, Masungi Georeserve earned a "special commendation" at the UN Biodiversity Conference in Egypt.
On September 10, 2019, The Philippines' Masungi Georeserve was recognized by the United Nations' World Tourism Organization (UNWTO) as one of the most sustainable and innovative tourism projects from the private sector.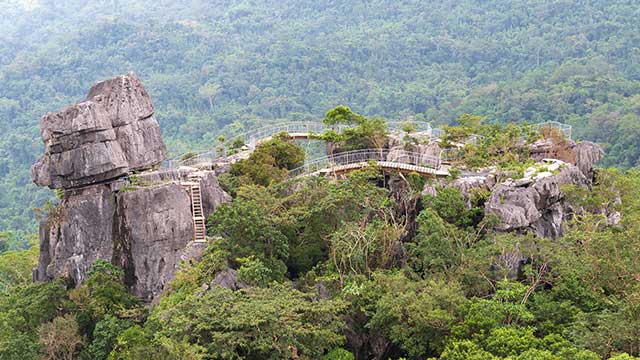 So if scrolling through their Instagram feed isn't enough anymore, and you finally want to see Masungi Georeserve for yourself, here are the basics of planning your first visit to the area.
Continue reading below ↓
Recommended Videos
How can I visit the Masungi Georeserve?
When you go to their official website, the first thing you'll see on their homepage is the Request For Visit function. Before you continue, you must first select one of the two trails they currently have: Discovery Trail or Legacy Trail. 
Once you select a trail, you'll then be asked for your preferred date and the number of guests who'll be joining you: The minimum is seven, and the maximum is 14. Unfortunately, Masungi Georeserve also has age limits for both: For the Discovery Trail, only those who are 13 years old and above are allowed; for the Legacy Trail, it's 10 and up. 
If the date you selected is fully booked, you'll be able to see their availably dates right after. The website will ask for everyone's information and contact details (yes, your entire group's).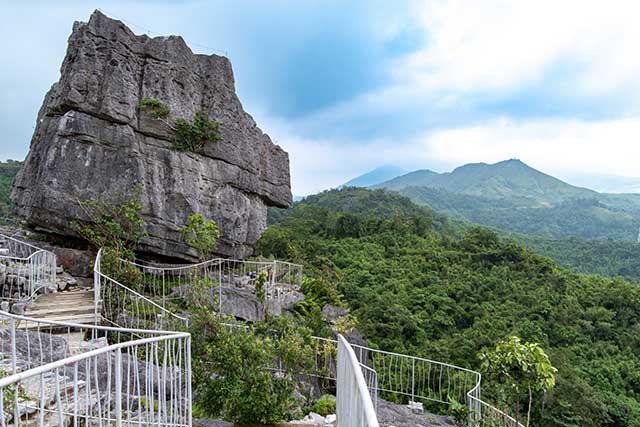 What's the difference between the Discovery Trail and the Legacy Trail?
With a focus on reforestation, the Legacy Trail is perfect for anyone who wants to learn how to take care of the land. Some of the activities included in this trail are tree planting and tree nurturing. It's a relatively easy trail, with the tough part happening during the first half (they estimate the climb to be an hour long); going down will take half the time. And a "minalot" meal will be served! 
The Discovery Trail, though lined with rock and concrete blocks, involves a lot of ups and downs and rope courses, with the hanging bridge as one of its main attractions. Be sure to eat a full meal before heading to the georeserve if you've picked this trail because meals won't be provided. Light snacks will be handed out towards the end of the tour.  
While the Legacy Trail is only available during the day, you can choose to do the Discovery Trail as a day trail, a day-to-night trail, or a night trail.
Each trail lasts three to four hours, depending on your speed and stamina. If, for whatever reason, you don't have four hours to spare, don't worry! There are alternative routes for guests to finish certain sections of the trails sooner. 
How much does it cost to visit Masungi Georeserve?
They payment details are right under the section where you submit your group's information. The conservation fee is P1,200 per person for the Legacy Trail; and P1,500 per head on weekdays and P1,800 per guest on weekends for the Discovery Trail. Payments are due within three banking days after your visit has been approved or until two banking days before your visit, whichever is sooner.
According to their website, "a minimum deposit of 50 percent is required to secure the date and time, if requested at least 10 days ahead the date of visit. If requested within 10 days, 100 percent of the conservation fee is required to secure the date and time." The deposits are non-refundable. 
You can pay for the conservation fees through Paypal, Bank Transfer (through the Paypal Platform), or by BPI Bank Deposit. 
Is Masungi Georeserve safe?
Though there are rocky parts of the trails, the team behind Masungi Georeserve placed stone steps and rope courses for your safety and the protection of the environment, which will hopefully minimize slippages. 
On top of that, the ropes used are made with industrial grade cables. Yes, the ones used in buildings, so you know they're super sturdy. They were tested to endure the weight of 45 guests, which is three times the load of the maximum head count per group (14). 
Other important rules:
Absolutely no outside food is allowed at Masungi Georeserve. That said, t

here are no trash bins on site—only tissue bins in the restrooms, which will go straight to their compost piles.

Refrain from being loud while you're there. This is because Masungi Georeserve is home to 

wildlife, and noise is traumatic for them. Remember: We are just visitors. 

Smoking is prohibited because it is considered air pollution. 
ICYDK, tipping is also not allowed, to make sure conservation is prioritized on site. 
For more information, visit Masungi Georeserve's website. It is located along Kilometer 47, Marcos Highway, Baras, Rizal.