Masungi Georeserve in Baras, Rizal, has become a favorite among weekend travelers because of its exciting adventure trails: Hikers get a challenging terrain, rope courses, and hanging bridges. And after months of closure due to the pandemic, the conservation and geo-tourism site finally reopened their doors to the public. They resumed operations on November 25 with a tree-planting activity; Department of Tourism Secretary Bernadette Romulo-Puyat as well as Pasig Representative Roman Romulo and his wife Shalani all participated.
Travelers are required to book a private trail visit at least three days ahead, but it's highly recommended that you book one week in advance. Groups are also limited to a minimum of five pax and a maximum of eight pax, which is a significant drop compared to their previous capacity of seven to 14 persons per private trail visit. Following IATF guidelines, children below 21 years old and adults above 60 years old should stay home and are therefore not allowed within Masungi Georeserve premises. Minimum health guidelines such as submitting of health forms, wearing of masks, and social distancing are also implemented. Fees per head start at P1,500.
ADVERTISMENT - CONTINUE READING BELOW ↓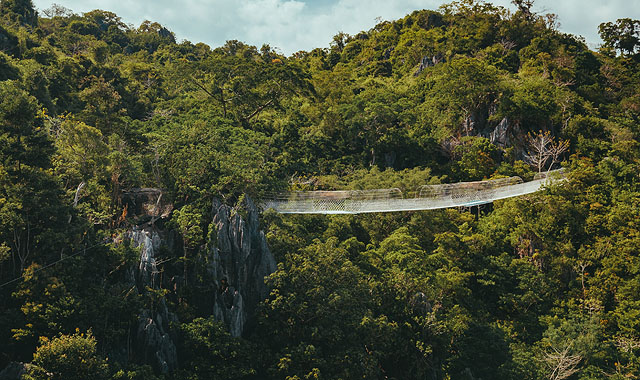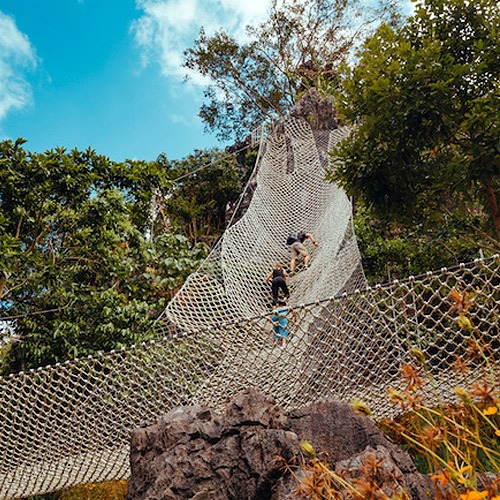 ADVERTISMENT - CONTINUE READING BELOW ↓
Recommended Videos
There are two types of trails to choose from: Discovery and Legacy. Discovery Trail, which takes three to four hours, features walkthroughs along rope courses and stopovers at viewing decks. The trail was updated in 2017 with new paths, such as the "Sawa"-a rapid exit for handicapped and elderly visitors. It could also be your much-needed tap-out route when you just can't continue on the trail anymore. The long hanging bridge safely enclosed in nets and ropes looks a lot like the belly of a giant python.
Discovery Trail also has "Barangay Dahon," a stopover for when you just need a few minutes of rest. It has hammocks and swings shaped like the leaves and fruits inside the georeserve, thus the name.
Lastly, there's the "Bayawak," which is a steep rope course shaped like the local monitor lizard. The trail may be difficult but it's worth it when you get to the top of the karst terrain of limestone rocks.
ADVERTISMENT - CONTINUE READING BELOW ↓
This trail can accommodate night tours, which start at dusk. The attraction has carefully placed lights to guide you through the rope courses and bridges, but positioned right so as not to interrupt the animals' natural habitat.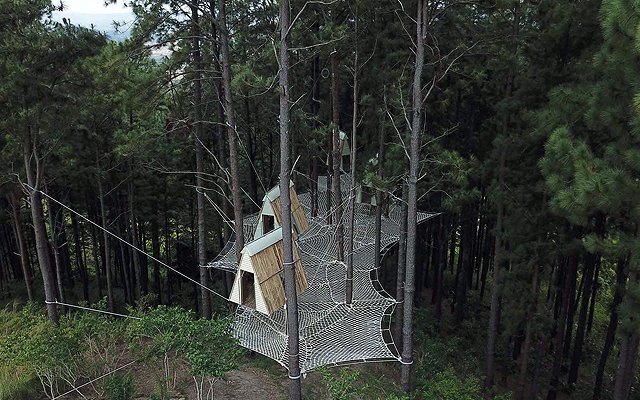 Legacy Trail, which was a new addition in 2018, features a bamboo-lined uphill path called the "Kawayan," and a series of floating huts and ropeways called the "Amihan." It offers first-hand experience in tree planting and tree nurturing, as well as the day-to-day struggles of conservation and other restoration efforts. Guests also get to share a humble minalot, a rice meal prepared and packed in banana leaves.
ADVERTISMENT - CONTINUE READING BELOW ↓
Masungi Georeserve is a conservation area conceptualized to fight illegal logging and land-grabbing activities prevalent in the area in the late 1990s. It was one of the 15 finalists for the Tourism for Tomorrow 2019 awards by the World Travel and Tourism Council.
Masungi Georeserve is at Garden Cottages, Kilometer 45 Marcos Highway, Baras, Rizal. Rates start at P1,500. For more information, visit Masungi Georeserve's website.
Check out Spot on Viber to join their Community and subscribe to their Chatbot.
EXPLORE COSMO