It was a hot afternoon, and I was navigating a long, narrow dirt path with six other people somewhere in Ubud, the cultural capital of Indonesia's Bali Island.
In our group, I knew Rickson, an Indonesian entrepreneur, the longest—I had known him for about a day and a half. The other five—Fabien, a dreadlocked Frenchman; Laetitia and Anthony, a French couple who were friends with Fabien back home; Alex, an Australian farmer; and Alba, an Irish girl of Dutch and Spanish descent—I had met an hour or so earlier.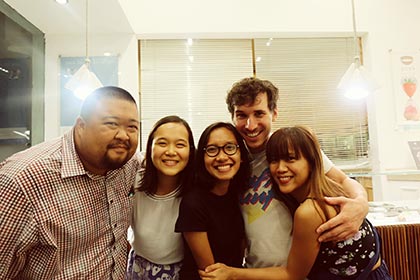 ADVERTISMENT - CONTINUE READING BELOW ↓
I hadn't planned on being there, and it showed in my flimsy leather sandals and the long, flowy skirt I had to gather around my knees so it wouldn't get in the way. I was there because earlier, at a tucked-away vegetarian restaurant where we all happened to share a table, Laetitia and Anthony had gushed about a postcard-perfect scene of vast rice fields stretching out as far as the eye could see, asked us if we wanted to check it out, and we all answered, "Okay!"
If you had told me before I left my culturally homogenous hometown of Davao City that this was the sort of experience I should be preparing myself for in Bali, I would've snorted. But now, I have this to thank for this interesting turn of events: Couchsurfing.
Couchsurfing is a hospitality platform and social network through which travelers can find a free place to stay ("surfers") through locals willing to accommodate them ("hosts"), or meet locals and fellow travelers on their trips.
The Couchsurfing website has been around since 2004, but with the launch of its mobile app, finding travelers to connect with while on-the-go has become much easier. Now, Couchsurfing has grown into a community of 14 million people in 200,000 cities.
I was late to the Couchsurfing party; I first heard about it just last year through a friend who had used it to meet locals to show her around on a solo trip to Guam. At that time, about to head off on a solo sojourn to Siargao myself, I hurriedly downloaded the app and created a profile right as I waited to board my plane. But once I got to Siargao and made friends on my own, I promptly forgot about it.
But a solo trip to Bali loomed seven months later, and I found myself facing another week in a new place on my own. This time, however, I would be in another country, where I couldn't rely on Tagalog, Cebuano, or distinctly Pinoy cultural quips to bridge the gap between me and strangers.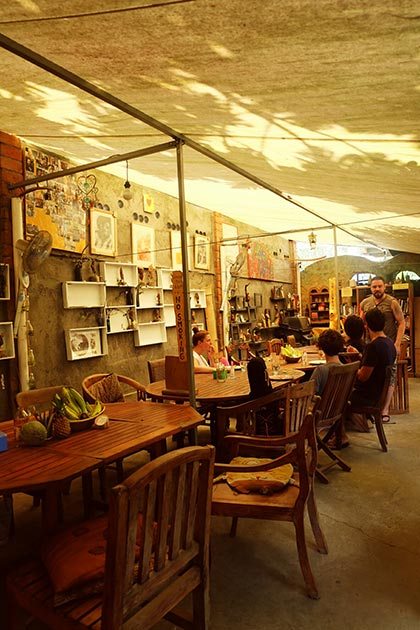 ADVERTISMENT - CONTINUE READING BELOW ↓
So, after seven months, I picked up my phone and opened Couchsurfing. I figured, what the hell, I was already #YOLO-ing by traveling alone to another country anyway; I might as well #YOLO some more by finding new friends through an app. I beefed up my pitifully bare profile; I uploaded photos, listed my interests, and explained why I was on Couchsurfing. Afterwards, I made my trip public: I posted that I would be in Bali for a certain period, along with this caption: "No plans in particular. I just want to see what's out there. Would love to meet interesting people to color my trip!"
Within a week, I got nine messages from locals offering to host me and fellow travelers who would be there at the same time offering their company. By the second week, it was double that number. By the time I arrived in Bali a week later, there were about 30.
ADVERTISMENT - CONTINUE READING BELOW ↓
I was thrilled to have so many people eager to show me around or let me crash, but here was the thing: They were all men. This reinforced the bad rap Couchsurfing has earned as a "dating app," with a Business Insider article calling it "the go-to hookup app for a certain class of young world travelers." Apparently, people were using the app to get free-wheeling travelers under their roof and vice versa—and who knows what could happen then?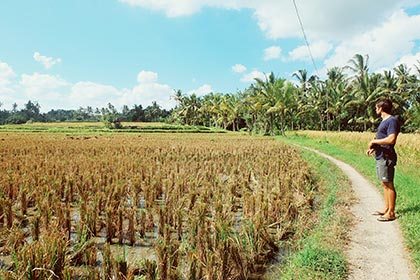 ADVERTISMENT - CONTINUE READING BELOW ↓
As someone who grew up in the Philippines and was fed a constant diet of crime news, I just wasn't free-wheeling enough to shack up with someone I didn't know, let alone a man I didn't know. So I booked my own place at an inn and used Couchsurfing for meet-ups instead.
Once settled in the town of Kuta in Bali, the first Couchsurfer I met up with was Greg from Singapore. Over beers, I asked him about Couchsurfing's rep as a hookup app. He wisely replied, "There is a hope, but there is no expectation," and continued, "If I really wanted to date, I'd go on Tinder." Greg was cool, frank, with a good head on his shoulders, and some mean dance moves—as I found out later when we went dancing at this crazy club that blasted everything from Marshmello to "Macarena."
The next Couchsurfer I met was Harry, a Melbourne-based Indonesian who was friendly, smiled easily, and knew all the good places around. After dinner in the town of Seminyak, we joined his friends, this awesome bunch of Indonesians—among them Rickson, who ended up on that group hike with me—who made me feel welcome, plied me with drinks, and proudly rattled off the few Tagalog curse words they knew. Harry seemed to know everyone, and after being introduced to so many people, I could no longer keep their names straight.
ADVERTISMENT - CONTINUE READING BELOW ↓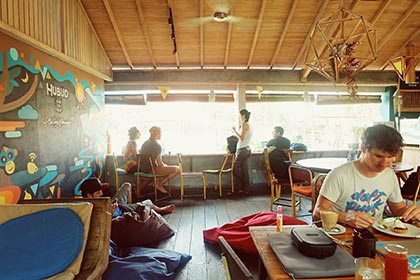 From Kuta, I moved to Ubud—where all the loving in Eat, Pray, Love happened—and spent the next few days rooming with Mau, a Filipina I had met online through a common friend, and Neyna, an Indonesian who was a Couchsurfer herself. Since Mau was away at work during the day, every morning I would go off with Neyna, a graphic designer who could work from anywhere—not to mention a photographer who didn't mind taking pictures of me anywhere. On motorbike rides and over cups of flat white, we'd swap stories about the work we do, the places we had been to, and the people we had met.
ADVERTISMENT - CONTINUE READING BELOW ↓
Throughout the rest of my Bali trip, I met more travelers who were also Couchsurfers: François, a French app developer based in Berlin; Raphaela, a sassy Indian chick who grew up in Austria; Fabien, the dreadlocked Frenchman I had found through the app and ended up on that ragtag group hike with; and Alex, the Australian farmer who just happened to be at that restaurant with Fabien and me. Through casual conversations, I got to know them: François had just come from an intense meditation retreat, Raphaela had had crazy experiences with fellow Couchsurfers, Fabien wanted to visit the Philippines soon, and Alex had been to the Philippines himself and had fallen in love with Dumaguete.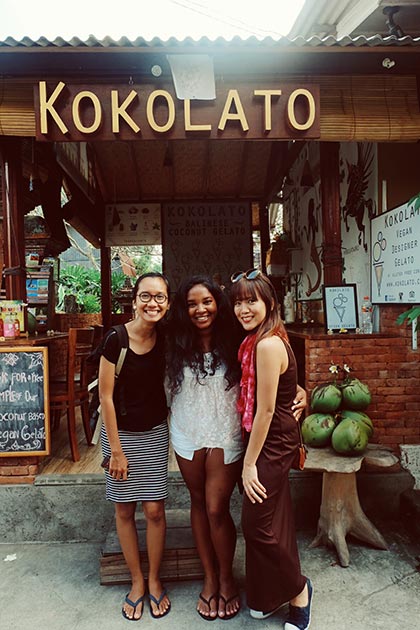 ADVERTISMENT - CONTINUE READING BELOW ↓
I got stood up a few times for meet-ups, too, but I soon realized that was pretty common on Couchsurfing. People could get flaky for any number of reasons, among them having intermittent Internet connection while on the go, being with a group of people who wanted to do other things, and, through the app's Hangouts feature, arranging a hangout with people who were actually 20 miles away and had no chance in hell of showing up. But the occasional botched hangout was a small price to pay for the pleasure of the successful ones; the ones that filled in the gaps you had in your mind about other countries, religions, and cultures; the ones that made you see that—cliché alert—it really is a small world after all.
While I've become a fan of the app, I admit that Couchsurfing isn't for everyone. Once back home, I've had people ask me upon learning of my adventures, "Isn't it unsafe?" Safety, of course, is a major concern—there have been cases of rape and even murder involving Couchsurfing—which is why it's important to go into it with a healthy level of caution and scrutinize the people you plan to host or stay with before agreeing to anything. Or, if you have money to spend on accommodations and just really want to meet new people, you can opt to do meet-ups instead of surfing, like I did. Or, if you're just really "meh" about the prospect of meeting new people on a trip, you can stop reading right now—if you haven't already done so.
ADVERTISMENT - CONTINUE READING BELOW ↓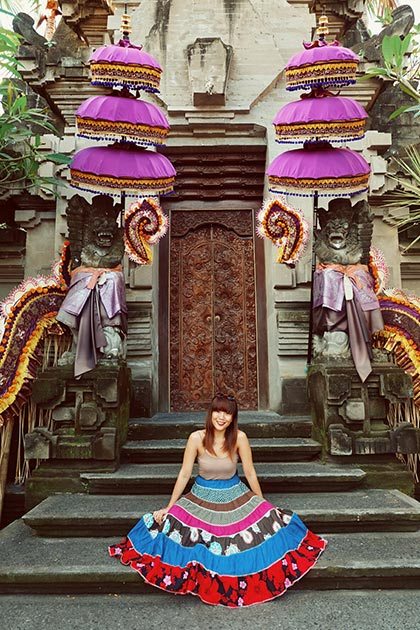 But, if you're like me and you're curious about what's beyond the proverbial four walls around you, by all means, go out there and talk to people who, on the surface, are nothing like you—whether through Couchsurfing or just striking up a conversation with that foreigner behind you in line at the supermarket. Otherwise, you will never see how similar you can be despite the differences in your names, in your accents, and in the colors of your eyes.
ADVERTISMENT - CONTINUE READING BELOW ↓
A few months from now, I'll be off on another solo trip abroad. This early, I've already posted my trip on Couchsurfing and found a local who's down to show me around. I can't wait to meet new people, learn new things, and maybe go on another ragtag group hike again. I'll be sure to wear sneakers, just in case.
Follow Cheekie on Twitter and Facebook.