I first visited Siargao in 2017, as a solo female traveler fleeing from a heartbreak. Instantly, I fell in love with its scenic palm tree-lined roads, unbelievable surf spots, and breathtaking rock pools, islets, and lagoons. I fell in love with the people, too—how everyone seems genuinely grateful to be there, how tourists and locals come together at night during parties, and how the next day, we nod lazily at each other in recognition. It's a far cry from the city life I grew up knowing, and that's exactly why I keep going back.
As a solo female traveler, the best part of exploring the island was being able to be myself—free from pressure, judgement, and expectations. Sure, it was intimidating at first, but visiting Siargao when I did allowed me to embrace my independence fully. I became comfortable introducing myself to strangers in hostel lobbies, I learned to look after myself and create my own itineraries (or lack thereof), and I opened up to the beauty and discomfort of solo travel.
ADVERTISMENT - CONTINUE READING BELOW ↓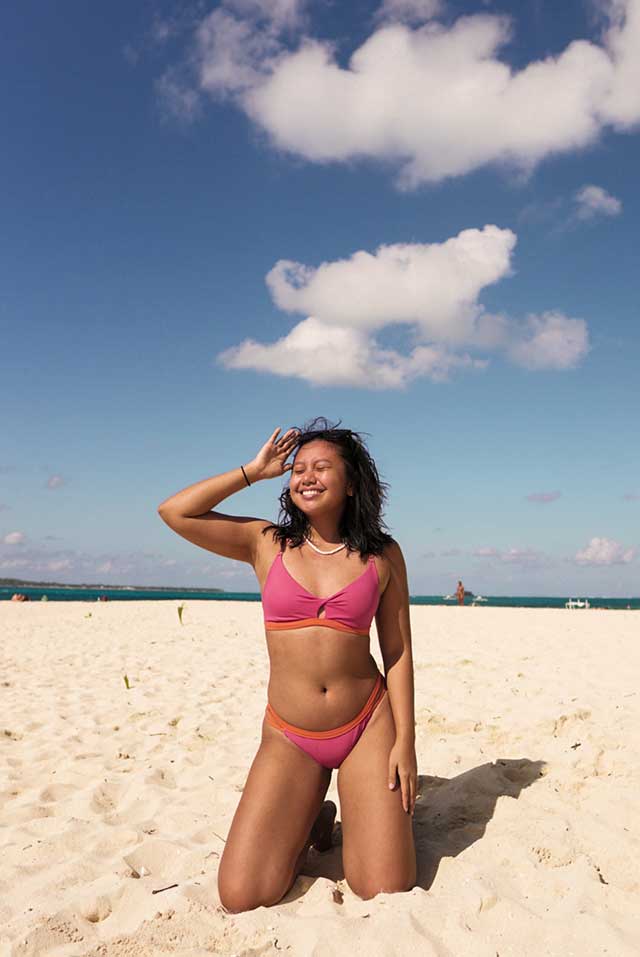 If you want to explore Siargao the same way I did, keep scrolling! This is everything you need to know about the island.
How to get around
From the airport, you can easily ride a van to General Luna, the heart of Siargao. Simply approach any of the drivers outside, and it will cost you P300 one-way. This is your best option if you don't have pre-arranged transportation with your accommodation.
If you can confidently ride a motorbike, you can rent one starting at P300 per day. It's a beautiful way to see the island. Pro tip if you can't drive: Split one with a hostel cutie who can! *Wink*
If you end up meeting some more like-minded travelers (chances are, you will), you can also share a multicab for P3,500 for eight hours!
Now, if you just need something quick and easy, habal-habal is available almost everywhere in General Luna, too. 
Where to stay
Siargao has plenty of options for accommodations around the island that suits your needs. For someone who's looking for a luxurious feel, you can check out Kaza Boutique Hotel. It's an Instagram haven that boasts of picturesque spots and locally sourced furniture and materials. 
For villa-type accommodations, there is Rip Tide Bungalows. This quiet retreat is located in Tuason Point, one of the surfing spots in General Luna, Siargao.
ADVERTISMENT - CONTINUE READING BELOW ↓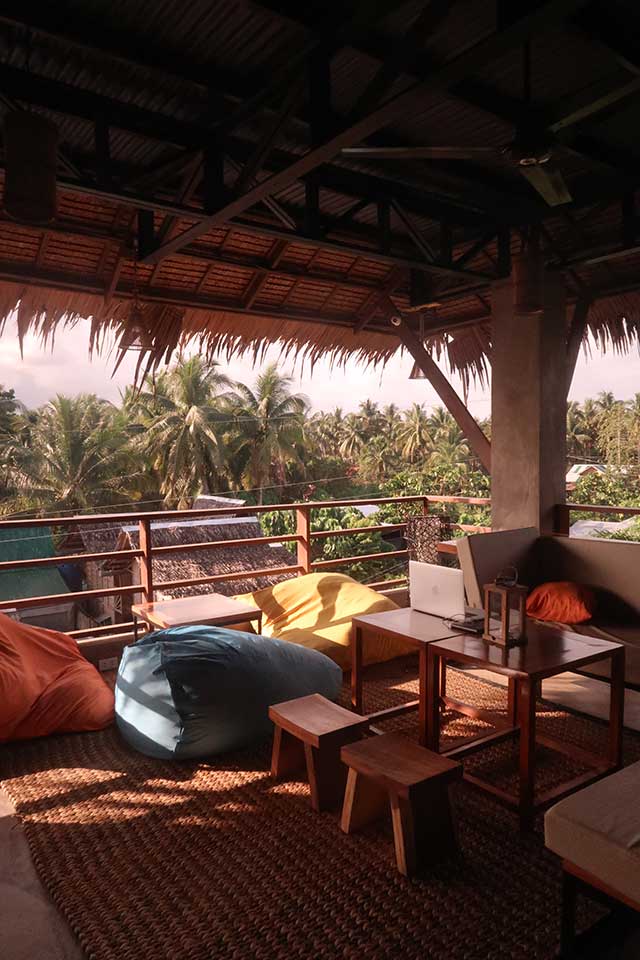 For young travelers looking to socialize and meet like-minded travelers, I highly recommend getting into the hostel lifestyle! Book a bed in any of these fun spots:
Hang Loose is a newly opened hostel and cafe that can host solo travelers and groups alike. They have mixed dorms and private rooms, plus a cafe at the top floor that transforms into a bar at night. It's a great way to meet people.
Alpas Siargao is perfect if you'd like to enjoy a nice hut-style, island living accommodation. They also have a common area where you can drink and hang out with other travelers.
Paglaom Hostel is another great option if you are really looking for a more family-friendly type of accommodation.
ADVERTISMENT - CONTINUE READING BELOW ↓
Where to eat
What's an island trip without delightful meals and mouth watering flatlays? Here are some of our food recommendations: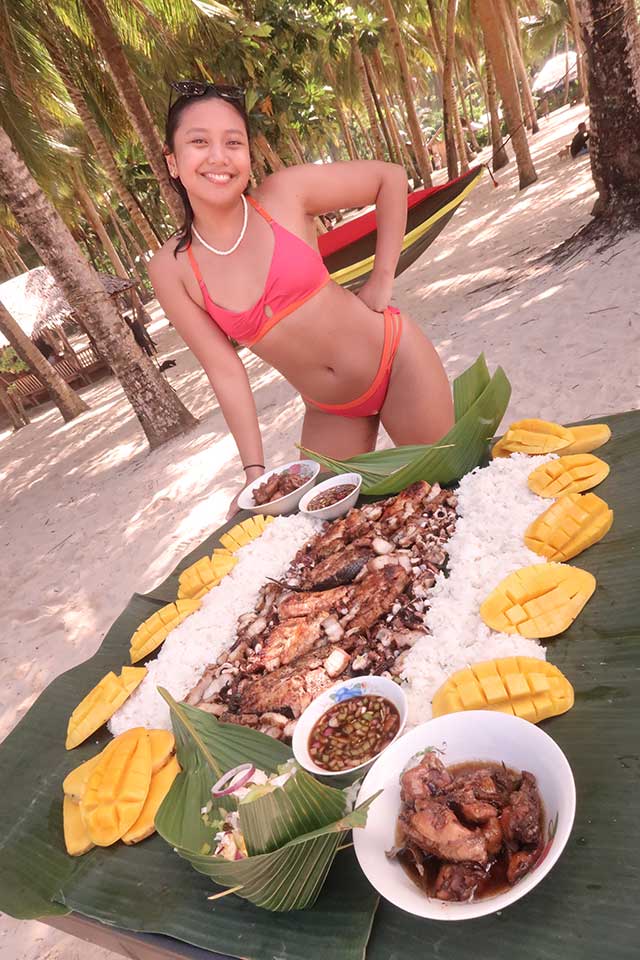 ADVERTISMENT - CONTINUE READING BELOW ↓
Lastly, don't miss out on the famous Siargao pan de coco for only P5 each! It's available in the afternoons right by the Sto. Tomas de Villanueva Parish church. Make sure to grab some of these babies quickly because they sell out fast!
What to explore
Siargao is the country's Surfing Capital, so you can miss out on the surfing spots! There are a lot around the island, but some of our favorites are in Cloud Nine, Pacifico (if you're feeling a bit adventurous and don't mind an hour-long motorbike ride), and Malinao, which is the closest you can get to that has white sand.
ADVERTISMENT - CONTINUE READING BELOW ↓
Check out the Palm Viewpoint for the iconic sea of palm trees. You can easily get here using a motorbike, too. At night, this location turns into a beautiful spot for stargazing. Feel free to drive up here with a couple of friends, switch off your devices and lights, and just listen to nature while watching the night sky. You're welcome.
Tours to book
These tours are perfect for solo travelers because you can simply join by yourself and end the day with new friends. Aui Gray of My Siargao Guide often hosts groups of solo travelers from all over the world!
ADVERTISMENT - CONTINUE READING BELOW ↓
The Three-Island Hopping tour brings you to Naked Island, Guyam Island, and Daku Island for a day of sun and sand exploration, plus a quintessential island lunch.
Corregidor Island is a little farther, but the view from the hilltops is so magical you won't regret it!
Visiting Sohoton Cove National Park in Surigao Del Norte is also a must. A full day will allow you to explore its beautiful blue waters, caves, lagoons, and you can even do a little cliff jumping!
Have you ever seen that famous diving board spot that everyone seems to have a photo in? That's the Sugba Lagoon! It's located on Caob Island, a short 20-minute boat ride from Del Carmen. Getting to Del Carmen from General Luna takes approximately 45-minutes via land.
Finally, don't miss out on the Magpupungko Rock Pools, a scenic beach area with natural rock formations, tidal pools, and gorgeous sunrise views. 
ADVERTISMENT - CONTINUE READING BELOW ↓
If you want to learn how to surf...
If you're a beginner, you can easily take surf lessons in Cloud Nine! A one-hour lesson and board rental costs P500. 
If you're a pro and want to document your surf sessions, check out Fat Lips' photography services. You can get crystal clear photos and even drone footage!
If you're not a surfer…
If you're not a surfer, you can simply enjoy the many beachfronts of General Luna or Malinao. Bravo, Viento and Isla Cabana resorts have awesome spots where you'll find other travelers sunbathing and relaxing. If you're on the island on a Sunday, check out Lamari's day-time pool parties! We heard that they're pretty fun, too!
Where to party
In Siargao, there is never a boring night! There's always a good party brewing somewhere. Here's a quick rundown of where to be on which day:
ADVERTISMENT - CONTINUE READING BELOW ↓
Take note that parties end at 12 a.m. on the island. So if you wanna turn up, turn up early!
Where to meet cool people
If you're not into nightlife, you can also meet awesome people in other places!
For fitness enthusiasts, there's the SOS Gym boxing, muay thai, BJJ, surf training, Filipino martial arts, and general fitness.
For yogis and yoga enthusiasts, Lotus Shores offers classes every day.
Lumad Hostel also hosts acoustic nights where a lot of people come to relax, wind down, or simply hang out.
Ready to live the island girl life?
If you made it to the end of this article, then you must be serious about this Siargao trip! If you want to live on the island or stay for a longer period of time, consider sliding into any of the hostels' DMs. Some of them offer free accommodations for extra help. You never know until you ask!
ADVERTISMENT - CONTINUE READING BELOW ↓
Happy solo traveling, Cosmo Girls!
Follow Ayn on Instagram.