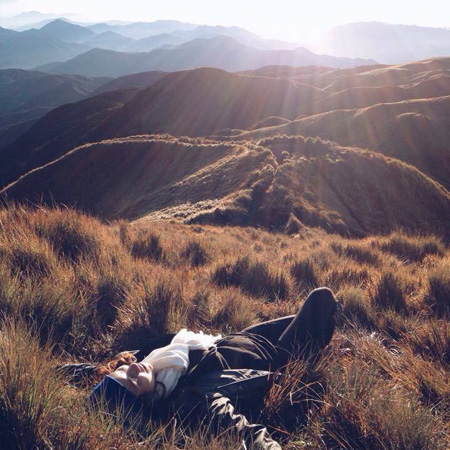 You see it all over social media—a scenic back shot of adventurers in cold-weather clothes, amid a beautiful sunrise over a sea of clouds and frosty air. If you're headed to the mountain trails for a mini Eat Pray Love, to get over an ex a la Mace and Anthony in That Thing Called Tadhana, or just to give yourself a break from #Valk, here's a guide to everything you want to know (but might be too embarrassed to ask) about climbing the famous Mount Pulag and other similar trails.
Although Mt. Pulag has the highest peak in Luzon at almost 3,000 meters high, the popular trail Ambangeg is a pretty easy climb. Join a tour group that provides tents, transfers, and meals at the campsite for the full and complete experience.
For starters, let's break down the standard weekend journey from Friday night to Sunday night: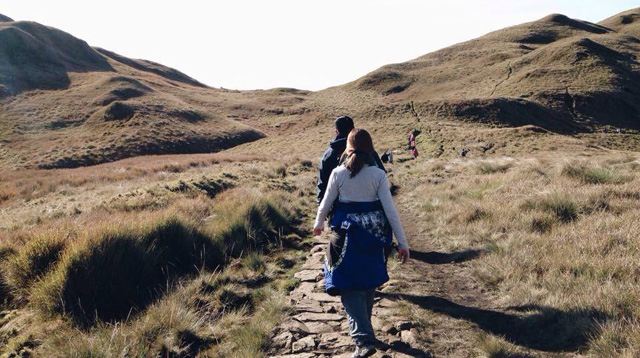 Continue reading below ↓
Recommended Videos
Stage 1. Getting to Mt. Pulag. Approximate time: 10 p.m. to 6 a.m. You'll take a six-hour bus or van ride from Manila to Baguio, a two-hour jeep ride to Benguet, and another hour or so to the ranger station at Mt. Pulag, where you'll register, get oriented, and eat or buy a packed lunch.
Stage 2. Approximate time: 11 a.m. to 1 p.m. The first trek, about 1 1/2 to two hours from the ranger station to the campsite (Campsite 2 is the usual ideal camping spot), where you'll stop and stay the night. How fast this trek goes will depend on you and your fellow climbers' speed.
Stage 3. Approximate time: 3 a.m. to 9 a.m. The midnight trek from the camp site to the summit, after a night of resting, eating dinner, and sleeping. This will take another 1 1/2 to two hours or more going to the summit, 30 minutes to an hour looking at the view and taking photos, and the same time going back to the campsite.
Stage 4. Approximate time: 10 a.m. to 12 noon. The hike back down to the ranger station.
Stage 5. The trip back to Baguio (12 noon to 4 p.m.) and Manila (7:30 p.m. to 1 or 2 a.m.).
What's the trek like? Do I have to traverse narrow trails and hold on to rocky walls? I'm not particularly fond of exercise. So my question is, WILL I SURVIVE?
If you're lucky and the weather is nice, it'll be like you're taking a leisurely walk through gently sloping trails for most of the trek! During each trekking stage, however, you'll encounter some areas that will feel like you're doing step-ups or walking lunges when the trails get steep, but it will only be for 10 to 15 minutes at a time, so you get breaks in between.
You don't actually have to carry ALL your stuff up to the peak by yourself. You can hire locals to carry your stuff starting from the ranger station for P600 round trip, for up to 15 kilos. You can share the service of one porter with a friend if your things add up to 15 kilos or less. It's perfectly okay to do so, so throw your pride out the window.
It'll be hard on the rest of the group if you end up getting too tired and slowing everyone else down on the way up, anyway. If the forecasts are predicting rain, be extra careful—bring waterproof covers, raincoats, and warm clothes because it will get really cold!
What do I pack?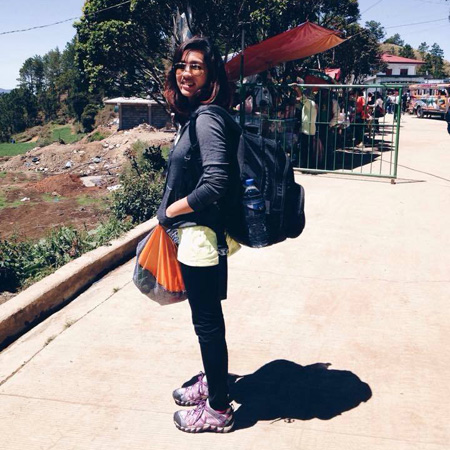 We recommend having one overnight duffel bag and a small backpack, or similar variations. The duffel back can hold your extra clothes, layers of clothing, sleeping bag (no sleeping bag, no climb!), towel, and toiletries (unless your next planned bath will be when you get home).
The smaller bag will be like your handbag, so put all the climbing essentials and your valuables here. To make the most out of your trip, get a porter to carry your bigger bag and carry the small pack with everything you need while climbing. Get or borrow a waterproof bag cover, because you don't want your stuff drenched. Even if it doesn't rain, mountain air at night will make everything damp. Here's a special checklist for you!
Small bag:
• Water bottle (at least 3 liters if your tummy's sensitive to unfamiliar water, or just a 1-2 liter container, easily refillable with cool, fresh, clean, and potable mountain water)
• Cellphone, wallet, camera
• Two fully-charged battery packs
• Sunscreen
• Shades or a cap
Big bag:
• Clothes (see * below)
• Sleeping bag
• Earth pad or a yoga mat (for under your sleeping bag)
• Large garbage bags (at least 2 pcs)
• Plastic bags (for water proofing of your bags, clothes, cameras and other items)
• Flashlight/Headlamp (plus, extra batteries)
• Personal medicine
• Tissue Paper and a big pack of wet wipes
• Eating utensils (Plate or container bowl, utensils)
• Toiletries (see below!)
• Trail food (chocolate, nuts, cookies, protein bars)
• Waterproof bag cover in case it rains
* Check out Bombproof Gear at the 3rd level of Robinsons Galleria, or Habagat Outdoor Equipment at the 1st level of SM Megamall Building A for reasonably priced camping equipment. Tell them you're going to Pulag and they'll help you out!
Wait, what do I wear? What do all those layers of clothing mean? Is there a bathroom? Will I even survive the trip?!?
Relax! If you're fine with wearing the same clothes from Friday night to Sunday night when you return, by all means just wear your standard hiking attire (see stage 2 and 3) and bring nothing else all the way. But if you think like we do (we're ready to rough it, but we rely on dry shampoo, wet wipes, and a change of clothes whenever we can), we recommend dividing your clothes into stages as well.
This combo worked for us: underwear + inner layer + light hoodie and/or thick jacket (yes, you need one—'wag makulit!) + rain-proof jacket. All hikers are required to bring a beanie and gloves for warmth, too. To go into detail, we break it down:
Stage 1: If you want to wear something other than your hiking outfit, wear something comfy, but light for the bus ride. We recommend long, light pants like joggers or harem pants, or better yet, whatever bottoms you plan on wearing to the hike (long leggings or athletic pants will do the trick). Wear it with a t-shirt and a hoodie (which will be your second layer later on) and either your hiking shoes (so you don't have to pack them) or slippers (that you can use when you take a shower at the ranger station). The bus ride gets pretty cold, so bring socks! You'll want to be as comfy as possible so you get enough rest for the hikes the next day. Stow your big bag in the bus's luggage compartment and keep your small backpack of essentials with you.
Stage 2-3: At the ranger station or lunch stop-over, change into your hiking gear base layer (this set of clothes will consist of many layers, because the weather can be very unpredictable). You'll add and subtract layers as this overnight stretch progresses. Guides usually recommend: an inner layer, a mid-layer for warmth, and a waterproof jacket or poncho.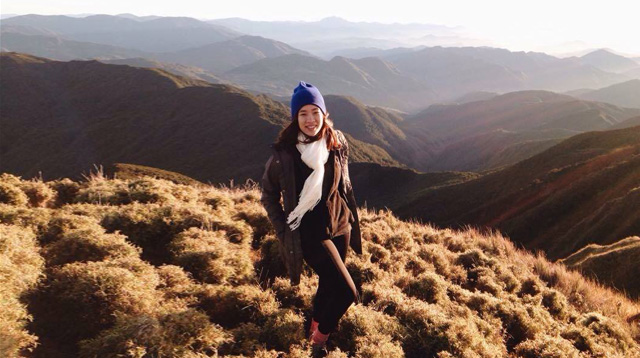 This basically means...
1. Outermost layer: A WATERPROOF jacket. This is different from water-resistant. You might have no need for this if the weather is good, but it's best to be safe. The last thing you want is for you and all your stuff to be drenched if a mountain shower comes up. If it doesn't, it'll be a welcome overcoat for when the temps drop at night. Borrow one if you can, or consider investing in one from North Face, Columbia, or Merrell. They usually have a selection on sale all year round.
2. Bottoms: Regular athletic jogging pants or yoga pants (it gets cold, but you'll be hiking and generating body heat most of the time, so you won't feel too cold). Wear tight-fitting ones if you're lamigin, so that you can bring another pair of jogging pants to layer easily if you feel cold during the midnight hike. Buy hiking pants if you want to spend money on them, but they tend to be pricey (and not very flattering #girlproblems).
3. Top/s: Here's where it gets tricky:
- a sports bra, because it's an athletic activity, after all.
- a moisture-wicking top (dri-fit, clima-cool, etc.). A sleeveless cut is fine, unless you're particular about getting sun exposure. You'll get pretty sweaty if you wear all your layers at once while you hike: If it's super sunny, it'll be warm enough to wear just an athletic top.
- a light hoodie if it's windy and to guard against sunburn. A waterproof jacket will just make you sweat more because it traps heat. You can keep your waterproof jacket in your small backpack or tie it around your waist for easy access if it rains.
- A wool or fleece jacket. Yes, it's bulky, but you'll need it as evening approaches. If you don't have one and it's too expensive to buy one, you can get cheap second hand ones at the ranger stations for as low as P150—that's what we did!
4. Shoes. Wear hiking shoes, or trusty sneakers with soles that have grips or lugs. Try Merrell, Timberland, or similar outdoor brands. Rain or no rain, some parts of the trail will be muddy and pretty slippery.
5. Accessories. Half for necessity, and half for the photo op. You'll have use for this at the summit, because temps go down to 4-6 degrees in the summer, and even zero and below in December. Take a wool scarf, a beanie to cover your ears and head, and gloves. Yes, you will need them at night and at the summit, even if you might sweat buckets during the other stages.
To feel a bit fresher, go for a change of dri-fit top either before you sleep or before the hike to the summit, which will do 'til your hike back to the ranger station. You'll feel refreshed, and it won't take up much space. You'll find yourself wearing all layers as it gets later and colder.
If you want to look cute in your photos at the summit, follow a subtle color palette and play with silhouettes. Think skinny leggings + long moisture-wicking tank top + short hoodie + waterproof jacket in a bright color or a trench-style coat + scarf and hat. Just because you're roughing it doesn't mean you can't look cute!
Stage 4: The sun will rise by the time you start packing up. The mountain air will still be cool, but you'll be closer to the heat of the sun, so you'll definitely feel its heat. You can strip down to your basic layer, and you can change into lightweight gym shorts, because you'll be sweating from the trek from the summit. You'll also start to feel gross here here because it will have been at least 36 hours since your last bath!

Stage 5: When you get back to the ranger station, ask the locals where you can have a "private home-stay" shower. We recommend the store a few steps away from the bag-weighing station (on the same side of the street)—the bathrooms are simple and clean. The water will be freezing, but you will feel refreshed afterwards. Dress for a trip back to Baguio, because you'll have time to have a relaxing dinner or coffee at Cafe By The Ruins, or other similar quaint restaurants.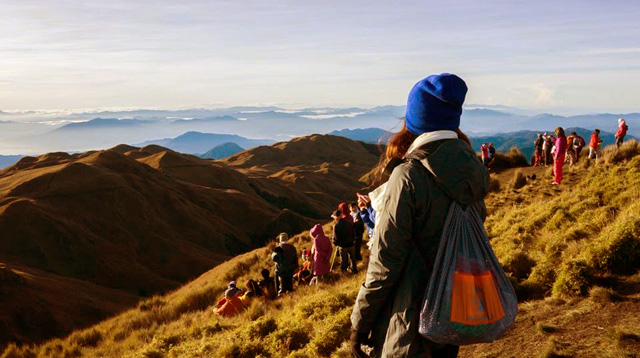 Will I REALLY not be able to shower for three whole days?!
Yes, but if you read our tips and you're ready mentally, you will survive it! Bring a kit with a toothbrush and toothpaste (you can brush your teeth anywhere!), deodorant, wet wipes, and dry shampoo, if you must. If you shower before you start the trip on Friday night, your soonest possible shower will be on Sunday, when you arrive back at the ranger station.
Where and HOW will I er, use the bathroom?
Good news: you won't exactly have to dig a hole in the ground to do your business, because the campsite at Mt. Pulag already has a designated "bathroom." Your bathroom for two days will be a sturdy shed with a hole in the ground. You'll thank yourself for the squats you forced yourself to push through at the gym. Bring a headlamp when you go because you won't be able to see otherwise. We recommend eating just enough to give yourself sustenance, because the last thing you want is to get LBM or diarrhea. Save the food trip for Baguio (or back in Manila!)
Can I wear makeup?
Go fresh-faced for a weekend. But it's also perfectly fine to put on BB cream, your brows, and a lip balm. Just don't forget to wear SPF.
What if I have my period or I'm going to get it during the trek?
Be prepared! If you're expecting to get your period, start out the trip with liner or pads. Again, better safe than sorry. Pack a HUGE amount of wet wipes (for hygiene), tissue paper, and plastic bags (for disposal), and lots of overnight napkins or tampons. Bring painkillers if you're prone to cramps.
Whatever you decide to bring, this trip is an experience of a lifetime. The hikes, the lack of baths, and sleeping on the ground will be worth it once you see the peak.
Make sure you go star-gazing before you sleep in your tent, because the stars at the top of Mt. Pulag are heavenly. Trust me, even if you aren't an "adventure type of girl," you'll find yourself turning into one.