National Museum
Where: Taft Avenue, Ermita, Manila
Operating hours: Tuesday to Sunday, 10 a.m. to 5 p.m.
Museum fee: P150 for adults; P120 for senior citizens; P50 for students
Free admission days: Sundays
Must-see:
Spoliarium by Juan Luna at the National Art Gallery. This massive painting bagged the gold in the contest Exposición Nacional de Bellas Artes in 1884 in Spain, and proved to the world Filipinos could paint better than the colonial masters. It'll leave you in awe.
El Asesinato del Gobernador Bustamante (The Assassination of Governor Bustamante) by Felix Resurreccion Hidalgo. This painting is also grand in scale. You'll feel the action and chaos the moment you see it.
Ayala Museum
Where: Dela Rosa Street, Makati
Operating hours: Tuesday to Sunday, 9 a.m. to 6 p.m.
Museum fee (full admission): P225 for adults, P125 for students, senior citizens, and Makati residents
Free admission days: Year-round for teachers (faculty ID must be presented); usually on a Saturday in July for its Inspire Every Day! campaign
Must-see:
The exhibit "Gold of Ancestors: Precolonial Treasures in The Philippines." You'll find out how rich precolonial Philippines was with all the gold bowls and cups, very intricate and elaborate gold necklaces and earrings, and more. (Warning: You'll probably go gaga over so much gold.)
Continue reading below ↓
Recommended Videos
The exhibit "The Art and Order of Nature in Indigenous Philippine Textiles." You'll learn that there's more to symmetrical patterns in woven textiles than design purposes. The shape, orientation, and combination of patterns have a meaning to the weavers, like their dreams and how they looked at nature, themselves, and the divine.
Yuchengco Museum
Where: RCBC Plaza corner Ayala and Senator Gil Puyat Avenues, Makati
Operating hours: Monday to Saturday, 10 a.m. to 6 p.m.
Museum fee: P100 for adults; P50 for students; P25 for children and senior citizens
Must-see:
Suspended Garden by Tony Gonzales and Tes Pasola. This impressive installation resembling a Japanese garden is a favorite of many visitors.
Metropolitan Museum of Manila
Where: BSP Complex, Roxas Blvd, Malate, Manila
Operating hours: Monday to Saturday, 10 a.m. to 5:30 p.m.; Gold and Pottery Galleries, Monday to Friday, 10 a.m. to 4:30 p.m.
Museum fee: P100 for adults and children above three years old; P80 for senior citizens
Must-see:
The exhibit "Classical Philippine Goldwork of the 8th to the 13th Century." You'll find gold sashes and other embellishments, and some of the gold rings (bigger than a donut!) that were used for trade or barter in the precolonial period.
The Philippine contemporary art exhibit. If you're in the mood to be surprised and unsettled by very bold images or abstract ones, you're in for a treat here.
Pinto Art Museum
Where: 1 Sierra Madre Street, Grand Heights Subdivision Antipolo, Rizal
Operating hours: Tuesday to Sunday, 9 a.m. to 6 p.m.
Museum fee: P180 for the regular ticket; P150 for senior citizens and PWD with valid IDs; P100 for children and students with valid school IDs
Must-see:
The church tower. One of the highlights of Pinto Art Museum is the architecture. The pristine white structures and the lush landscape will make you feel like you're in Santorini, Greece or in Ilocos Norte.
The rooftop. The museum and its many gardens follow the natural flow of the land it's on. Being on the rooftop lets you appreciate the whole space and even nature.
Usapang Babae by Stephanie Lopez. This is a room full of figures of women in pairs speaking to each other in different ways. It's an entirely intimate scene, and what scene would be complete without sound? You'll actually hear the whispers and the mumbling and the talking altogether.
Forest by Antonio Catral Leaño. This artwork has a room of its own. The door opens to a bamboo forest at night, and the smell of the earth and the grass will come to you at once. You can explore the forest, since there's light coming through the "ponds."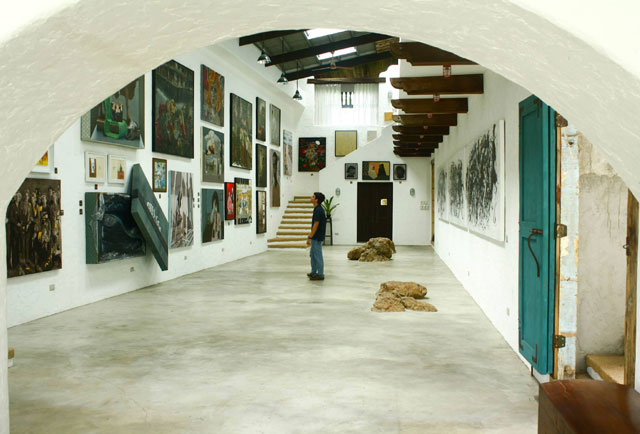 Museum of Indigenous Art. This is the newest wing of the Pinto Art Museum. You'll find artifacts from the precolonial age (most are from Northern Philippines) and how similar they are to those from our Southeast Asian neighbors.
Follow Stephanie on Twitter.