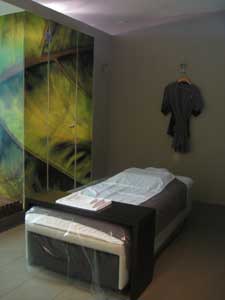 A Sparkling Body Treatment
Ever-busy Cosmo chicks like you complain about the same thing: they're always stressed. That's why it's important to treat your overworked body to soothing treatments like a massage or scrub, just to recharge it for another week's worth of load. If you're feeling a bit experimental and would like to veer from your
suki
treatment, why not go for something luxuriously different?
Give a toast to yourself and your body's ability to keep up with all the
puyat
and
pagod
you subject it too. Head for The Spa and ask for their
Red Wine Sparkler
. Fancy name for a treatment, huh? It's probably because after a
90-minute session
where your body is treated to an immensely relaxing soak, steam bath, rejuvenating body scrub, and full-body massage, you will feel sparkling new!
Pure Bliss
Imagine reeling from an extremely stressful work-week—then concluding it by entering the soothingly quiet premises of The Spa. Once inside, the attendant will lead you to a private villa, where you can first take a soothing hot shower before soaking in the bubbling tub for a good 15 minutes. Once you've calmed your senses, you can take a steam bath right inside the villa, to prep you for the rejuvenating back-to-back treatment that would follow.
Reveal Radiant Skin
A therapist will exfoliate your dead skin cells with a luscious scrub made of grape and apricot seeds that contains powerful anti-oxidants from red wine extract. The treatment will last for 15 to 20 minutes, leaving you time to just close your eyes and relish the experience. She'll take the scrub off with a sponge bath, but you can still opt to rinse in the shower to make sure there's no residue left when you get your full-body massage after. Your skin feels soft and looks so radiant after this treatment. But we're just half-way through.
Knead Away Stress
Nothing beats stress-related body pain better than a full body massage—which is the perfect conclusion to this 90-minute pampering and body nourishment experience. The therapist will knead your tired muscles with just the right pressure (be sure to ask for a hard massage if your muscles are extremely tense—and if you're used to the pressure) with a lavender-scented oil. It's so soothing, you'll be lulled to sleep.
Sweet Perk
No, they didn't serve red wine to go with the treatment, but you will be treated to a cup (or more, if you ask!) of hot, sweet and spicy ginger tea!
Package Price
Members can avail of Red Wine Sparkler for P1,600, while it starts at P1,900 for non-members. If you want to upgrade to the super-nice Premier Villa, the treatment is at P2,100 for members and P2,400 for non-members.
Where To Go
Visit The Spa at Building 8, 908 Bonifacio High Street in Taguig. Call (02) 856-5858 or make an
online reservation
.
Continue reading below ↓
Recommended Videos