Need A Life-Changing Makeover? Start With Your Room!
If your life is craving an upgrade, you better start with your living quarters! A neater, brighter room will lead to a fresher outlook, helping you think better and more clearly. And if you need a guide, let this book from Cosmo's sister magazine in Summit Media,
Real Living,
guide you through it:
Real Living's Room By Room Makeovers
(P120, on shelves beginning today, October 16). Being the only home magazine in the Philippines that gives a free room makeover every month, its team decided to put together all the beautiful makeover projects they've done through the years. You'll find helpful tips and visuals in the book's get-the-look pages, so you'll easily know where to get the items similar to the featured set-up that you channel your NEW and BETTER room to be.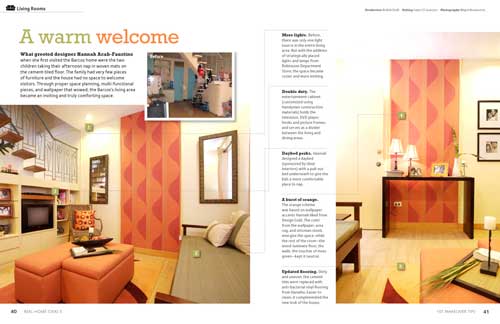 Assert Your Power To Choose—Even TV Shows You Watch And Your Budget.
Do you ever find yourself being hassled by having to go through
sooo
many cable channels in search of something you want to watch and not being able to find it—quickly? Now you can choose just the channels you want and even your budget for your monthly cable subscription. SkyCable introduces the Digibox, a gizmo attached to your TV which allows you to customize your subscription budget (starting with the basic P280 per month) and choose to add other channels you prefer. Each additional channel would cost an additional P20 to P350 per month, and the channel lineup includes news, music and lifestyle, and entertainment channels, among others. You can even lock certain channels (say, if your boyfriend watches
waaay
too much basketball)! How cool is that? For inquiries, you may call the 24-hour Customer Service Hotline at 631-0000. You may also log on to
www.mysky.com.ph
.
Enjoy Technology Like Never Before.
Yes, just seeing the word "technology" can sometimes bore us to tears, but some people really do care enough about it to let us know just how much fun (not to mention convenience) it can bring to our lives. Summit Media, Cosmo Philippines' parent company, is holding a fun and super helpful event called
Consumer Electronics Live! on November 13 to 15 at the World Trade Center Tent
in Pasay. It offers a full range of activities that include a live feed of the much-awaited
Pacquiao-Cotto Fight
on Nov. 15 (get to score invites on Nov. 13 and 14 as your man would definitely love to see that!), a blogging event on Nov. 14 and 15 (for aspiring bloggers), a cosplay event for anime lovers, raffle draws that include movie tickets and other exciting prizes, and more! To get into this event for FREE, just register at
www.celmanila.com
until November 8, 2009 or present the November issue of Cosmopolitan and other Summit magazines.
[nextpage]
Not YET A Company Exec? Look The Part And EQUIP Yourself For The Job!
How long have you had that laptop of yours? It may be time to retire it and treat yourself to a flashy yet totally powerful and user-friendly new laptop that you'll simply love to tote around. It'll inspire you to excel at work and maybe even do some
raket
(to replenish your savings after the purchase). We're currently crushing on two of Sony VAIO's latest models: the VAIO CW and VAIO X. The 14-inch notebook VAIO CW not only comes in five pretty colors (pink, red, blue, white, and black), it's also equipped with a powerful memory and lots of nifty features that will help you at work or play, allowing you to play your fave games, watch high-quality videos with friends, and view and edit pics for your blog or Facebook!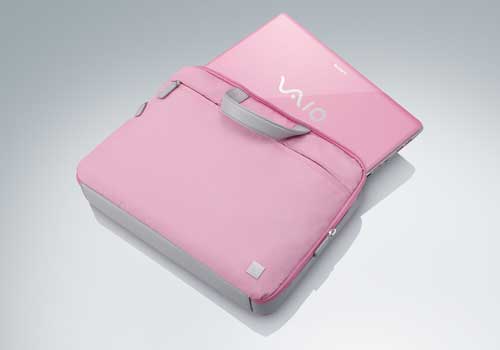 VAIO CW in pink
Meanwhile, if you travel a lot and can afford to invest in a laptop that offers you features no other notebooks can, why don't you check out VAIO X? It's incredibly lighter and thinner than other laptops you're used to and is as easy to carry around as your staple planner! Talk about making a statement wherever you go. You can even tote it in your spacious handbag and barely notice it. It's even made so you need not worry that a bumpy ride would ruin it when you travel. Aside from the convenience it affords, its powerful features also allow you to do all things you expect from your laptop—edit videos and photos, browse the Internet, store files, and do work—with this impressive laptop.
Planning Your Cosmo Wedding? Get Tips From The Experts!
If you're about to be a Cosmo bride, you need to brush up on all things you need to prepare for THE day. Aside from planning an all-out bachelorette party the Cosmo way, you need to pay attention to every single detail that goes into bringing your dream wedding to life. Why don't you grab the latest copy of the Philippine edition of
Martha Stewart Weddings,
which celebrated its first anniversary last month? Now available in newsstands and bookstores, it offers 281 ideas on how to personalize every single detail of your big day, including fabulous favors, flowers, and cakes, and gorgeous new themes and color schemes, among others. Also learn how to find and hire the right photographer to perfectly capture every single moment of this dreamy affair, plus how to hire and deal with a wedding coordinator. After all, the LAST thing you need on your big day is stress.
ADVERTISMENT - CONTINUE READING BELOW ↓
ADVERTISMENT - CONTINUE READING BELOW ↓
Recommended Videos
EXPLORE COSMO