Fans have been watching the Kardashians' every move for more than a decade now on Keeping Up With The Kardashians. They've shared their go-to shakes, teas, and signature salads over the years, but have you ever wondered about their *real* dietary habits? Let's go behind-the-scenes to see what's on the sisters' plates each day.
Kourtney: Morning drink
Kourtney writes on her site, Poosh, that she starts off every day with a cup of Collagen Vibes, which contains protein, vitamin C, and is also super nourishing for your hair and nails. One of Kourtney's favorite breakfasts is her on-the-go avocado smoothie, which is made with honey and coconut milk. (The full recipe is on Poosh!) Another go-to drink in the morning for Kourt is a matcha latte. She starts most days with the blend of matcha powder and almond milk, and shares her recipe on Poosh.
ADVERTISMENT - CONTINUE READING BELOW ↓
Kourtney: Breakfast
The mom of three loves to make banana or pumpkin pancakes with her kids on a Sunday morning, and has given us a glimpse of those breakfast treats a couple of times on Instagram.
Kourtney: Lunch
Kourtney's low-carb lunch includes hard-boiled eggs for protein, as well as avocado, tomato, and fresh mozzarella cheese (though these days, she eats mostly dairy-free). You can also check out the recipe on Poosh.
Kourtney: Indulgent snacks
Kourtney's favorite snacks, especially while on vacation, include chocolate croissants, Double Stuf Oreos, and Cheetos, she writes on her site.
Kourtney: Dinner
Kourtney likes to whip up a cleaner alternative to chicken tenders for her family. Check out the recipe for these gluten-free baked chicken tenders.
Kourtney: Dessert
For her kids (or if she wants a sweet snack), Kourtney likes to keep healthier alternatives in the house. That includes anything from "nice cream" to organic, chocolate-covered almonds, to dried mango, according to Poosh. One thing Kourt loves to snack on is creamy chia pudding. You can learn how to make her cinnamon-y treat here.
Kourtney: Evening drink
Every night, Kourtney closes out her day with a Moon Milk collagen latte for an extra protein boost.
Kim: Breakfast
One breakfast Kim loves is blueberry oatmeal pancakes, her trainer, Melissa Alcantara says. They give her the boost she needs to fuel her mornings and workouts.  Another typical breakfast order of Kim's is scrambled eggs with tomatoes, onions, and mushrooms. She may or may not have an English muffin on the side. Kim has been focusing on plant-based eating lately, so another one of her go-to breakfasts is avocado toast. She also posted a sea moss smoothie, but didn't divulge the rest of the ingredients.
ADVERTISMENT - CONTINUE READING BELOW ↓
Kim: Morning snack
Another plant-based treat Kim loves to eat is an acai bowl. She showed one of her concoctions off on social media, complete with mangoes, strawberries, banana, blueberries, and chia seeds.
Kim: Lunch
Keeping with her plant-based regime, Kim loves to make herself a sweet potato hash. She tops it with sliced avocado and greens. Another typical meal for Kim around lunchtime is chicken, sweet potatoes, and veggies, her trainer says. She keeps lunch clean and fiber-filled to get through the rest of her day. The reality star admitted to eating the same salad just about every day for a year. Her go-to? The Chinese chicken salad from Health Nut in Los Angeles. It has shredded chicken, chow mein noodles, pickled ginger, and sesame dressing.
Kim: Snack
Kim reveals that she loves Mexican food and would snack on chips and guacamole every day if she could.
Kim: Dinner
Dinner most nights for Kim is simple: She goes with a roasted fish and veggie combo, her trainer says.
ADVERTISMENT - CONTINUE READING BELOW ↓
Kim: Dessert
She basically avoids all sugar (despite having a sweet tooth), but Kim's indulgent dessert of choice is Haagen-Dazs ice cream, she admits.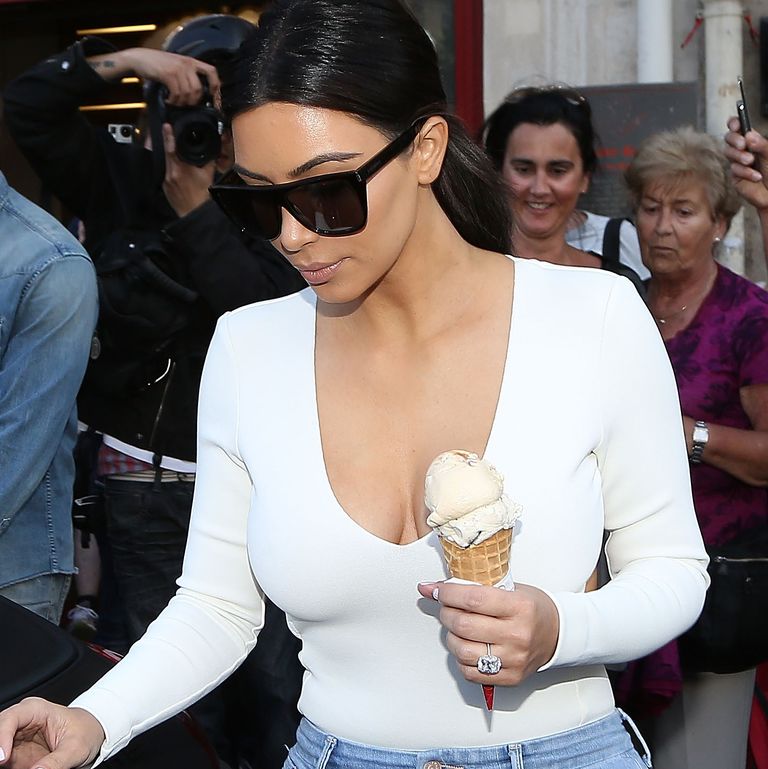 Khloé: Breakfast
Khloé kicks off each day with a protein shake with whey protein, almond butter, water, and ice. This is her very first mini meal of the day—of seven. Every morning, Khloé has a hearty post-workout breakfast of two eggs, a cup of oatmeal, and a cup of fruit. 
ADVERTISMENT - CONTINUE READING BELOW ↓
Khloé: Mid-morning snack
Between breakfast and lunch, Khloé says that she usually snacks on a piece of fruit, like an apple or banana.
Khloé: Lunch
Khloé's lunches usually involve chicken breast, veggies, and salad, with iron-rich beetroot or spinach, says her nutritionist Dr. Philip Goglia.
Khloé: Mid-afternoon snack
Her first snack of the afternoon is typically nuts, like almonds, and some veggies. Khloé's staples are celery and tomatoes.
Khloé: Late afternoon snack
In the afternoon, but before dinner, Khloé usually has an egg with some more veggies, which carries her over into the evening.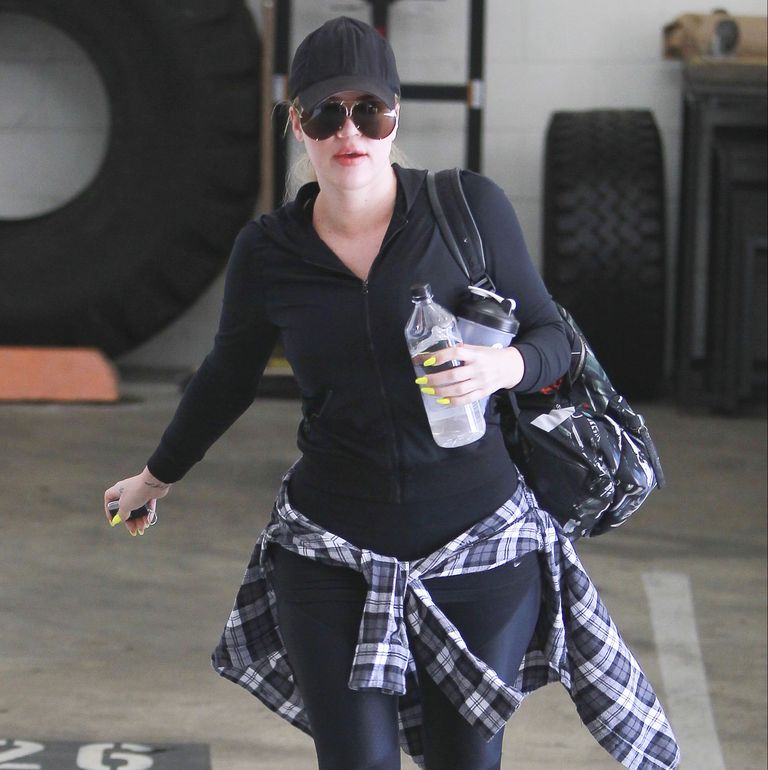 MP199/BAUER-GRIFFIN/GETTY IMAGES
ADVERTISMENT - CONTINUE READING BELOW ↓
Khloé: Dinner
For dinner, Khloé usually has some of her favorite fish, like salmon, arctic char, or black cod. Her nutritionist adds that it's always balanced out with at least eight ounces of veggies and salad.
Khloé: Dessert
A typical dessert for Khloé is a piece of fruit, but sometimes, her nutritionist says, she'll take a break from it and enjoy a slice of cake instead. Khloé posted this adorable mother-daughter moment on Instagram. She says she loves baking bread with her daughter, True (this one looks like cinnamon raisin), a couple times a week.
ADVERTISMENT - CONTINUE READING BELOW ↓
From: Women's Health US
***
This article originally appeared on Cosmopolitan.com. Minor edits have been made by the Cosmo.ph editors.