Thanks to technology, we can take photos and videos using our phones and edit them the way we want. We can make them look *vintage* using apps, or add timestamp effects for that retro vibe. But there's something unique about using a classic, point-and-shoot film camera. The fact that you don't know how the photos will turn out gives you that mysterious, exciting feeling. And honestly, what comes next is the best part: seeing your photos come to life.
If you just got your first film camera and you're wondering where you can get your rolls processed and scanned, keep reading for some options. 
Sunny16 Lab
Follow them: @sunny16lab
At Sunny16 Lab, you can get your pics back in one to 15 days max! They offer scanning and processing services for both disposable and film cameras (35MM, 120, 110, and APS film). Once the film is scanned, you can choose to have the digital copies emailed, printed out, or both! If you prefer processing only, that's fine too! 
For more info, visit Sunny16's website.
Fotofabrik

Follow them: @fotofabrik.ff
At Fotofabrik, they offer processing for both colored and black-and-white film. Their other services include: negative scanning (P200), ECN/cinefilm/cinestock processing (P250), and color reversal processing (P600). For standard processing and scanning, you can expect your photos to be done in five to seven business days. 
Continue reading below ↓
Recommended Videos
You can fill out Fotofabrik's order form here. 
Wonder Photo Shop | Fujifilm
Follow them: @wonderphotoshopph
If you want your films developed ASAP, then Wonder Photo Shop could be the right store for you. They have two branches that do same-day pick up—one at their main office in Sto. Domingo, Quezon City and another at the Fujifilm Concept Store in SM Megamall. Processing time at their 18 other branches will take 10 days for colored film, and one month for cross processing film.
For more info, check out Wonder Photo Shop's Facebook page.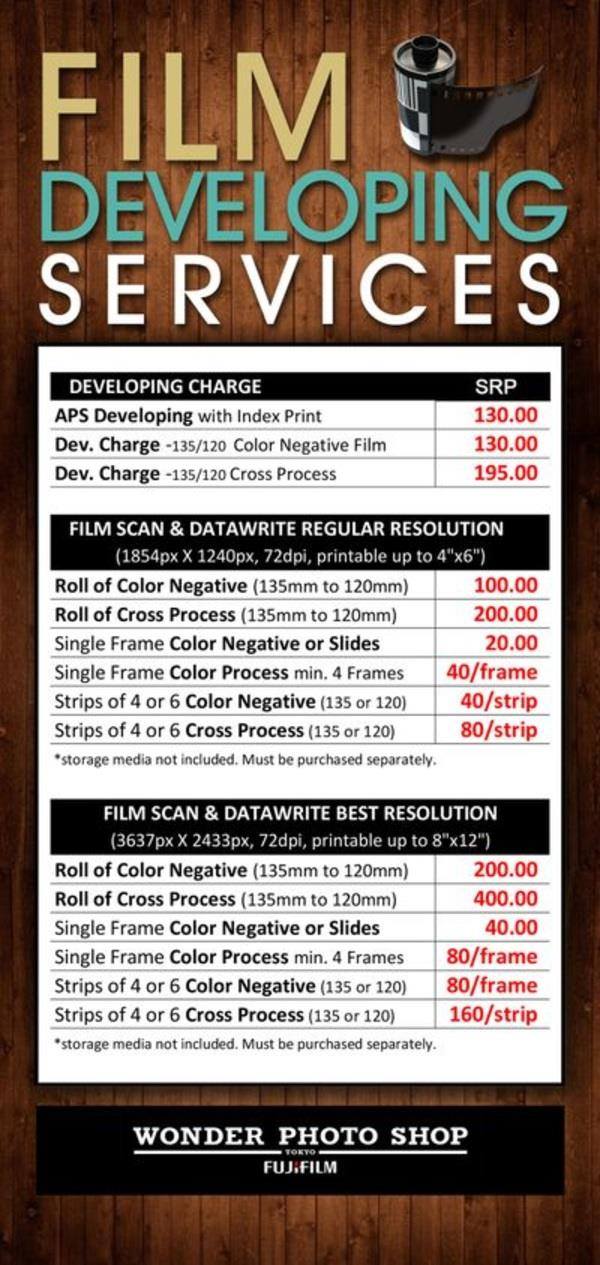 MSM Wells Photo
Located along South Super Highway in Makati, MSM Wells Photo does more than just film processing and scanning. They do custom printing and framing, too! They can process colored and black-and-white film and cross process E-6 and C-41 film.
For more info, check out MSM Wells Photo's Facebook page.
Film Avenue

Follow them: @filmavenue.mnl
If you want to get your 35mm film rolls, colored/negative rolls, and disposables processed and scanned, check out Film Avenue. They provide two types of scanning services—standard scan (P80) which is recommended for online sharing, and high resolution scan (P120) which is meant for printing. As for processing time, your scans will be ready and sent to you via Google Drive within five days from when your rolls were picked up. 
For inquiries, you can send Film Avenue a DM on Instagram.
***
We're officially on Viber! Be part of our growing community and subscribe to Cosmopolitan Philippines now!
Follow Lou on Instagram.