Zeinab Harake is one of the Philippines' most popular YouTubers; as of writing, she has over 10 million YouTube subscribers. This is an impressive achievement, considering the content creator posted her *first* video just in July 2019, a "Get To Know Me" vlog for new fans. She hit one million subscribers two months later. And by her first anniversary, Zeinab had 6.2 million subscribers, which she celebrated by filming a new intro for her videos! Did you know her *original* intro only took five minutes to shoot but her fans, affectionately called Zebbies, love it so much that she decided to recreate it.
But it doesn't stop there: She's also amassed millions of followers on Facebook (8.5 million), Instagram (2.9 million), and Twitter (4.2 million), and TikTok (8.4 million). 
Who is Zeinab Harake?
Born December 11, 1998, Zeinab is half-Filipina, half-Lebanese. Her full name, which she says in her first YouTube video is Zeinab Mohamad Ocampo Harake. She currently has two siblings: her kuya, Wessam Harake, and their bunso, Rana Harake. (Fun fact: Rana is also a YouTuber; she has almost three million subscribers!) 
ADVERTISMENT - CONTINUE READING BELOW ↓
In a video posted in September 2020, Zeinab googled herself and while talking about her family, she mentioned that they had another sibling, ate Tara, who passed away in 2015. ICYDK, Zeinab is known for the phrase "Arat na!" and the special meaning behind it is "arat" is "tara" spelled backwards: "Yun yung nakilala sa'kin. Parang feeling ko, ginabayan niya yung career ko."
Zeinab's past career experiences + collabs
The 22-year-old used to join pageants! In an episode of Mars Pa More, Zeinab told hosts Iya Villania and Camille Prats that her special talent during her pageant days was baton twirling. Before she became a full-time YouTuber, Zeinab also worked as a "Disney princess" for mall events. 
She guested on the show with best friends and fellow YouTubers Donnalyn Bartolome and Jelai Andres. Together, they're known as "DOLAINAB", which is an amalgamation of their names. One of their most popular videos is when the trio decided to sell Filipino street food! 
They've done several collabs together, most of which have been fun challenges like "last to leave the pool," "trying not to laugh," "who knows me better," and more. Both Donnalyn and Jelai have been there for many of Zeinab's big moments including her surprise birthday party and gender reveal party. Zebbies know that Zeinab has also collaborated with Alex Gonzaga in a tiangge shopping vlog and a game of "two truths and one lie." 
As expected, Zeinab frequently appears in sister Rana's videos; here's a hilarious one where Rana copies her ate for an entire day, haha!
Zeinab's relationship with Daryl Ruiz (Skusta Clee)
Zeinab has been in an on-again, off-again relationship with Daryl Ruiz (Skusta Clee) for years. The two recently welcomed their first child together, baby Bia! Before Bia came along, they shared a cat named Athena—a gift she gave the rapper-songwriter in the beginning of their relationship. When Athena passed away, Zeinab and Daryl reconnected. 
ADVERTISMENT - CONTINUE READING BELOW ↓
In an interview with Toni Gonzaga, Zeinab said, "Nung time na 'yon, akala ko talaga okay na ako. Seven months kaming hiwalay. Ang tagal na. Nung namatay yung pusa naming, nakita ko siya—ayan na naman…'Pag nakita mo ang tao, babalik at babalik." They started dating again in July 2020. Bia was conceived on August 7, and they found out she was pregnant on October 6. At the time, they were already living together. 
The new mom shared that her initial reaction was fear because of the things she's said about her relationship with Daryl in the past: "Naiiyak ako kasi natatakot ako. Ano ang sasabihin ng tao? Ano ang sasabihin ng family ko? Nung time na 'yon, feeling ko kakainin ako ng lupa. Wala akong mukhang maihaharap kasi ang dami ko nang nabitawang salita. Ang dami ng may ayaw kung anong mayroon sa'min." She revealed that they had just gotten back together two to three weeks prior to conceiving Bia.
ADVERTISMENT - CONTINUE READING BELOW ↓
Describing Daryl as the "male version" of herself, Zeinab said, "Hindi ko kaya makita yung sarili ko sa iba kasi hindi ko kaya ibigay yung sarili ko kasi alam ko yung sarili ko, para lang sa taong mahal ko."
Zeinab eventually revealed in an interview with Toni Gonzaga on May 10, 2022, that they broke up again. The vlogger opened up that she caught Daryl cheating on her. She suffered a miscarriage with their second child Baby Moon when the breakup happened.
Zeinab's children: Lucas, Bia, Baby Moon
Zeinab became a mom at 18 years old when she officially adopted her son Lucas, who is now three. She told Toni in the same interview, "Nung nakita ko kasi yung bata, parang andudun yung puso ko. Gusto ko 'to." Lucas lives with Zeinab's mom in Cavite. 
On May 1, 2021, Daryl made a touching announcement on Instagram, welcoming Bia into the world! Bia arrived just a few days before, on April 28. In a vlog, Zeinab opened up about how motherhood's been like so far, sharing that while she planned on having a "natural birth," a few health complications came up and her doctor advised them to go with a C-section instead. 
ADVERTISMENT - CONTINUE READING BELOW ↓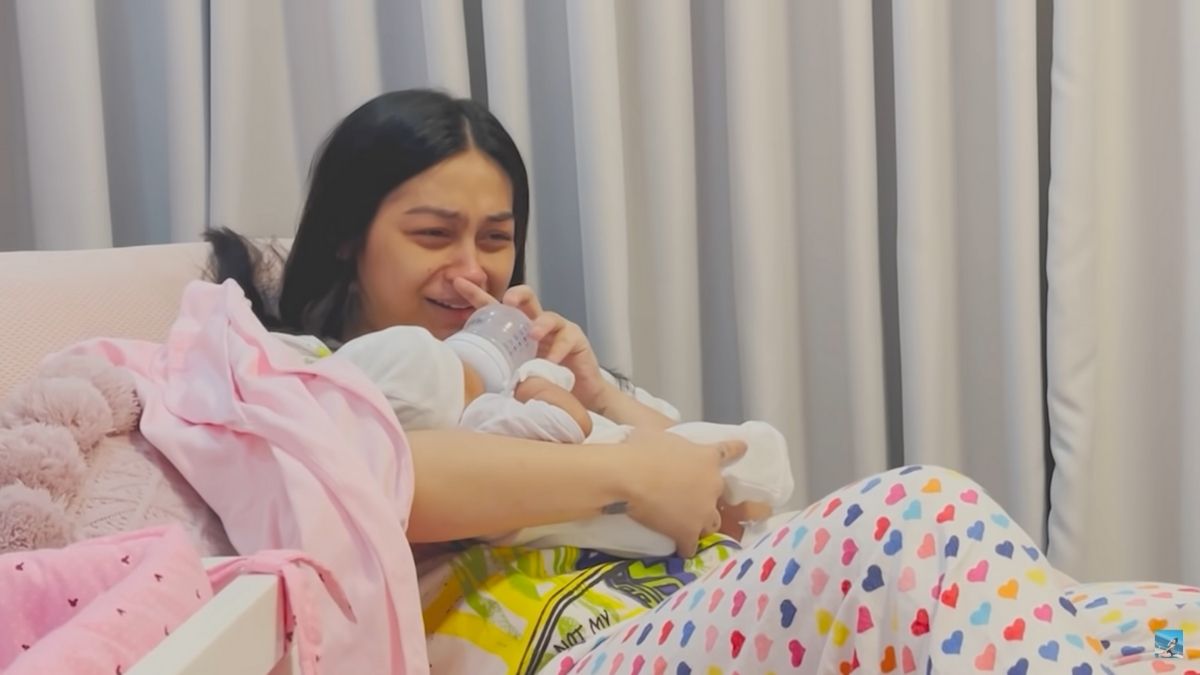 Once Bia was home, Zeinab spoke about how it was necessary for her to use a pump because Bia couldn't latch onto the breast. In the video, we see Bia drinking Zeinab's milk for the first time, an emotional moment for the new mom. Right now, the YouTube star is taking her time with creating content and prioritizing family time first. 
ADVERTISMENT - CONTINUE READING BELOW ↓
On April 13, 2022, Zeinab announced that she lost her second child Baby Moon. In an Instagram post, she shared a photo of herself standing in front of an altar that had a small urn that contained the text, "Baby Moon Harake."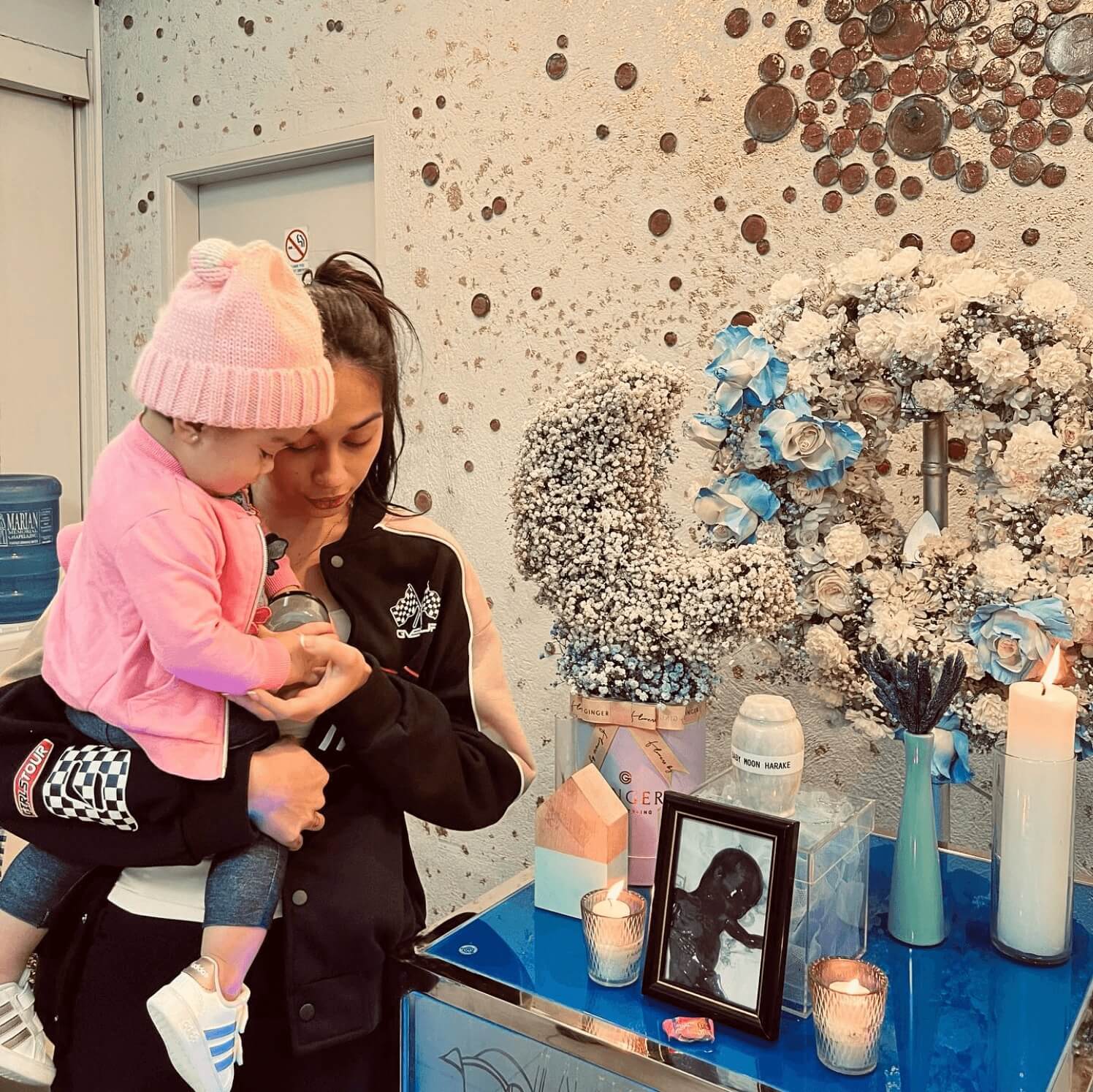 Zeinab wrote in the caption, "4-11-22. My baby boy, rest ka na. Mahal na mahal ka namin ni Ate Bia mo." 
ADVERTISMENT - CONTINUE READING BELOW ↓
READ MORE ABOUT ZEINAB
Zeinab Harake's Baby Bia Has The Cutest Disney Princess-Themed Photoshoots
Zeinab Harake Dressed Up As ~Six~ Disney Princesses For Her Dream Maternity Shoot
Zeinab Harake's Stunning New Maternity Photos Show Both Her Fierce & Sweet Sides
Zeinab Harake On Getting Lip Fillers: 'Gusto ko lang talaga'
***
Cosmopolitan Philippines is now on Quento! Click here to download the app and enjoy more articles and videos from Cosmo and your favorite websites!