Aside from writing articles and coordinating with talents, part of my job is also to handle our team's Instagram account. I post IG stories, reply to comments from our followers, and upload social posts. One of the tools that's been so useful to my socmed life is this app called —basically it lets you edit and plan what goes up on your feed. I enjoy it so much, I even use it for my own Instagram account, LOL. But to be honest, I never really expected that this one small thing I do for work would end up as something I'd do for my personal life, too. I bet nakaka-relate din kayo! Below, girls from our Cosmo Community share some of the work habits that they picked up and the interesting + random ways they apply it in their personal lives.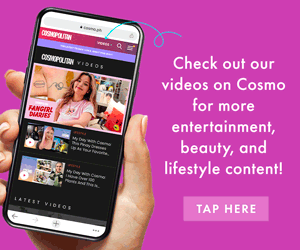 "Paggawa ng business plan or financial statement, haha! May Excel file kami ng savings forecast given projected expenses, ganern! Formulas are lyffff. Sending calendar invites, too! Kahit sa husband ko pinapadalhan ko siya so we don't forget scheduled e-numans, appointments for the vet, [and] even the few get-togethers sinesendan ko friends ko ng invites." -Anya
"I have a DataStudio dashboard for tracking expenses. I need to make a simplified version, haha. It ended up being too detailed for my family's use, ako lang gumagamit, LOL." -Belle
"I use project management tools to plan my life, haha. May timelines at categorization pa!" -Dianne
"Writing emails and messages! I feel like no matter how much I control myself, anything I write sounds like I'm talking to a client." -Rissa
"I have a Google spreadsheet for my clothes, shoes, and skincare products. I also use Google Sheets to plan my packing list and travel outfits." -Ira
"From family parties to traveling in big groups, naka-deck lahat. I present a concept board for events and package options for flights + accommodations to my mom." -Kimi
"I cannot live without Calendar and Google Sheets! Even [for] grocery days, dentist appointments, [and] meet-ups—[they] are all in my calendar! [I also have] Google Sheets for finance stuff like tracking expenses and a sheet for K-dramas I'm planning to watch, LOL!" -Jen
"I try to never leave people on read! At work we always have to email 'noted' or 'received' and it's really considerate, so I always let someone know I read and [acknowledged] their message by at least leaving a like. It's the polite thing to do!" -Andrea
"I say 'EBI' [which stands for] Even Better If. [It's] how I tell my partner [the things] he needs to improve on." -Chamie
"I sometimes ask my friends, 'Kaya today? EOD?'" -Alysse
"I always say to my husband when we're going out, 'Brief mo ako kung ano plans mo today' or 'Brief kita sa pupuntahan natin.'" -Faith
"I do a lot of cost-benefit analysis, and I compute a cost per use to see if my things are sulit. And sometimes, when my BF makes kwento and medyo confused na ako, I try to recap 'where we are in this meeting/discussion' then at the end, parang may minutes of the kwento just to check if I understood it correctly. At home, when there are issues usually related to finances, I'm like, 'Okay so we can cut A, B, C, and D then let's regroup in two weeks to discuss if it's working.'" -Vee
"I work in the media, so everything's ~rushed~ and you're expected to respond quickly to messages. I'm guilty of expecting my family and friends to reply to messages within 10 minutes max when we're talking about important things, and I get super antsy when they don't. It's a bad habit and I find myself consciously trying not to 'Follow up!' Huhu, it's a toxic trait though." -Grace
ADVERTISMENT - CONTINUE READING BELOW ↓
***
Answers have been edited for clarity.
Join Cosmo Community, our growing Facebook community for fun, fearless, and forward Pinays!
We're officially on Viber! Be part of our growing community and subscribe to Cosmopolitan Philippines now!
Follow Lou on Instagram.