Facebook has recently revealed that a whopping 87 million (and not just 50 million as per earlier reports) of their users' data were indeed stolen by political research firm Cambridge Analytica. And apparently, 1.4 percent of those FB users—the second highest number of users from their list—are from the Philippines.
Look: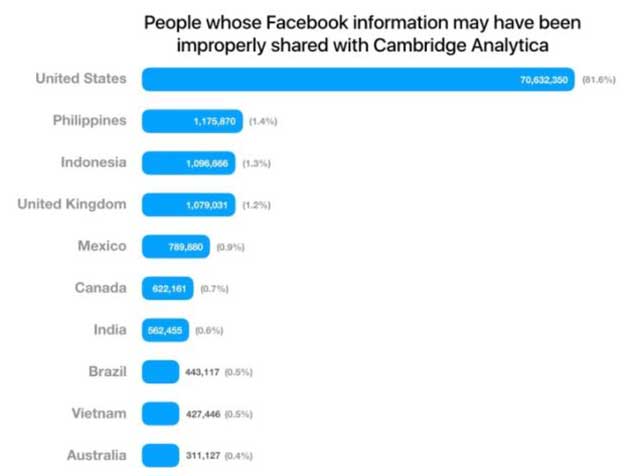 Upon receiving the report, the National Privacy Commission (NPC) had a meeting with local Facebook representatives to learn the extent of the damage that has been done to Pinoy FB users.
In an interview with The Philippine Star, NPC commissioner Raymund Liboro explained how Cambridge Analytica was able to steal data from Filipinos. "Facebook told the NPC that 558 Filipino users installed Aleksandr Kogan's personality quiz app, 'This is Your Digital Life,' through which personal data may have been improperly shared with Cambridge Analytica."
He added, "From this, 1,175,312 more Filipinos may have been subsequently affected via sharing, making the Philippines the second most affected country in terms of the total number of data subjects."
There's still no confirmation on what happened to the data harvested by Cambridge Analytica from the country. However, recent reports suggest that the data might have also been used during the 2016 Philippine elections.
"The parent company website of Cambridge Analytica, Strategic Communication Laboratories, or SCL Group, shows it has 13 offices worldwide—including the Philippines," Rappler revealed in an article. "The firm that helped Donald Trump win the US elections also used Filipinos' data to help Rodrigo Duterte win in the Philippines."
In line with the issue, Facebook said in an official statement that they are currently making changes in the app to protect users' information.
"We want to update you on the changes we're making to better protect your Facebook information," Facebook Chief Technology Officer Mike Schroepfer shared, "We expect to make more changes over the coming months, and will keep you updated on our progress."
Part of the modification that was rolled out informs netizens if they are affected by the data breach. To start, FB users' whose privacy was compromised received notifications earlier this week.
"We'll show people a link at the top of their News Feed so they can see what apps they use—and the information they have shared with those apps. People will also be able to remove apps that they no longer want. As part of this process we will also tell people if their information may have been improperly shared with Cambridge Analytica," Schroepfer explained.
Here's what the notification looks like: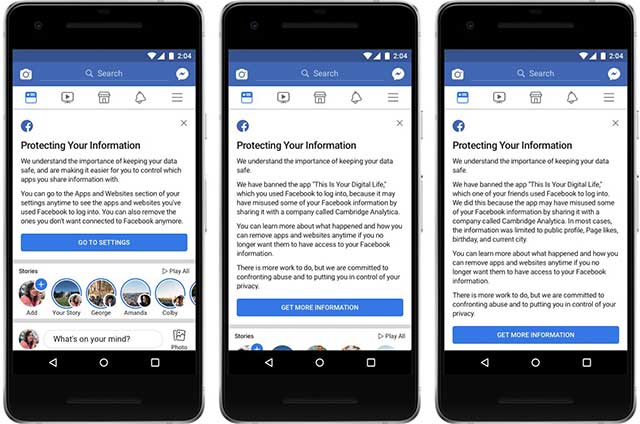 The messages have three different versions depending on whether you used, shared, or were just affected by the app "This Is Your Digital Life." 
If you happen to receive the notification, here's what you can do:
1. Go to "Settings"
2. Select "Apps"
3. Click "See all"
4. Remove all the apps, websites, and games that you're not using anymore
You can also read more about protecting your FB data and preventing apps and quizzes from stealing your info by clicking this link.
Continue reading below ↓
Recommended Videos