On July 14, Canon Philippines began rolling out a list of established photographers chosen to front their brand this 2021. As they slowly unveiled their new ambassadors in the coming days, however, it became clear to Canon's followers that the group would only consist of men. Making up the Canon Crusader of Light Brand Ambassador Program are Jun Miranda, Wig Tysmans, Edwin Martinez, Jijo de Guzman, Ian Celis, Doc Marlon, Jay Tablante, Pat Dy, Wesley Villarica, Jilson Tiu, and Per-Andre Hoffman.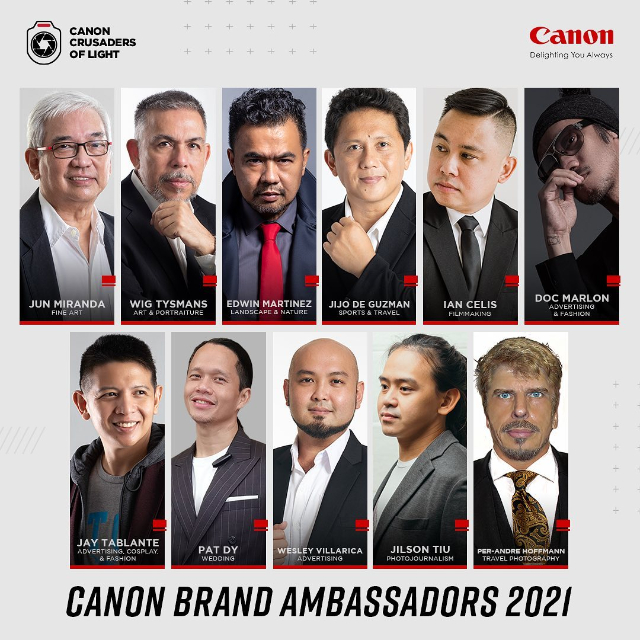 With no females in sight, the program incited outrage on various platforms on social media as netizens began clamoring for the brand to do better. "No one is questioning the talent of these men. However, anyone remotely familiar with the industry knows this country is TEEMING with Filipina photogs of equal caliber," commented events host Carla Del Prado Baretto on Facebook. "The message Canon Philippines is sending here is that they don't consider women as worthy of a place in their archaic boys club, and that they couldn't be bothered to look."
Continue reading below ↓
Recommended Videos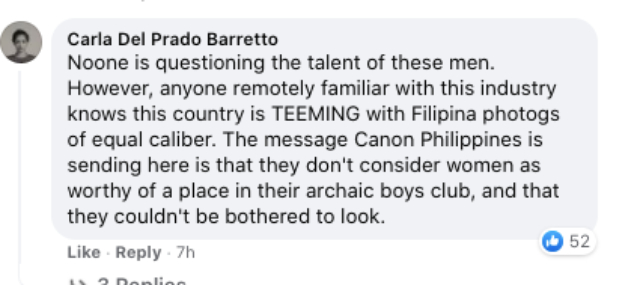 Below are more social media reactions.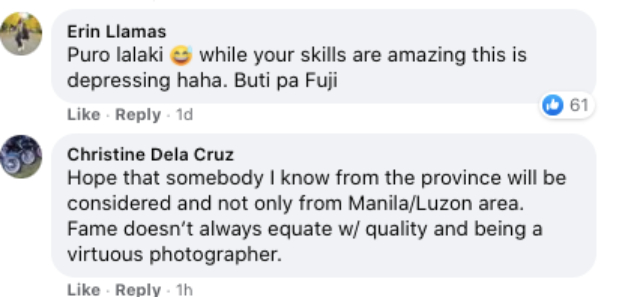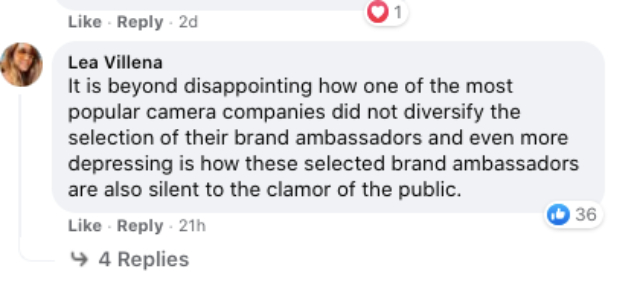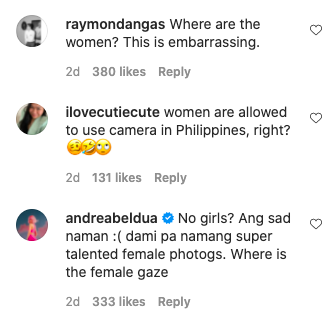 Aside from the lack of women in the lineup, the brand is also being slammed for including male foreign photogs on the list, giving them spots they could have offered to Pinays instead. This, along with the failure to diversify their pool with LGBTQIA+ talent, only gave Canon's critics more fuel to work with.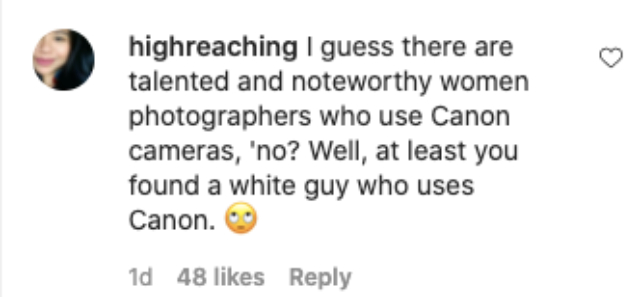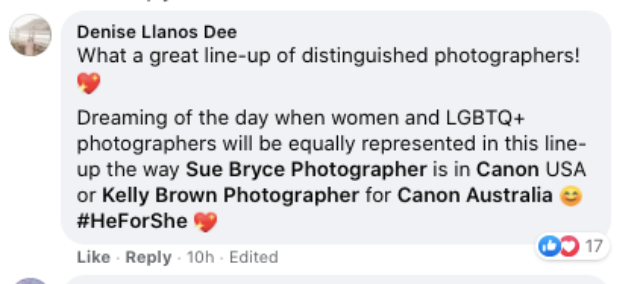 In response to the criticism on their social media pages, Canon uploaded a callout for "Lady Shooters," to join their female-centric campaign instead. The brand made it clear that those chosen for the roster will not be offered monetary deals, but will alternatively be compensated with "online workshops and other photography engagements."
See the full text below.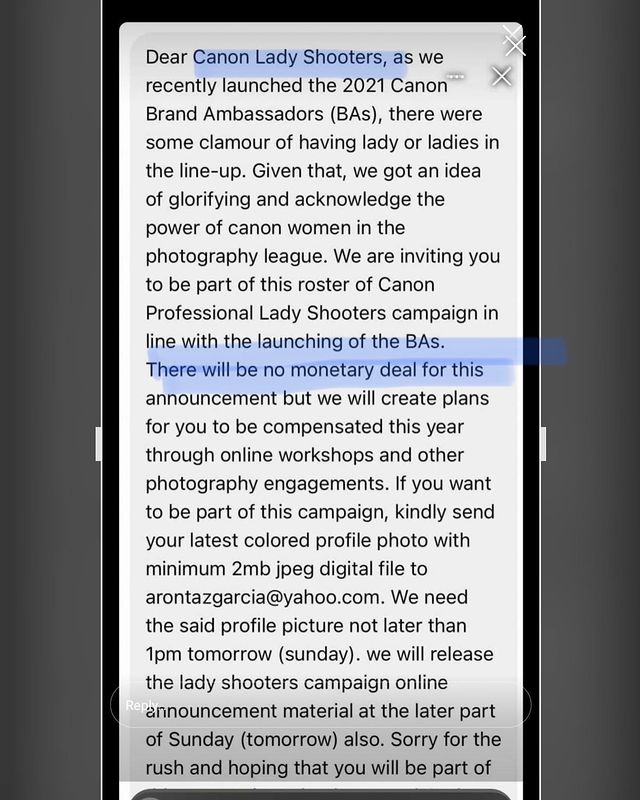 This only served to further fan the flames as netizens expressed their disappointment at the new post for a number of reasons. Apart from their need to categorize women photographers into "Lady Shooters," Canon drew more flack for not paying their talents, aggravated only by a questionable application process—rather than a portfolio, interested female photographers need only submit their "latest colored profile photo" to be considered.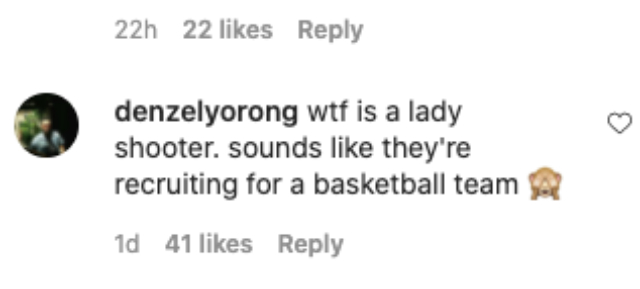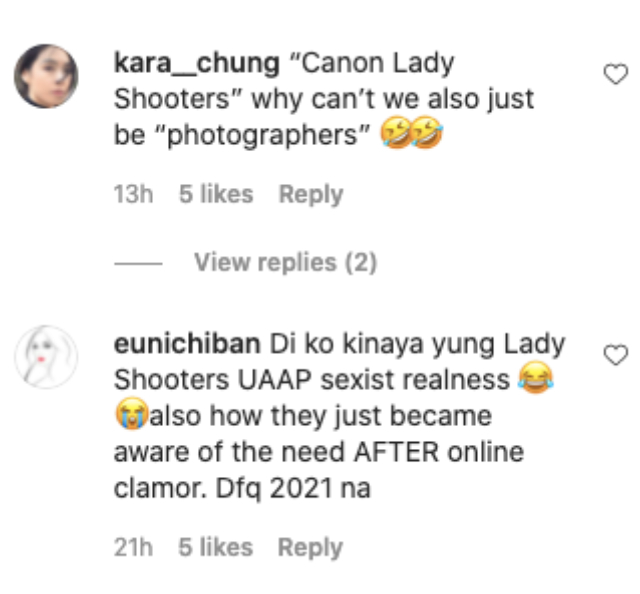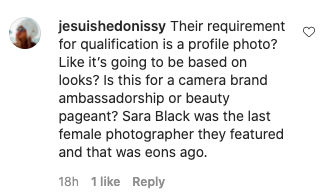 Influencers and vloggers also weighed in as they joined the crowd of equally and understandably upset users rallying in the brand's comments section. "Glad I quit Canon a long time ago," wrote Tricia Gosingtian. Meanwhile, Camille Co offered Canon her own list of "awesome Filipina photogs," namely fashion photographers Shaira Luna, Charisma Lico, and Andrea Beldua.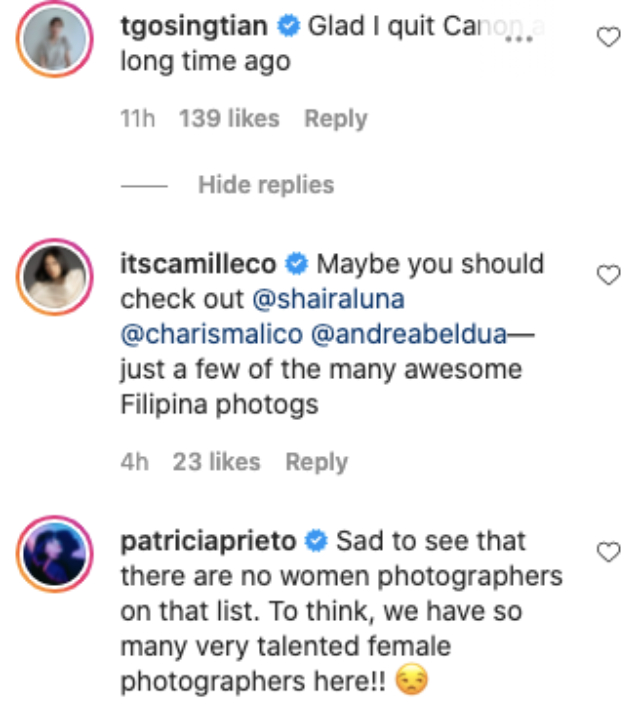 On the other hand, entrepreneur and Happy Skin co-founder Rissa Mananquil Trillo responded with a more concrete suggestion that Canon could take in order to truly prove their support for women. "It's 2021 already and it has never been more critical for a company to demonstrate its commitment to addressing gender inequality....," reads her IG story. "On that note, may I invite you @canonphils to instead be a gender equality champion and sign the UN Women's Empowerment Principles? If you feel your company already supports gender equality, signing this will all the more strengthen that commitment."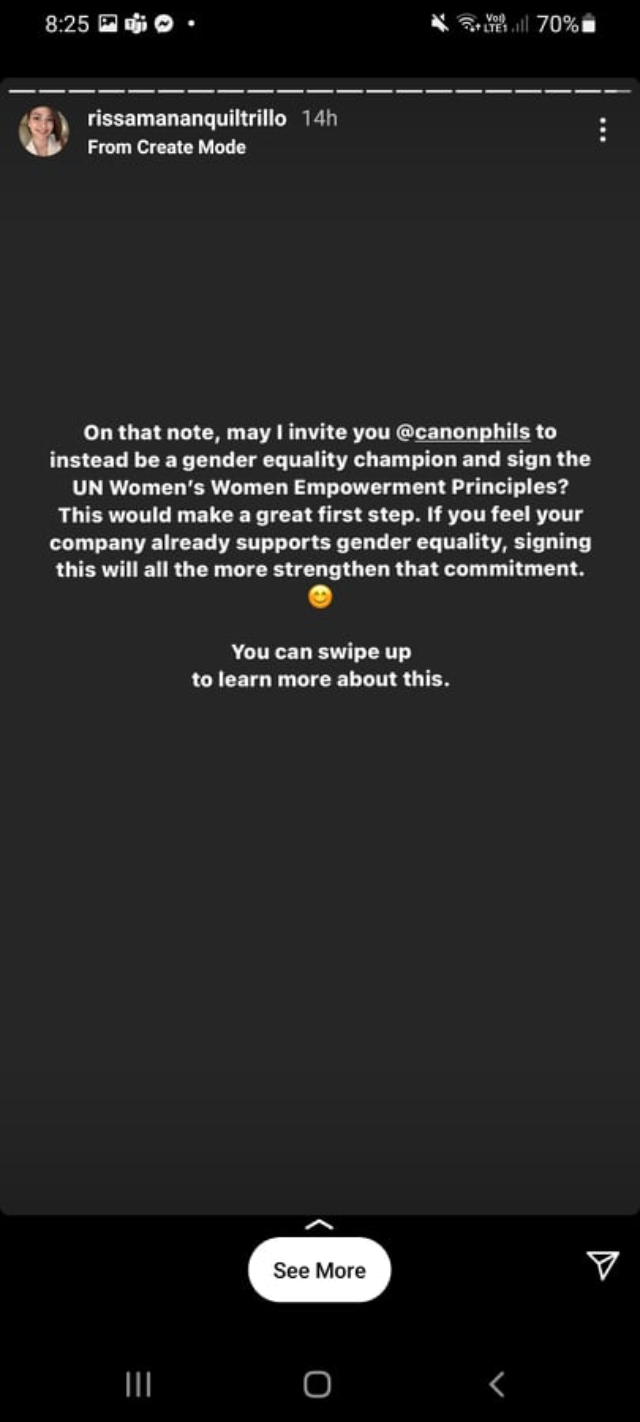 Among Canon's 11 announced male ambassadors, as of writing, only one has spoken up about the issue. On his Instagram page, landscape and nature photographer Edwin Martinez posted photos of his works with the caption, "I find it funny that in this day and age people still jump into conclusions and make use of certain incidents to their (online) advantage. When certain types of people clamor for attention and just blast away with negative comments without getting the facts and the story behind it."
He continued, "Even people who have no relation to the issue are bashed and judged. And these 'demographics' clamor for attention and yet they have not proven themselves in this craft, but they become the judges and jurors. The demographics of color grading and presets with tacky compositions are the outspoken ones and those with real talent remains meek. LET. THE. PHOTOGRAPHS. SPEAK. (this one coming from the 'experienced.')"
This isn't the first time a prominent camera brand has been accused of sexism. In 2017, Nikon came out with a list of 32 all-male ambassadors to promote their latest gear at the time, the Nikon D850. Similar to Canon's blunder, the Japanese brand provoked anger among female photographers and Nikon users alike, describing the whole thing as "embarrassing" and "shameful." Nikon soon released a statement on Twitter to acknowledge the criticism, writing "Thank you for sharing your thoughts with us. We really appreciate the support from our photography community."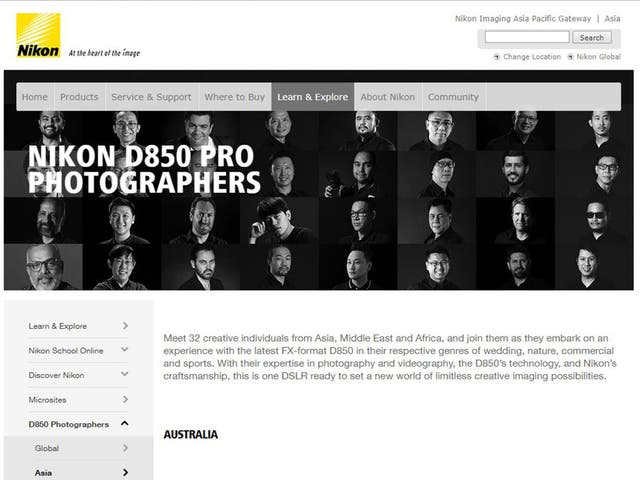 While Canon pushes on with their ambassador program, others have taken matters in their own hands by amplifying the talents of those left out by the brand, on their own social media platforms. For her part, photojournalist Hannah Reyes Morales curated a list of Filipina and non-binary photogs on her Instagram. The 10 names featured are Eloisa Lopez, Pau Villanueva, Cenon and Mav, Wawi Navarroza, Sara Erasmo, Xyza Bacani, Lisa David, Kimi dela Cruz, Regine David, and Dennese Victoria.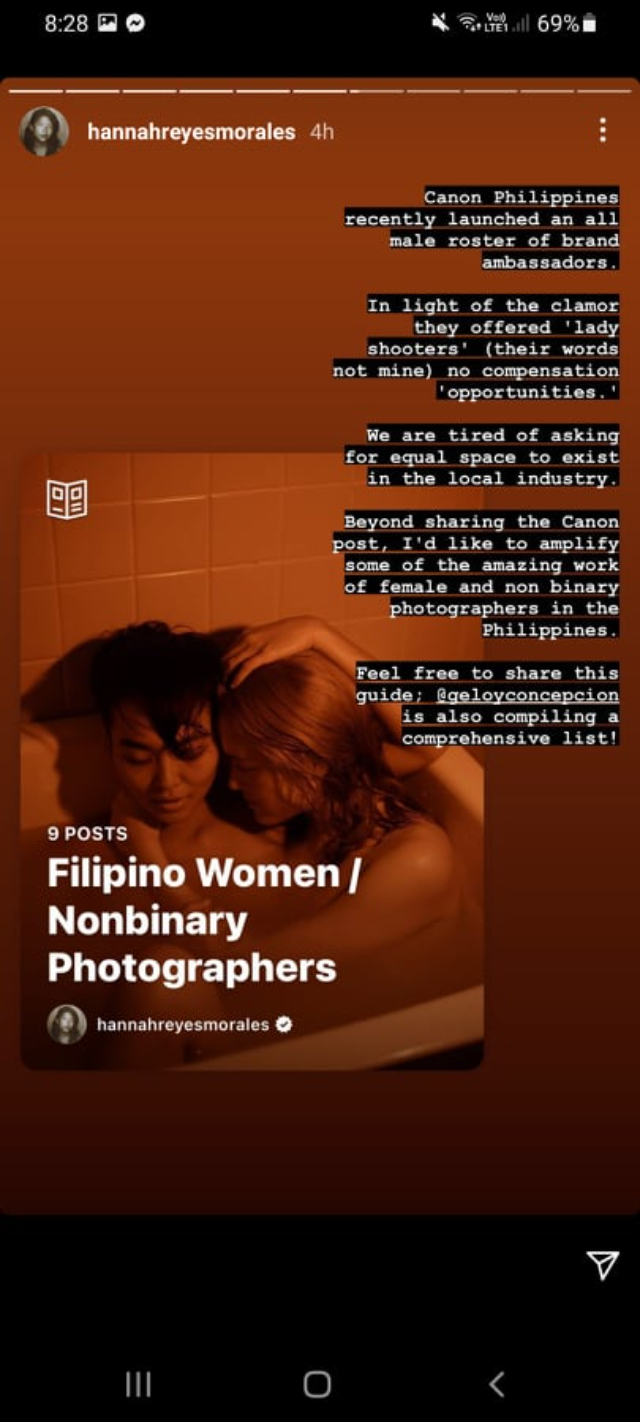 You can check out their work in Hannah's full post here.
Photographer Colin Dancel also started a database dedicated to rounding up shooters from the same two demographics here. The board is open to the public. Colin writes, "Please feel free to add more materials, resources on there. I am not sure where this leads but the hope is to continue the conversation, to amplify voices and to hold space that is rightfully ours."
***
READ MORE:
Meet 10 Pinays Slaying In Traditionally Male-Dominated Careers
Here's An Exclusive Peek At Photographer Shaira Luna's First Book
#KDramaTrivia: 'Reply 1988's Ryu Jun Yeol Is Actually A Talented Photographer!
Preview is now on Quento! Click here to download the app for iOS and Android and enjoy more articles and videos from Preview and your favorite websites!