Chel Diokno On The Importance Of Mental Health Awareness: 'There must be greater education, especially among the youth'
Mental health has always been an important topic, more so during the pandemic. When human rights lawyer, teacher, 2022 national elections candidate, and now Tiktoker Atty. Chel Diokno sat down for a virtual interview with Summit Media journalists, Cosmo asked him for his personal tips when it comes to taking care of his psychological and emotional well-being. 
Atty. Chel Diokno on mental health awareness
"I try to make sure I work out as regularly as I can. Kung hindi lockdown, I love playing badminton. That really helps me forget the other things that I'm thinking of constantly throughout the day. I also do some very simple breathing and meditation type of exercise as much as I can...at least a couple of times a week." He says this may be the outcome of studying Aikido for eight years—Atty. Chel actually has a black belt! "But it's the non-violent type of Aikido [that] respects the integrity of the human body. So we don't harm, we don't break bones, we don't do anything like that. We can neutralize aggression peacefully, in other words. And that was really what opened my eyes to the need to be relaxed."
We also wanted to know how Atty. Chel plans to promote mental health awareness in the Philippines, and he said that it's important to focus on how we educate young people about it: "Especially among the youth, it is an issue. I think that there must be greater education, especially among the youth, when it comes to how to care for their own mental health. Part of our community health service should also include, I believe, not just our physical health but our mental health. In terms of our regular education, feeling ko dapat kasama din 'yon e."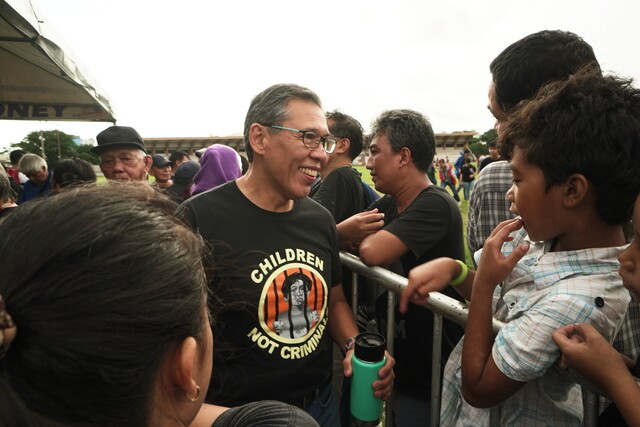 Atty. Chel, who is the dean of DLSU's College of Law, added that he witnesses how stress affects the mental health of law students. "But I would say that even in regular schools, that is also an issue. So there must be some kind of program coming from the government that will address mental [health] issues, as well as legislation. For example, we may need to revisit what you can get from Philhealth and from other health government programs in terms of mental health services. Because right now, from what I know, it's more limited to physical ailments."
During Atty. Chel's recent guesting on the Ang Walang Kwentang Podcast, he also talked about how "it's okay not to be okay" during these trying times: "Marami naman sa atin ngayon ay hindi okay, and it's okay not to be okay. I think we should acknowledge that we are all going through something that we never expected would happen. Kaya I tell this to a lot of young people I meet: Never be afraid to consult, to ask for help, lalo na kung sa tingin ninyo ay medyo you're in a situation you do not understand."
MORE ON MENTAL HEALTH: 
Mental Health Is Physical Health—Period
PSA: You Can Get A PWD Card For Mental Health Reasons—Here's How I Got Mine
This Pinay Is Here To Remind You To Have Self-Care Days For Your Mental Health
***
We're officially on Viber! Be part of our growing community and subscribe to Cosmopolitan Philippines now!
Follow Lily on Instagram.