Getting a negative test result for COVID-19 is needed when traveling, crossing city borders, coming back to work, or even just for keeping your peace of mind. But heading to hospitals and clinics in the current situation can be risky and expose you to the virus more than necessary. 
Do you need to get tested? Here are 10 home-service COVID-19 tests in Manila:
1. Zennya Health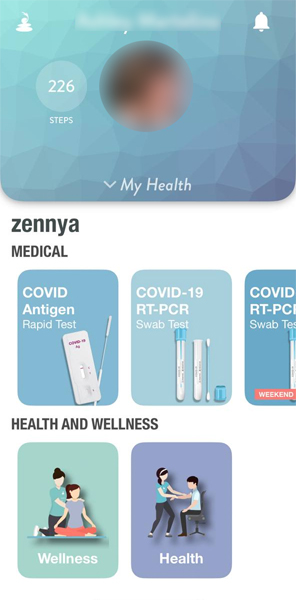 Aside from letting you book spa and massage services, mobile app Zennya Health also provides home services for COVID-19 testing. You can choose from a rapid antibody test (P1,500), rapid antigen test (P2,500), or RT-PCR swab test (P3,800). Samples are obtained while you're in the comforts of home, and the results are available either within 30 minutes or after two days depending on the test. You can also book virtual doctor consultations and other laboratory tests through Zennya Health. 
Continue reading below ↓
Recommended Videos
Zennya Health is available on Google Play and App Store. 
2. Healthway
Healthway, which has branches in Alabang Town Center, Festival Mall, Market! Market!, SM The Block, 8 Adriatico Manila, Shangri-La Plaza, and Greenbelt 5, also offers home service for COVID-19 testing. The RT-PCR test is at P4,500 with additional mobilization fee. Home service testing is available from Sunday to Thursday, 8 a.m. to 5 p.m. 
To book an appointment, e-mail homeservice@healthway.com.ph or by calling 0916-724-9792 or 0967-507-5194. 
3. Alcheon Medical Corporation
Alcheon Medical offers some of the most affordable COVID-19 testing services out there. Test options include rapid antibody (P4,700), rapid antigen (P2,300), and RT-PCR (P5,000). Prices are cheaper in bulk, with the swab test going as low as P4,500 if you book for five people. E-vouchers are available through KKDay, a website for booking travel tours, hotel staycations, and tickets to tourist attractions, on their "Test Before You Travel" page. 
To book an appointment, e-mail support@alcheon.com.ph or by calling 0916-485-4677, 0963-151-5862, or (02) 8893-1111 local 2048. Alcheon Medical Corporation e-vouchers are available through KKDay. 
4. Hero Laboratories 
Hero Laboratories offers their RT-PCR swab test for home service starting at P5,000, with results sent to you in 48 hours. They offer PCR swab and antigen swab testing at their 5 Star Bus Transit-Cubao branch by appointment, as well as a drive-thru option. This laboratory has partnered up with companies like Amorita Resort in Bohol and bus services Bataan Transit and Five Star.
To book an appointment, e-mail herolaboratoriesph@gmail.com or call 0926-298-5051 or 0917-630-0294. 
5. Housecall MD Philippines 
Aside from doctor's consultations at home, HouseCall MD also provides COVID-19 testing. You can book either the rapid antigen test (P3,000) or rapid antibody test (P1,800). For house calls, you have to pay an additional charge depending on your distance from their clinic in Makati. The charge for Mandaluyong, for example, is at P3,500, while the house-call fee for Parañaque is at P4,500. 
To book an appointment, visit Housecall MD Philippines on Facebook. 
6. Hi-Precision Diagnostics
Hi-Precision Diagnostics is available for home service from Monday to Saturday, from 6 a.m. to 4 p.m., and every Sunday, from 6 a.m. to 2:30 p.m. They have the antibody test for only P750 and IgG/IgM Ab(CMIA) for P1,600, but both are given only to patients who are potentially asymptomatic. The RT-PCR test is available for P4,400, while the antigen test is available for P1,900. The total package for home service of the RT-PCR test is at P7,000 per patient.
To book an appointment, call 8741-7776 and press 2 to check availability.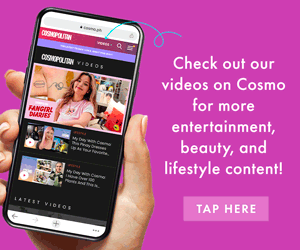 7. Keralty Clinics 
Keralty Clinics can give you your test results in 24 hours, even if it's their RT-PCR test you're taking. Just make sure that samples are collected at 11 a.m. and book the Next Day Delivery Service option at P5,000 per patient. There's an additional Home Service Charge of P2,500. For other types of tests, they have: rapid antibody (P1,300), rapid antigen (P1,700), and regular RT-PCR test (P4,500) with results given in three to five days. 
To book an appointment, fill out the online form through their website. 
8. Manila Doctors Hospital
With their Roving Med program, Manila Doctors Hospital provides RT-PCR testing from the comforts of your home. They have a couple's package for P8,500 and a family package (five members) for P20,000. Fees come with a free safety kit (face mask, face shield, and alcohol), and the home-service charge is dependent on your location. 
To book an appointment, e-mail rovingmed@maniladoctos.com.ph or call 0917-802-1043 or 8558-0745. 
9. Philippine Airport Diagnostic Laboratory 
COVID-19 tests by Philippine Airport Diagnostic Laboratory are offered exclusively for Cebu Pacific and AirAsia passengers. If you and two of your household members are hopping on a plane sometime soon, just book an appointment for their RT-PCR test at P4,000. The home service fee depends on your location. 
To book an appointment, fill out the online form through their website. 
10. AIDE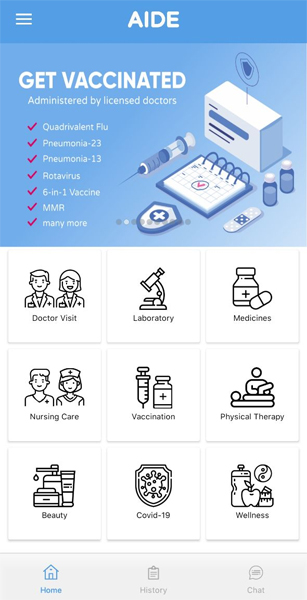 AIDE recently upgraded their system to feature online consultations with specialists, from OB-GYNs to pediatricians, and vaccinations, including quadrivalent flu vaccine and pneumonia. But if you're looking to get tested for COVID-19, their rapid antibody test costs P2,780 with results in 10 minutes, the rapid antigen test is at P3,750 with results in 20 minutes, and the RT-PCR test is at P9,000 with results the next day. Fees go down if you're booking for more people, up to 50 or more. Pricing is inclusive of the kits, lab test, doctor's fee, and staff in full PPE, and hazard pay. You need to give a 50% down payment prior to your appointment.
AIDE is available on Google Play and App Store.
***