On February 19, 2017, news exploded about the disappearance of the community cats in the park fronting Shangri-La at the Fort. Cared for by CARA Welfare Philippines and the volunteer team Cats of BGC, these felines were either spayed or neutered, regularly fed, and constantly monitored. They were daily rays of sunshine for those who live and work in the area.
Shangri-La at the Fort admitted to ordering the relocation of the cats that were said to enter the hotel premises. PestBusters, which was hired to do it, is a pest control company that has no accreditation to transport animals.
The way the popular hotel handled the situation sparked the anger of animal advocates both on and offline. There were protests, boycotts, and a lot of negative press, all forcing Shangri-La at the Fort to release explanatory and apologetic statements. In the meantime, CARA and Cats of BGC continued their tireless search for the missing cats.
On March 5, 2018, the two volunteer organizations released a joint statement: No cats were found.
Continue reading below ↓
Recommended Videos
CARA and Cats of BGC have decided to prioritize the safety of the remaining cats at the park. While the statement was met with mixed feelings by the public, it once again highlighted the dire need of these volunteer groups for more people who are actually willing to step up and help instead of simply typing away behind the safety of a computer.
We recently got in touch with Cats of BGC volunteer Claire Briddon. She explained that the group is actually backed by only "four cat lovers…operating independently and voluntarily, to help the community cats in BGC." They have assisted CARA numerous times by feeding, promoting Trap-Neuter-Release (TNR) projects, and getting the cats fostered and eventually homed.
Lack of funds, facilities, and manpower are reasons why this small volunteer group needs your help to adopt strays. We asked Claire a few questions on how to go about it in case you're ready to commit to a furry friend.
How can one identify an adoptable community cat that has been spayed and neutered?
When an animal welfare organization has spayed or neutered a community cat, they notch or cut the tip of their ear, while they are under anesthetic. The right ear shows that the cat is a spayed female and the left ear indicates a neutered male cat. Putting collars on the cats, unfortunately, does not work, as they can lose or outgrow their collars.
Who does one contact with regard to adopting a fur-baby from public spaces maintained by animal welfare groups?
In most locations, there is no sign to say which welfare group has performed the TNR. I would recommend that anyone who wants to adopt a cat from a public space should first inquire with the guards and businesses in that area to find out who looks after the cats. If this fails, please post online in one of the cat volunteer groups, such as Cats of BGC, Cats of Manila, Cats of Ortigas, Cats of UP Diliman, etc., whichever is closest to the area where you saw the cat. We are cat lovers after all, so while we want to find them homes, when a cat just disappears, we are often searching for it and left hoping that nothing bad has happened.
What's the difference between fostering and adopting, and is it a must for a potential adopter to first be a foster parent?
Fostering is taking the cat into your home and looking after it, until a home can be found. This may include feeding the cat and taking it for a veterinary checkup or providing basic medical needs like de-worming, flea treatment, ear mite check, etc. You do not have to foster before you can adopt a cat.
How is potential adopter screened? Are there any requirements that need to be submitted?
Welfare groups have their own process but we are small enough in scale to try a more flexible, personal approach. We have a basic questionnaire that covers our minimum requirements, such as:
Is the adopter permitted by their landlord/building to keep a cat?
Where will the cat be kept?
What diet it will be fed?
Is the whole household on board with adopting a cat?
Are there other cats/pets in the household, and if so, have they been spayed/neutered? Have they ever been to a vet?
If the answers to these questions show promise, then we begin to chat with them to get more details on their knowledgeability about cat care and ability/willingness to provide a stable, long-term, loving home.
What would be considered a "pet-friendly" home for adopted cats?
A home where the pet is treated as a member of the family. 
This means a home where it is fed, stroked, and played with. It is taken to the vet when it is sick. And arrangements are made for its care, if you have to go away. 
How long does the adoption process usually take?
We don't rush into adoptions. We always ask the adopter to take a week to think about the commitment that they are making. So usually a week to 10 days. Sometimes this depends on our volunteers' availability, as we always take the cat to its new home, in order to feel comfortable about the adoption. We also ask for follow-up photos/videos. Happy adopters are always willing to share updates.
If the adoption falls through, what's expected of the pet-parent?
If, for some reason, the adopter cannot keep the cat, we expect them to contact us, so that we can retrieve the cat and find it a new home. 
What instances would cause an animal welfare group to retrieve an already adopted cat?
We are a volunteer group concerned about the welfare of the animal, but we are not an official animal welfare group. Some of the official animal welfare groups do follow-up visits and have retrieved cats that are not being kept as promised. You would need to address this question to them. 
We have retrieved a cat where the adopter had passed all the requirements, but unfortunately still had unrealistic expectations about living with a cat. Their chosen cat was demanding too much attention! Another was posted for re-adoption, without our knowledge. We retrieved the cats in these instances. 
What other steps can one take to help out community cats and the animal groups that support them?
You can:
Donate to the official animal welfare groups who provide TNR assistance but need to raise funds in order to do so, e.g. www.caraphil.org or www.paws.org.ph.
Adopt a community cat, from animal welfare or from a volunteer group or from your local pound.

BELOW: Bianca was rescued from the pound last year and found a home.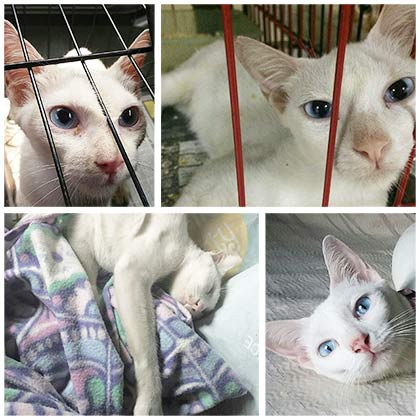 Foster a community cat (contact us or CARA or your nearest volunteer group. Foster-parents will undergo screening also).
Sponsor the medical bills of cats needing urgent care.

BELOW: Oscar, a male kitten, was recently rescued from a drain and is currently being fostered. If you wish to sponsor or adopt him, contact Cats of BGC.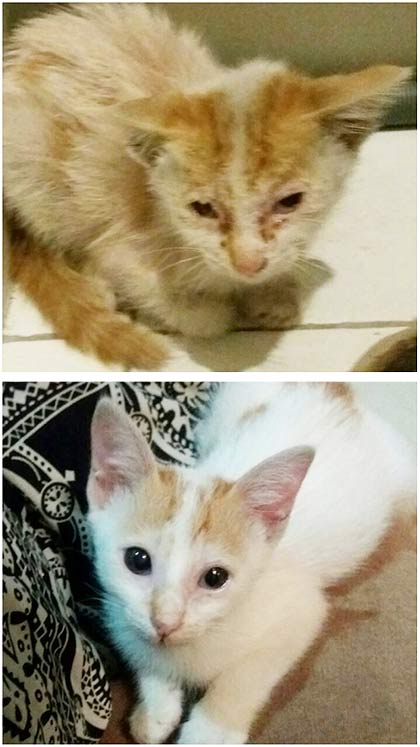 Get your own cat spayed or neutered. If you want a companion for your existing pet, please adopt another that already needs a home.
Reach out your community leaders to cooperate in supporting and educating about TNR.
Follow Charlene on Instagram.