In a groundbreaking move that is set to redefine beauty pageantry, the Miss Universe Organization has declared the removal of all age restrictions across all Miss Universe and associated pageants, effective immediately for the 2024 competitions worldwide. 
"This change will apply for all 2024 pageants globally. Starting then, every adult woman in the world will be eligible to compete to be Miss Universe," the organization said on its Instagram account. 
This historic decision signals a significant shift towards inclusivity and a celebration of beauty and grace in all its diverse forms.
Until now, the Miss Universe beauty pageant, a venerable institution dating back to 1952, had imposed an age limit of 28 years old for contestants. This restriction served as a barrier for many women who wished to participate but were deemed ineligible due to their age.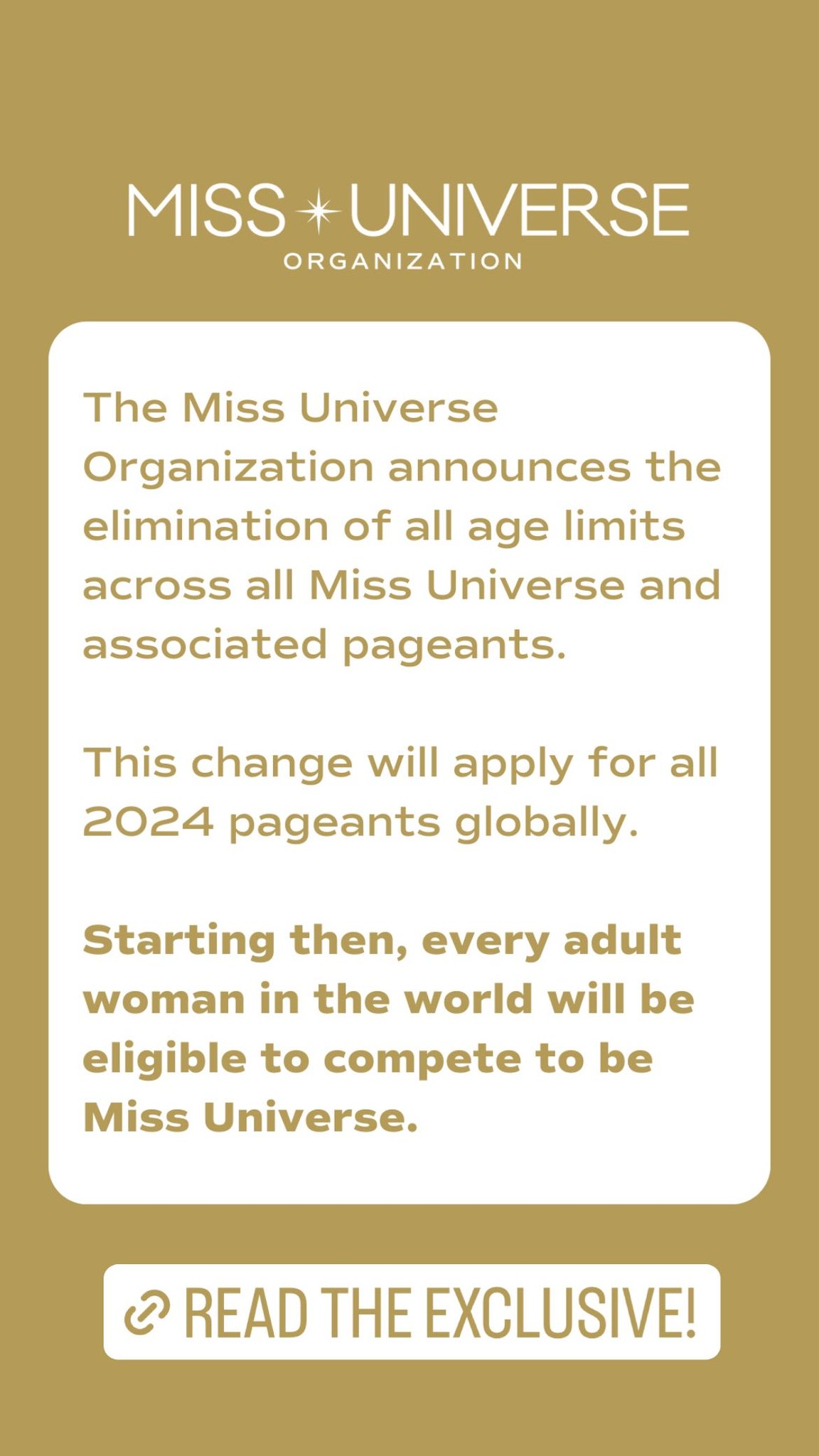 ADVERTISMENT - CONTINUE READING BELOW ↓
Miss Universe R'Bonney Gabriel, in an interview during Tanner Fletcher's spring 2024 New York Fashion Week show, said she was proud of this change.
"What I love about Miss Universe is that they are always out first in line, looking for ways they can be more inclusive and better live up to the platform that they've designed for us," Gabriel exclusively told WWD. "It's a bold group of women in charge over here, and you know what, a lot of people tend to follow what we do — it's nice to be a standard-bearer, and I'm proud that we get to do this."
Miss Universe previously allowed married women and mothers to join the pageant. 
These changes are a clear message that the Miss Universe Organization is all about shattering old norms and welcoming women of all ages to strut their stuff on the global stage. It's a move that not only encourages women to embrace their individuality but also sends a powerful message that beauty knows no age.
READ: Newly Crowned Miss Universe Nepal Shatters Beauty Standards: 'All the shame is gone' 
So, as we gear up for the 2024 pageants, get ready to see a Miss Universe competition like never before. With the age restrictions out of the way, we can look forward to a lineup of contestants who represent a wide spectrum of age, experience, and beauty. It's a bold step forward to reaching diversity and inclusivity. 
The future of Miss Universe looks brighter and more diverse than ever, and we can't wait to see what these fearless women bring to the stage.