The only thing worse than not having what you want is being cursed to look at it every day—from afar. A feeling we're sure you get whenever you're hiking up the stairs to a Metro Rail Transit Line 3 station while the lonely-looking, broken escalator sits not too far away. But the Department of Transportation has recently promised that the days spent apart from your beloved escalator will soon be over! 29 out of the Metro Metro Rail Transit Line 3's (MRT 3) 46 escalators are now operational, with the department promising that the rest will follow soon.
ADVERTISMENT - CONTINUE READING BELOW ↓
The Department of Transportation (DOTr) posted a video of the now-working Guadalupe station northbound escalator on September 2. The caption said, "Sa lalong madaling panahon, up and running na po ang lahat ng [MRT 3 escalators]." They also added that all 34 elevators of the train line are currently functional. 
While we're incredibly happy that the Guadalupe passengers have been reunited with this convenient way to go up a flight of stairs, we can't wait for each station to get the same treatment. Commuters who frequent the Boni and Shaw Boulevard stations lit up the comments to ask about the still-closed escalators at said stations.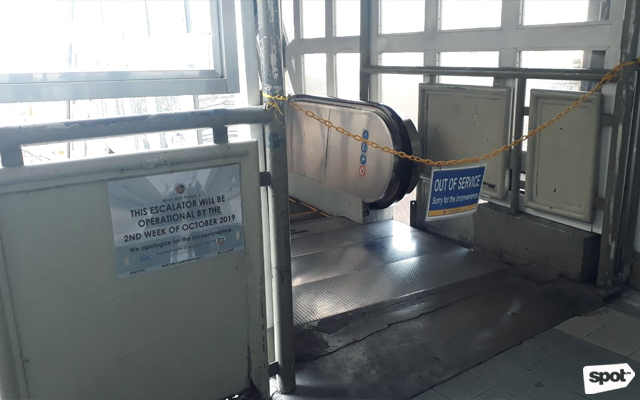 ADVERTISMENT - CONTINUE READING BELOW ↓
According to the DOTr, they're aiming to have every escalator functioning by the end of 2019. Signs have recently popped up at the Boni station to back this up. On the southbound entrance, the sign says the escalator will be operational by the second week of October; the sign at the northbound entrance promises the fourth week of November. Kudos to the DOTr for the small steps, and here's hoping they don't break our hearts!