Last year, the "pastor" culture unveiled a breed of Filipino Facebook users who prey on harassment, pornography, and misogyny. Thanks to mass reporting and an ultimatum from Senator Risa Hontiveros, these groups have dwindled. While we know that these pastor groups are still operating discreetly, there's another group we should beware of.
A Breeding Ground For Sexual Predators
Recently, Youth Against Sexual Harassment (YASH)—the post has since been taken down—shared the sleazy modus operandi of the PUA Academy, also known as Pick-Up Artist Academy. "At first glance, PUA Academy seems like an innocent organization of men with the main objective of helping guys gain the confidence and the 'expertise' needed to attract women," wrote YASH. According to their investigation, the group offers seminars and demos—both free and paid—to help men pick up women.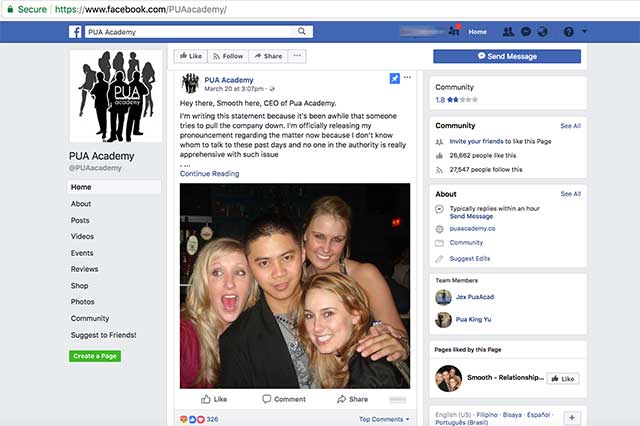 Continue reading below ↓
Recommended Videos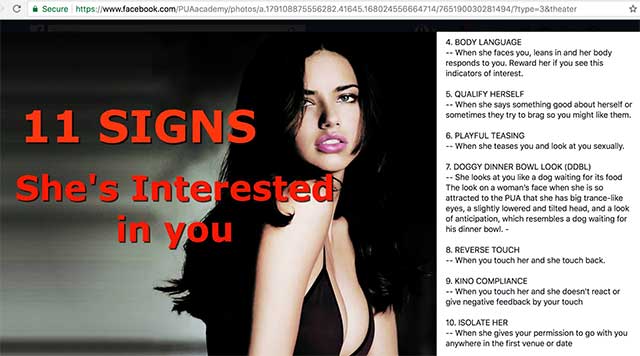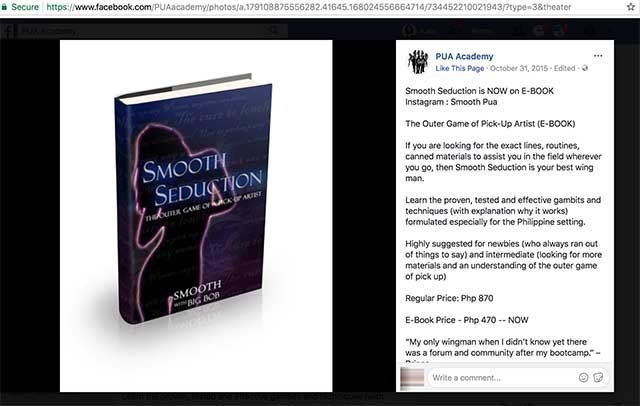 Their Facebook page claims they are Asia's leading dating company. They had 27,547 followers before their account was deactivated on April 3, 2018 at around 4 p.m. Their private FB group, PUA Academy Forum, which has also been deactivated, had 11,220 members.
According to their now-deactivated website, their classes range from P2,000 (one-day training) to P25,000 (three-day workshop). One boot camp is described as: [sic] "Workshop in the top clubs, malls and other venues where beautiful women are found. The country's top dating coaches are behind you all the way, training you, whispering words to say, helping you attract, make comfortable and seduce the girl of your dreams that you just met. No more sluggish year-long courtship. This is the instant way to get a relationship in a matter of hours."
PUA Academy has actually been around for a decade.
In 2015, they started selling their book, Smooth Seduction: The Outer Game of Pickup Artist, which teaches men [sic] "the exact lines, routines, canned materials to assist you in the field wherever you go." Aside from the book, their workshops teach members supposed tried-and-tested techniques in picking up women.
During boot camp, the students test their newfound skills on unsuspecting women while their gurus secretly document videos and photos to share with the next batch of students.
In one free online lesson entitled, "11 Signs She's Interested In You," they wrote: [sic] "KINO COMPLIANCE—When you touch her and she doesn't react or give negative feedback by your touch."
Clearly, these pick-up experts refuse to take the hint (or take grammar classes).
PUA Academy's CEO, Sein Meneses, who uses the nickname Smooth, was interviewed in GMA's 24 Oras after numerous reports against the group emerged. Meneses told GMA, "When you go to our seminars, it's not about getting laid. It's not about women, actually." He also released an official statement on their page (now deactivated), defending his group.
An excerpt (grammatical errors left unedited): "I've been doing this for 10 years and I literally coach thousands of clients and there never been a single commotion like this. Most of our clients are socially awkward guys who are just too scared to talk or come near women. And we're here to help and assist them. What we teach here is what you call Practical psychology test on how to approach women, what sort of conversation to make, how to project your alpha male and sense of self-confidence."
Seduction Schools Aren't New
Sadly, seduction classes and pick-up workshops have been around for years. Keys To The VIP was a reality TV show that ran from 2006-2008 in Comedy Central. Each episode featured two self-proclaimed players who went up against each other in a club to see who can seduce the most number of women using pickup techniques. Hidden cameras recorded all the action. In another room, four judges (pseudo-celebrity alpha guys) would watch and judge which guy deserves to win the prize—the keys to the VIP room where they will party with hot girls and get free booze all night.
A 2006 episode of CSI also pokes fun at seduction workshops. The episode starts with a murder in a party hosted by a dating guru. He hosts seminars called "Score To Win," which teach men how to seduce women. He throws parties where his students can practice their pick-up techniques.
Remember Will Smith's 2009 rom-com, Hitch? His character Hitch is a professional dating consultant who gets paid to teach men how to lure women using calculated lines and actions. Of course, his character learns at the end of the movie that nothing beats being your true self to make a relationship work.
In Black Mirror's "White Christmas" episode, Matt Trent is a former dating coach who helps single men seduce women by being the voice in their ear, telling them what to do or say until they finally get the girl in bed. If you've seen that episode, you'll know that the ending didn't go well as planned.
Pick-Up or Sexual Harassment?
While we don't see anything wrong with life coaching and self-help seminars, it crosses the line when you start to objectify, harass, and abuse women. A closer look at the PUA Academy members' posts reveals that they treat women as sexual conquests.
The group uses their own set of terminologies. "Game" refers to the process of trying to get a date with a girl and then getting her into bed. "Set" refers to their target girl, while "lay" or "field reports" refer to the blow-by-blow accounts of their conquests—stolen videos and photos included.
YASH members were able to join the private PUA Academy forum and took screencaps of the student conversations. PUA students showed off their conquests, complete with screen caps of private messages and intimate photos of unsuspecting girls. One member shared blow-by-blow details of how he was able to seduce two girls in one week, complete with photos and videos of their sexual acts. He went on to brag, [sic] "Guys if you're going to ask what's my structure… I learned my structured game in boot camp for three f***ing days haha."
In a video snippet grabbed from the CEO's page, he is seen telling a story about how his previous students would call him for advice while in the process of trying to get a girl.
He uses the word "lay" to describe his students' conquests, as well as his own. He does a pelvic thrust whenever using the term "lay," and goes on to talk about a tried-and-tested technique called palm reading, which he told his student to repeat when the "lay" was not working.
"Until the point na may push-pull na. 'Pag nag-pu-push-pull ka sa bed, makikita mo naman if she's into you already," Smooth said in the seminar video. "Pero 'pag sinabi niyang, 'Eh, 'wag mo akong hawakan…' ganon… depende rin 'yon. May mga girls na pakipot, gusto nila yung mga dominanteng ano… dominant guys, para yung guilt na sa 'yo, hindi sa kanya. Parang, 'Bakit ganon, nagbigay agad ako.' Mas maganda 'pag ikaw yung may kasalanan na parang, 'finorce mo kase ako kaya may nangyari.' Mga ganon, right? Kaya gusto nila yung nagpapa-force."
When you teach your students that women want to be forced to have sex, you are propagating rape culture.
According to our revised penal code, rape is committed by a man who shall have carnal knowledge of a woman under any of the following circumstances:
a) Through force, threat, or intimidation;
b) When the offended party is deprived of reason or otherwise unconscious;
c) By means of fraudulent machination or grave abuse of authority; and
d) When the offended party is under twelve (12) years of age or is demented, even though none of the circumstances mentioned above be present.
When a person shares with his friends (or the public) the screencaps of private messages and private photos meant only for one intended recipient, he is violating any or all of the following laws depending on circumstances: Anti-Wiretapping Law, Cybercrime Prevention Law, or the Data Privacy Act of 2012.
What about those conquest videos PUA Academy members show off to their fellow members? "When a person shares intimate photos and videos taken without the subject's consent, that is a violation of the Anti-Photo and Video Voyeurism Law," explained Atty. Reginald Tongol, Managing Partner of Tongol Joven & Associates Law and Communications.
If no rape occurred, but the victim was groped or harassed, charges may still be filed. According to Atty. Tongol, depending on the situation, the offender may be charged with violating one of these four laws:
Anti-Sexual Harassment Law (RA. 7877) if there is an existence of authority, influence or moral ascendancy between the offender and the offended party in a workplace or educational environment.
Acts of Lasciviousness of the Revised Penal Code (Article 336) if with lewd design or a motive to satisfy lust.
Unjust Vexation (Article 287) if there is no lewd design but merely to vex or irritate the victim.
Anti-Child Abuse Law (RA. No. 7610) if the victim is a minor.
What You Can Do If Victimized
If you find your intimate photos and private details being circulated online and you know who the perpetrator is, call a lawyer so that proper legal action may be done. If you cannot afford a lawyer, you may approach the NBI Cybercrime Division or the Department of Justice Action Center. Indigent victims may approach the Public Attorneys' Office or Integrated Bar of the Philippines Legal Aid. Law schools also have free legal assistance programs.
If you spotted a cyber offense or see that your friend or loved one is a victim of cybercrime, screencap everything. They may be used as evidence. You may ask for help from women's rights organizations like Youth Against Sexual Harassment and Gabriela. Report the offending post, account, or group to Facebook so that it may be taken down.