When a person married to a person of the opposite sex is hospitalized or needs medical attention, their partners have the right to make decisions for their spouses when needed. The same isn't the case for LGBTQIA+ life partners, until Quezon City government launched Right to Care Cards finally giving queer couples the right to do so.
Quezon City's Right to Care Card, a first in the entire Philippines, is a special power of attorney (SPOA) card granting queer partners several rights currently limited to legal spouses or next of kin. This will allow LGBTQIA+ life partners to decide on any type of medical care their partners need, may it be for treatment, procedures, tests, even prescriptions.
"There have been reports of LGBTQIA+ community members who were prohibited from making crucial decisions when their partners were admitted to intensive care units of hospitals," said Mayor Joy Belmonte, a vocal ally of the community, who formally launched the landmark initiative during Pride Month.
ADVERTISMENT - CONTINUE READING BELOW ↓
"We want all of our residents, regardless of sexual orientation, to be with their partners in critical moments, and we are taking this important step to assure the rainbow community that they are cared for, recognized and valued in Quezon City," said Belmonte, who hopes that other cities will follow suit.
What you need to know about Quezon City's Right to Care cards for LGBTQIA+ couples
The card is as colorful as the Pride flag, with a rainbow-colored QR code which leads to a notarized SPOA contract.
The front also contains the name of the couple, specified as the principal card holder and the life partner, and the card's date of validity.
At the back, it lists down the rights of life partners, which includes but is not limited to:
Right to provide care during hospitalization
Right to sign any waiver or document
Right to medical decision-making
These privileges may also include:
Right to choose a particular physician or health care provider for their partner, including admission or discharge from any hospital, nursing hojme, or other care facilities
Right to receive, process, and/or disclose their partner's personal informaltion including medical records
Right to allow or deny medical treatments, procedures, or other medical concerns related to their partner's medical condition
Right to other actions covered by the Right to Care card such as processing documents and waivers and pursuing dispute resolution processes
ADVERTISMENT - CONTINUE READING BELOW ↓
This will be initially implemented in three public hospitals in Quezon City: Novaliches General Hospital, Rosario Maclang Bautista General Hospital, and Quezon City General Hospital. Soon, the city government will also ink partnerships with other public and private hospitals for this initiative, the LGU said in a press release.
How LGBTQIA+ couples in Quezon City can register for the Right to Care card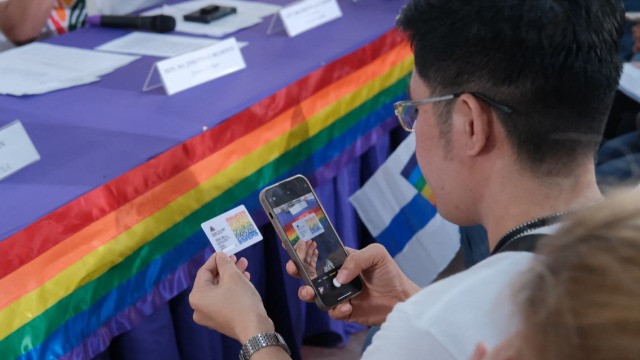 PHOTO BY QUEZON CITY GOVERNMENT
Interested couples may visit the Quezon City Gender and Development (GAD) Office, where they will be asked to fill out forms including a special power of attorney contract, which needs to be notarized.
ADVERTISMENT - CONTINUE READING BELOW ↓
Once the forms are filled out and submitted, the Quezon City legal team will validate the information. Once validated, the QC GAD office will distribute the cards.
Those registered will also be required to attend seminars where all the rights and benefits of the card will be discussed.
The Quezon City Gender and Development (GAD) Office is located at the 6F High Rise Building, Quezon City Hall. It is open from Monday to Friday, 8 a.m. to 5 p.m. For any concerns, you may call their hotline at 8988-4242 local 8739/8732/8168.
*This story originally appeared on Spot.ph. Minor edits have been made by Cosmo.ph editors.