1. You expect to meet your soulmate in the most random of places.
As most romantic comedies begin, after an aerial shot of whichever sleepy city our protagonists inhabit, boy meets girl and it usually isn't love at first sight.

Though it is possible to meet "the one" on the streets of a busy business district by accidentally bumping into him and spilling your coffee on his perfectly ironed shirt, we'd say stick to the rule of proximity. Your soulmate is close by–possibly an acquaintance or a coworker–and you just don't know it yet.

If you're wasting idle time in train stations (or in our case the horror that is the LRT/MRT), swanky cafes, and leisure parks in the hopes of serendipity (we're looking at you Kate Beckinsale and John Cusack), stop trying too hard. You can't court destiny. It's called fate for a reason–the reason being you're not supposed to chase after it.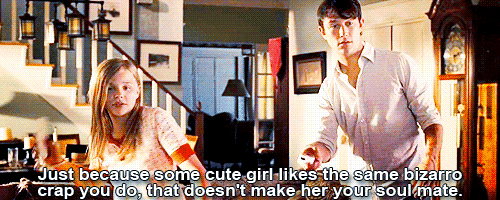 Continue reading below ↓
Recommended Videos
2. You have a quirky BFF.
There was a time when rom-coms were filled with princess-like central figures whose eccentric best friends backed up their every lovestruck stupid move. But that was the pre-manic-pixie-dream-girl age. Before today's Zooey Deschanels, Zoe Kazans, and Emma Stones, there were the Kate Hudsons and Sarah Jessica Parkers of yesteryear. Nowadays, the "quirky" girl is, more often than not, the lead. But if you've got the sassy gal pal, who acts as the chuwariwap to your love life's encore, the one who bitches about romance, listens to indie rock, and doles out all the wrong advice (which you still listen to anyway), fair warning: it might be her time to shine!
3. Shopping for the right outfit ends up becoming a movie montage.
Of course, no dressing room musical montage is complete without the cast going from Madonna to whore in the span of sixty seconds.
4. Your clumsiness is considered cute.
In reality: it's hazardous to the health of others. 
5. You imagine villains who wish to put a stop to your relationship.
Whether it's your boss, his conveniently hot female best bud, or his doting mother, you feel like everyone is out to destroy what you and your beau have oh-so-delicately built as a couple. Don't worry, if your life is indeed a rom-com, then that evil biatch will get what she deserves and your happy ending should be right around the corner.    

6. Your dad is annoyed because of your constant advice seeking.
Is your pops not taking your calls? Does he shoo you away when you force a visit on him? Maybe you've been seeking his counsel too often, because as is the case in romantic comedies, relationship/commitment epiphanies come when the prototypical patriarchal figure showers our damsel in distress with fatherly know-how.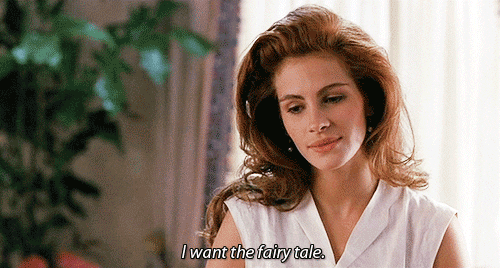 7. After a breakup, you wish he'd do something crazy-cute to win you back.

Don't expect him to stand outside your bedroom window holding up a boombox spewing Peter Gabriel's "In Your Eyes" after he's wronged you in more ways than one. It's 2014. Sad as it may seem, he'll probably just change his relationship status and unfriend you on Facebook.

8. The sex is so tasteful, it hurts.
If French kissing, HHWW, and the missionary position start feeling kinky, it might be time to trade in your rom-coms for something a bit more R-rated.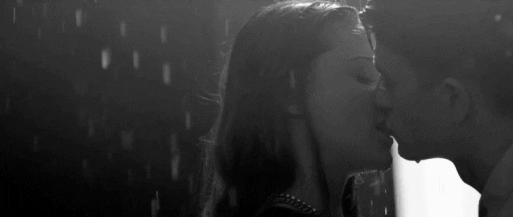 9. You dream of kissing under the rain.
Yes, it looks like the ideal experience for being swept off your feet. But things can go awry just as quick as the bipolar weather decides to pour down. Think about the possibility of catching a cold…or worse, pneumonia. Runny noses: less-than-romantic. 

10. You expect your man to look like Ryan Gosling.

We wish this was true too, just so you know.
Follow Anton on Instagram.