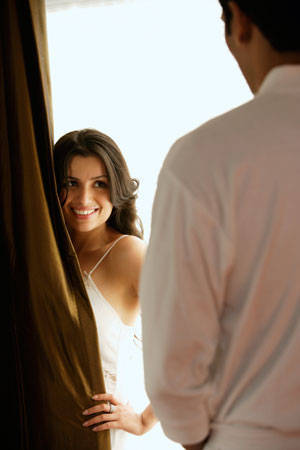 Just standing there and gawking awkwardly definitely won't get you a second look from the guy you're majorly crushing on—but changing your game plan sure will. Next time he's around, employ any (or all) of these tips, and there's no way he'll miss you.

1. Be Yourself. Impress him with your signature kind of confidence. Listen to him when he talks about the things he likes, but don't feel the need to pretend to be a big fan just so he'll like you. After all, being real is the only way you'll find out if you really like each other on a deeper level.



2. Up Your Confidence Level. Wear clothes that bring attention to the parts of your body that you love most and conceal the ones you like least. Having clothes that fit well is a sure way to boost your confidence. Also, sexy confidence starts with taking good care of oneself, so make sure that you're clean and fresh—even down there. Use a feminine wash that understands your need to be confident and sexy. Your best bet is pH Care Feminine Wash, that now comes in a sexy bottle so you can stay fresh and sexy all the way to the last drop!

3. Have Awesome Eye Contact. Your eyes say so much, so use them to tell him that you're interested. Whenever you get the chance, meet his gaze and flash him a sweet smile. He'll catch on sooner or later.

4. Flash Those Pearly Whites. Smiling will let him know right off the bat that you're friendly, approachable, and most importantly, into him!

5. Send Clear Signals. Let him know that you're open to possibilities by sending clear signals. That doesn't mean you have to publicly declare your love for him. Flirting with him and treating him differently than other guys should do the trick.

6. Make Him Feel Comfortable. The only way he'll be confident enough to ask you out is if he's comfortable around you. Keep the mood light and make sure the two of you spend enough time together to get to know each other better.

7. Don't Be Afraid. Instead, be fun and fearless. Showing him that you've got a spontaneous streak and are up for anything will make him look forward to spending more time with you.

8. Show Your Sense Of Humor. Guys love a girl who can make them laugh. Luckily, that's exactly what kind of girl you are. Don't take yourself too seriously and be silly from time to time. He'll love your easygoing vibe.

9. Initiate Physical Contact. While you're talking, touch him on the arm to let him know that you understand what he's talking about. You can also brush against his hand while you reach for something. The point is to make it look like a welcome accident.

10. Compliment Him. Men like compliments as much as we do. So, if you like his shirt or the cologne he's wearing, make sure to let him know. He'll be flattered that you noticed these things about him.
Continue reading below ↓
Recommended Videos