Ahh, vacation. The mere mention of a holiday trip for two immediately stirs up any number of images from sun-kissed beaches to quaint hillside houses to the bright lights of an exciting new city. And most important of all, it brings to mind the wild, take-no-prisoners booty that romantic getaways are famous for.
Why the supersteamy reputation? "When you're on holiday, you don't have to deal with all the day-to-day stressors that can inhibit you from having great sex," explains Yvonne K. Fulbright, author of
The Hot Guide to Safer Sex
. "Plus, the new environment inspires couples to experiment and be more adventurous."
That said, there is one catch: Trying to live up to the high expectations of paradise-caliber action can also put a lot of pressure on your trip and turn it into a total bliss-kill. So you have to approach vacay passion play smartly. Instead of aiming to have record-breaking sex, just focus on breaking your own racy rules and, hello, having fun. Here are a few ways to make the most of your erotic escape.
1. Prep Pre-Trip
A romantic retreat a deux is the perfect excuse to prettify. "Pampering yourself beforehand can jump-start that frisky frame of mind because it'll make you feel like a new-and-improved you," says Barbara Keesling, PhD, author of
The Good Girl's Guide to Bad Girl Sex
. Plus, your sizzling surprises will make your man feel like he's away with your naughty alter ego.
All it takes is some advance planning. Before you head off on your hiatus,
get a more-daring-than-usual Brazilian bikini wax
or a fun down-below design, like a heart, to wow him on your first night away.
Stock up on sexy lingerie
, too—that means no cotton briefs allowed—and don't forget to pack plenty of extra film to record the results. Our passionate prediction: Your vixen-on-vacay look will be so damn seductive, he'll wish he could take you away more often.
2. Dish Your Desires
Why wait until check-in to get your hot holiday started? You can take advantage of the travel time to discuss all the naughty deeds you might want to try on your trip. "Sharing your fantasies en route is a great activity because it builds anticipation and puts you in a sexual mood before you even arrive," says Carole Altman, PhD, author of
101 Ways to Make Love Happen
. "Also, since you'll be in new surroundings, it's an opportunity to be daring and
mention things you normally might be too shy to suggest
."
Remember, keep it casual, no expectations. You're not making a must-do list together but simply revealing what turns you on.
To open up the dirty dialogue, make a comment like "You know what I've always wanted to try? Having sex on the beach at night."
Then ask him if there's anything he's been curious about. By the time you reach the hotel, you'll be ready to tear off each other's clothes. Unless, of course, you get impatient and wind up joining the mile-high club.
3. Instill A No-Clothes Policy
What's the point of having all those tantalizing tan lines if you can't show them off? Declare your hotel room a wardrobe-free zone and
ditch your duds
as soon as you walk through the door.
"Being naked around each other will set the sexual tone for your entire stay,"
says Fulbright. "Not only will you feel freer and sexier, but you'll also be ready for action at all times."
If the thought of strutting around wearing nothing but your sunburn makes you uneasy, you can warm up to the idea by sleeping in the buff first.
"Your bare skin against the cool, crisp sheets will feel so sensual," Altman points out. Once you get used to going au naturel at night, you may feel more comfortable dropping your drawers in the middle of the day.
[nextpage]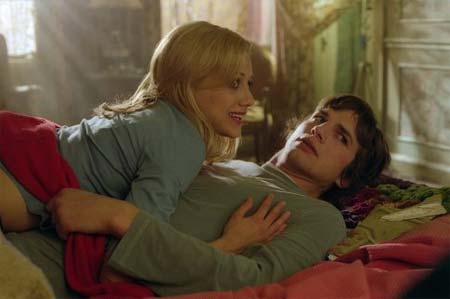 4. Make The Hotel Your Passion Playground
You're paying all this money for a romantic locale, so you should totally take advantage of it. Otherwise, you could have stayed at a roadside motel. "A brand-new setting can be extremely inspiring. There's a sense of erotic adventure in exploring a different venue and environment," says Keesling.
If you're shacking up in say, cool Baguio or Tagaytay,
stock up on comfort food, and snuggle under blankets with your guy. You can make things even hotter by taking lots of steamy showers together.
At a tropical resort? Have sex in a hammock under the stars
, or keep a bottle of coconut-scented lotion chilling in your mini fridge so you can give each other cool full-body massages after a long, hot day in the sun.
Even the hotel itself is full of frisky opportunities.
"Think of it as a stage full of props, and let your imagination run wild," says Fulbright. Some suggestions: Leave a note for your guy to rendezvous at the hotel bar, and sign it "your secret admirer." When he shows up, act as if you're meeting each other for the first time. Or pretend you're the maid and "accidentally" walk in on him coming out of the shower.
Speaking of water play,
you should be putting that big old bathtub to use
, too. Cleanup is a non-issue because towels (and maid service) are always on hand. Plus, since most hotels provide complimentary bath oils or bubbles, you can enjoy an extrasensory tub-love experience. Don't forget to ring room service for a bottle of champagne as well.
Feeling more adventurous? Check out
Cosmo Sutra
's novel ideas for liquid loving, such as the
Hot-Tub Hug
and the
Tawdry Tube
.
5. Take Sex Siestas
Picture this: It's two in the afternoon and you're lounging poolside with your guy, just soaking up the sun. You have some time between margaritas, so why not hightail it back to the hotel room for a quickie? See,
one of the joys of being on vacation is that you can get it on whenever you damn well please
.
"When you're at home, sex often winds up being very scheduled and by the book, and you can easily fall into a pattern of making love only at night," says Altman. "But when you're away and free of responsibility, you can be more spontaneous and break from your usual bedroom routine."
Plus,
daytime is probably the best time to do the dee
d anyway. Since your energy levels are much higher in the afternoon than they are at night (especially if you've been sightseeing and running around all day), you'll be even more ready to romp. So milk the midday mattress moments for all they're worth. Remember, when you're back at work, you'll be lucky if you even have time for a lunch break.
Continue reading below ↓
Recommended Videos