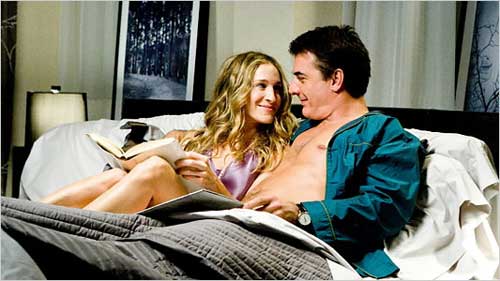 Just like your day job, relationships--no matter how blissful or orgasmic they may be--actually entail a lot of work to go the distance. But oftentimes we make a fatal mistake upon reaching a level of contentment in our relationships: getting too comfortable.

It's true that full acceptance of one's partner--for all that he is--is a must in defining meaningful relationships. However, like a savory dish, the element of spice is vital to achieving delectable flavor and the desire for more. So, without on-going spice in a relationship, it reaches a plateau. Oftentimes, this leads us or our partner to stray, either just mentally or worse, completely.

Before you turn away and assume you ain't got a problem in this department, read on and you just might learn a thing or two.


1. Learn to play with foreplay. Sex is neither sexuality nor sensuality. Say what? Remember, a man can easily separate a sexual act and emotions. If you have a strong emotional bond with your partner, it's less likely he'll stray. So rather than gearing toward the typical happy ending, there are endless ways of pleasing your partner and at the same time, ensuring his devotion to you. It could be a massage or cooking for him--in sexy lingerie; giving him a warm foam bath after a long day--without having sex (keep him in suspense); or lovingly kissing him on the forehead, where he feels nurtured rather than turned on. These acts of love, not sex, help your partner either discover and reconnect with his emotional side or allow himself to be more vulnerable around you, which strengthens your intimacy with one another.


2. Be the woman he first dated--everyday. No matter how shallow it may seem, physical attraction is always the first thing we unintentionally look at when it comes to pleasing and being pleased by our partner. Men are primarily drawn to women's physical attributes so we should never allow ourselves to let go of our appearance, no matter how comfortable you are with one another.

Ladies, visual stimulation is what sexual fantasies are all about. If you live together, make the effort to wear sexy lingerie, even if it's pambahay, particularly when he gets home from work. Give him a reason to want to go home to you with excitement, because if he has a hot woman to go home to everyday, why should he bother looking elsewhere?


3. It's bedroom--not bathroom--fantasy. It doesn't matter if he says, "It doesn't bother me seeing her take a dump in the morning." Men's magazines or porn don't exactly display hot babes farting or making "doodoo!" So, if you must do "number two," he doesn't have to see, hear, or even know about it. Let him always linger in the ideal fantasy of you. True, you're only human and aren't perfect, but please spare him your bathroom rituals.


4. Give gratification through validation. Understandably, men will always want to feel needed and praised that they're the best at everything. Whether or not this is true, unless it is deeply detrimental to your relationship, he doesn't really need you to tell him otherwise. It isn't lying. Rather, call it editing.

You MUST remember: Emasculating a man is like taking away his balls or purpose of living. When this happens, he automatically shuts down and his insecurities get the better of him. His quick fix: Finding security elsewhere, even if it's false-security, shallow, temporary, and PAID FOR. Why do you think prostitutes, girly bars, porn sites, and 1-800 sex numbers are among the top money makers in the world? They know it's wrong, but these avenues are instant gratification for their ego that they can't get from their partner.

To get what we want from our partners, we need to give them what they want, too: Validation. Here are some lines to try:

YOU USED TO SAY: "That's it? You can't even last long enough to fulfill my sexual needs!"
SAY THIS INSTEAD: "Baby, I just can't get enough of you that I keep wanting more and more!"

YOU USED TO SAY: "What's the big deal? It's not like you did something major! Even I can do a better job than that!"
SAY THIS INSTEAD: "I really love it when you take control and find ways to fix things for us. I don't know how I can do them without you."


5. Get a life! Men are turned on by women who are independent and pursue their own interests outside the relationship. Hence, being needy is a big no-no! However, there is a fine line between independence and showing you can live without him. (Refer to #4). Showing you're doing your own thing makes you attractive to other men, hence making you more desirable to your partner as he's the one who got the girl.


6. Communicate, don't dictate. No matter what I tell you, only you know your partner best on what buttons to push. If not, there's really only one thing you'll need to please each other completely: communication. Rather than criticize what you don't get, instead, find ways to express your desires to each other to keep you both on your toes. If your partner shows no interest in communicating, this may also be a sign of his lack of commitment to your relationship. It may take some practice and tons of PATIENCE but anything worth something is worth fighting for.
 
Finding joy in your partner, other than sexual gratification, I feel is the most pleasurable experience there is. One day, when all the sex is gone, all you have is each other's company, corny jokes, and something so simple yet so sweet that we often take for granted: holding hands.
Recommended Videos