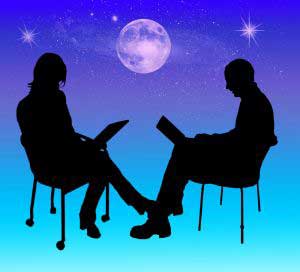 You can hardly stand another
gimik
night of making pa-cute on a bar stool, seductively sipping your cocktail, and attempting to get the attention of the
pwede-na-
looking guy beside you. This scene is getting old, ineffective, and not to mention B-O-R-I-N-G.
Enjoy summer with a horde of fresh man meat through these guy-grabbing tools that will ease your humid, lonely nights.
MAN-MEETING TOOL 1: Speed Dating
Make like Miranda in
Sex and the City
and organize your own speed-dating party. Get at least 15 single girls and guys together (the numbers have to be equal). While chugging down beer and picking on some
pica pica,
position all the boys in an inner circle and all the girls in an outer circle, so that each person in the outer circle is paired with a person from the inner circle. After five minutes of small (and not-so-small talk, if you wish), a bell rings and you move one spot to your right and chat up the next person. By the end of the night, you will have made 15 or more new friends who may have the makings of a future boyfriend.
MAN-MEETING TOOL 2: Extreme Sports
If you want to meet real men, get yourself involved in some manly activities. While typical competition sports like badminton or Frisbee promise that you'll get to hang out with some athletic hunks, you'll most likely be competing with a horde of hot females in that setup, too. Plus, men in the usual sports scene are more interested in beating you than in getting to know you.
Add a risque factor to your athletic agenda—going the "extreme" way guarantees you better man-meeting moments.
Wakeboard
in Batangas at Lago de Oro or
surf
in La Union. Taking on these sports lets you rub elbows with today's hottest hunks. Plus, boys in the extreme sports scenario are more accommodating to girls who want to try their sport out. "Their natural competitiveness (evident in usual team sports) turn into genuine care and they get so
atat
to teach you their craft," shares Nats, a wakeboard convert who met her now-boyfriend while in line for her turn to balance on the board.
See more man-meeting ideas on the next page.
Photo source
[nextpage]
MAN-MEETING TOOL 3: Adult Soirees
Remember those awkward Saturdays in grade school and high school when you'd all meet up in Ms. Popular's house, invite a whole section of cuties from the school next door, and play those puppy-love parlor games? Rekindle the kiddie
kilig
of those days in a more adult environment. Hook up with a male officemate or a guy friend and have an adult soiree. Gather all your game female friends (he does the same) and meet up in someone's pad or house to bond. Have the
standard get-to-know-you games
, and instead of the harmless pecks or 10 minutes in the closet, take the stunts a notch higher by
playing more daring versions
. There's no need to keep it PG anymore, right?
Experiment further with games like
"Have You Ever,"
where someone truthfully declares something he or she hasn't done and everyone who
has
done that specific deed, straights up a shooter. Or play the
Spin The Bottle
version where you kiss the person the bottle points to—boy
or girl.
Feel free to invent your own games and have a grand time legally flirting.
MAN-MEETING TOOL 4: Trips 'N' Tours
Sure, venturing off into foreign land may seem better with a bona fide travel pal. But being a tourist by yourself with only strangers can be the ultimate trip. You won't only get to experience the thrill of seeing new sights, but you'll also get a rush from meeting new people. It'll be easy to form an instant bond with your travel buds because you'll all be going through the same things—riding the same rickety tour buses, taking photos in the same tourist hotspots, experiencing firsts in the same vicinity and under the same circumstances.
Local tour operators have now been coming up with interesting tour packages geared toward the younger market. Check out
TravelFactor.org
, a popular adventure tour operator, with trips all around the Philippines (from Ilocos, La Union, and Baler, to Boracay, Pandan Island, and Caramoan) and South East Asia (they have Backpacking Indochina packages).
It's also surprising to note that men have developed the same wanderlust as women and are now as ready to travel solo. That means more single men joining the tour groups—and more chances of meeting a fellow travel aficionado.
See more man-meeting ideas on the next page.
[nextpage]
MAN-MEETING TOOL 5: TV Chat Rooms
Kathy, 25, never imagined herself to be the type to actually join a chat room, more so one that was broadcasted on TV. But one boring Saturday night, she decided to try it out. "I just wanted to make fun of the TV chatters, but I ended up meeting someone interesting. We exchanged numbers, eventually started texting and talking on the phone, and finally eyeballed and got together. I thought it was
kadiri.
But well, it worked," Kathy shares.
If you haven't tried them yet, then you're definitely not making the most of your cable service. Broadcasting networks are now taking advantage of people's TV addiction and the present mobile craze to create on-air venues for making and meeting friends. They're usually channels that show a screen divided into parts: a scrolling text box, a music video portion, and pop-up advertisements. You can text in messages to the chat channel and your messages appear on the TV screen's scrolling chat box. You can exchange messages anonymously with the other chatters and if you've zeroed in on a target, you can exchange numbers in the chat room, get off air, and continue your friendly flirting in private.
MAN-MEETING TOOL 6: Bluetooth Bonding
Cell-phone personals are the ultimate girl-on-the-go guy-meeting tool. Keep your bluetooth on constant standby and warmly welcome the horde of hot techies who are just itching for an introduction. Instead of anonymously using a smiley as your bluetooth name, jazz up your profile with an interesting nickname or even add an all-access photo/quote/clue about your bluetooth identity. This may attract a curious cutie.
MAN-MEETING TOOL 7: Online Matchmaking
With the surge of technology, meeting your match in cyberspace has never seemed so fitting. Take your social networking habits to the next level by being open to meeting new people through
Facebook
,
Friendster
,
Multiply
,
Twitter
, and
MySpace
. You can learn a lot about a person just by skimming through his online profiles, photos, and testimonials, wall posts, status updates, and comments. Just be extra careful, even as you keep an open mind about meeting someone online. There's no real harm in
just
chatting up a stranger, but be sure you've done your homework and learn as much as you can about him (see if you have mutual friends and ask around, too) before agreeing to meet up.
Continue reading below ↓
Recommended Videos