Danny* and I had plans for Friday night at 8:00 p.m. Well, at least I thought we did. When I texted him around 5:00 p.m. suggesting we hit up an old western mixology saloon conveniently close to my apartment and where I just so happened to leave my phone charger the night before, he never responded.
I waited a few hours and still, no response. Was it a red flag that I lost my phone charger? Did he hate saloons? Was I too pushy with the location suggestion? I'll never know because even when I woke up the next morning, expecting an apology text, the only message I had was from my mother.
I vented to my friend and dating coach Anthony Recenello about Disappearing Danny. As the creator of Soulmate Method, he assured me that I could've avoided this flaky behavior had I just hopped on the phone with Danny quickly for a "chemistry check."
"The chemistry you have on the phone is going to be very similar to what you encounter in person," Anthony told me. "All it takes is three to five minutes to know if there are vibes there."
Now, you should know the last time I hopped on the phone with someone was to schedule a dentist appointment—and even that was pretty anxiety-inducing. So, calling up a random Tinder match seemed like a stretch.
But, Anthony assured me that the main point of the call should be to see if there's a spark and to keep it playful: "Whatever you do, don't get into interview mode. Keep the deeper questions for when you decide to meet in person," he said.
"Think of it as a fun step in getting to know your date by saying something like, 'My fingers are tired of texting. Let's talk on the phone,'" says Recenello.
So hey, I figured I'd try it since I had nothing to lose—I was already *quite literally* losing dates, so three minutes on the phone wouldn't hurt me. Here's how it went.
Phone Date #1
I tried it first with Leonardo*, who I matched with on Bumble a month ago. I was game to meet up with him considering he looked exactly like my type—John Mayer at the right angle and lighting. He was visiting his parents and suggested we meet up around 9:00 p.m. Sunday night. Like the super chill dating pro I am, I suggested he give me a call when he was done. He promised to keep me posted.
A little before 9:00 p.m., he texted me saying he wouldn't be back in time to meet up after all. I suggested he call me when he had the time this week. Flash forward to today and I'm still waiting on that phone call. Any day now…
Phone Date #2
I matched with Marshall* on Bumble. We bonded over the absurdity of vegan cheese (sorry vegans) and he suggested we grab a bite and drink the next night. I told him I was going to a boxing class, and I'd call him after to solidify a plan—which actually felt super casual and not forced.
I called him, palms sweaty, knees weak, arms heavy, feeling like I was about to throw up my mom's spaghetti (just kidding) and...voicemail. Anthony didn't prepare me for the voicemail, so I opted to text him to call me back. And he did!
We talked for exactly three minutes and joked about how relieved we were that neither of us has weird sounding voices. I was instantly drawn to the hum of his baritone and I'm assuming he didn't mind my whispers of vocal fry from living in LA for too long. We made 7:00 p.m. wine and pizza plans that same night.
Normally when I meet any first date, I'm nervous. But the second I saw Marshall* emerge from the sea of elderly couples finishing their early bird specials, a rush of comfort washed over me.
I felt instantly at ease. Over orange wine and margarita pizza, I was relieved to discover our phone chemistry translated in person. When he dropped me off at home, we both agreed it was a fantastic first date. I hope to see him again, but he will likely stop talking to me after he reads this—oops!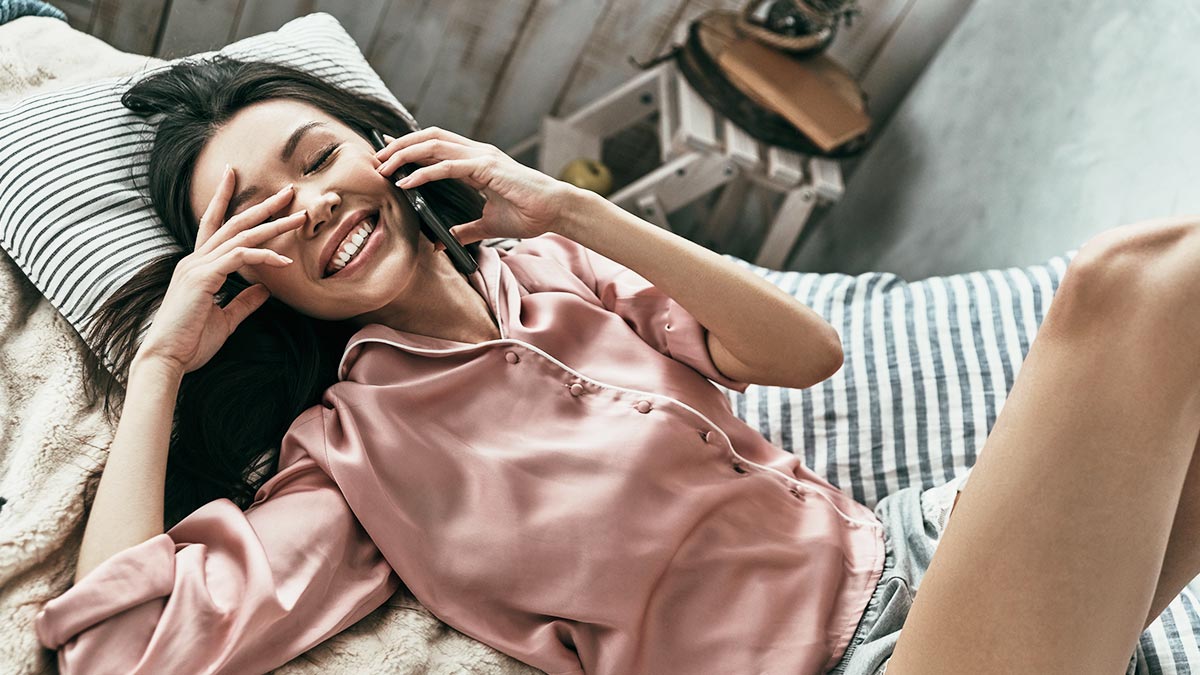 Phone Date #3
I tried this hack again with another Bumble match, Jeff*. I was on the fence with Jeff from the beginning. I couldn't think of an opening line to say to him because there wasn't anything on his profile that inspired a witty comment from me. Then he extended the match, so I literally said "Wow! Thank you! Hi!" Because I'm pretty sure he had to pay money to extend the match? Does this make me Julia Roberts in Pretty Woman? Unclear.
He asked me out for drinks and apps this week, so I gave him my number. He texted asking when we could hang out, I told him my week was jammed until the weekend, and suggested he call me instead. He was into it, but joked about how phone dates were all the rage in the '90s.
Well, my instinct was right about Jeff. There were lulls of awkward silence and he mostly talked about the only two things I knew about him from his Bumble profile: the entertainment industry and his dog. He asked me zero questions about myself this entire 15 minutes we spoke. Since I already got a preview of what that date would look like (more of him talking about himself) I think I'm going to opt out of an IRL date, which saves me from having to put a bra on.
My Final Thoughts
Yes, talking on the phone is awkward—and chances are the only people you talk to on the phone are your parents if you're an only child like me. And yeah, talking to someone you think is dreamy does give you awkward brace-face flashbacks and makes you want to giggle and hang up.
But think about how many first dates you've been on where you realized the chemistry isn't there in person almost immediately? It's a waste of everyone's time, energy, and expensive Sephora foundation you're already running low on.
Given the choice, I'd rather have an awkward three-minute phone call with someone than an awkward hour-long date, wouldn't you?
***
This article originally appeared on Cosmopolitan.com. Minor edits have been made by the Cosmo.ph editors.
Recommended Videos