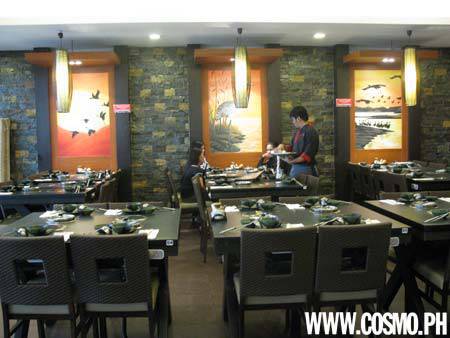 We've suggested
the most romantic date places
and
those that are great for couples strapped for cash
. Now, Cosmo dares you and your beau to experience cuisine from various countries together. And you don't even have to go far (or abroad for that matter) to do this. Why don't you head to Eastwood Mall in Libis, Quezon City, as it has an awesome selection of international cuisine in its various date-worthy restos!
Japanese Shabu-Shabu: Thousand Cranes
2/F Eastwood Mall, Eastwood City Cyberpark, Libis, Quezon City, (0922) 850-9006
Munch Mood:
Are you and your guy trying to eat healthy? Or do you simply want to enjoy "cooking" together? Check out this
shabu-shabu
restaurant, which offers healthy Japanese favorites for guilt-free dining.
Fine Flavors:
Order
Seafood and Beef
platter (P400) served with special soup, special sauce, and sate with egg. Play chef with your man by mixing fresh veggies, sweet corn, black mushrooms, bean curd, taro, squid rolls, meatballs, lobster balls, fish cake, crabsticks, vermicelli, and noodles in the steaming pot. Since the whole dish takes a while to prepare, we suggest you whet your appetite with
Philadelphia Maki
(P200), which has salmon, cheese, and mango rolled in nori with sushi rice and ebiko. You will also love the
Ebi Tempura
(P380), deep-fried buttered tiger prawns with light soy sauce.
Resto Extra:
If you're a
shabu-shabu
first-timer, don't worry about messing up your meal! The resto's gracious staff will lend you a hand, so you can cook ingredients the right away.
[nextpage]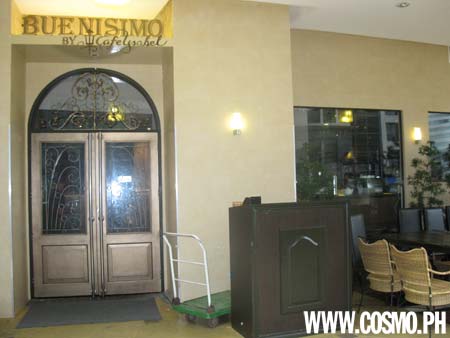 Spanish-Italian: Buenisimo
2/F, Unit A243 Eastwood Mall Veranda, Eastwood City, Libis, Quezon City, (02) 709-2136
www.ilovebuenisimo.com

Munch Mood:
Celebrating a special occasion? Head to this intimate spot. Look into each other's eyes across the table as you savor the generous selection of Spanish and Italian dishes in a quiet, romantic setting.
Fine Flavors:
Start off your meal with
Dip Sampler
(P238), which includes spinach, smoked fish, and sobresada pate served with toasted ciabatta slices. As your guy munches on the
Pan-Seared Chilean Seabass
(P988) with saffron lemon tapioca sauce and sauce crustace, dig into
Puttanesca alla Buenisimo
(P258), a mix of
longganisa
Lucban, gourmet
tuyo
, green mango, green and black olives, basil, and parmesan. Cap your meal with
Choc-Nut Cheesecake
(P198) laden with chocolate sauce. Make dessert more romantic (and lessen the carbs!) by sharing a slice.
Resto Extra:
No wonder Buenisimo carries a certain subtle magic—it is owned by chef extraordinaire Gene Gonzalez of
Cafe Ysabel
fame.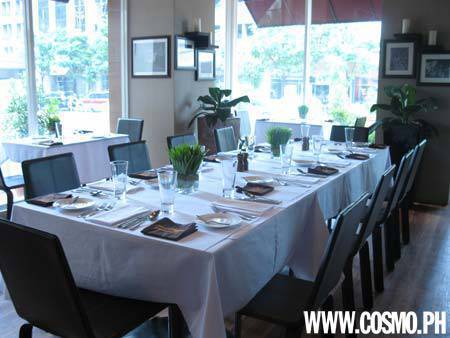 Continental Steaks: Wagyu Stone Grill
G/F, Eastwood Mall, Libis, Quezon City, (02) 706-5385, (02) 706-5386
Munch Mood:
Does your steak-loving man long to try Wagyu beef, that world-famous Japanese meat specialty? Take him to this classy spot and spoil each other with a lavish meal for two!
Fine Flavors:
Start your meal off with a light
Caesar Salad
(P225). If you want pasta, share a serving of
Pasta Pomodoro
(P350) so you can make room for mouthwatering steak. Once you're ready for the main event (yes, we mean the steak), choose from the
New York Strip
(P1095 for 220g, good for two; P1750 for 350g, good for three to four people),
Top Sirloin
(P995 for 220g, P1550 for 350g), or
Rib Eye
(P1195 for 220g, P1950 for 350g).
Resto Extra:
Is your guy meticulous with his steak? No need to ask the waiter to have it medium rare or well done: he can cook his steak on a hot rock right at your table.
[nextpage]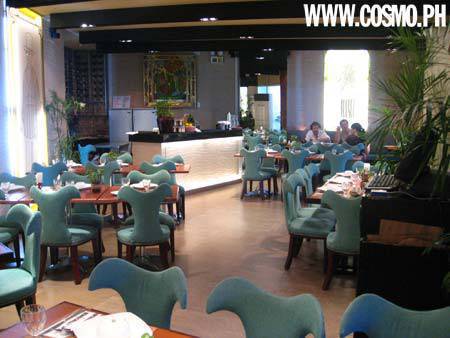 Pinoy With A Twist: Crisostomo
2/F Eastwood Mall, Eastwood City Cyberpark, Libis, Quezon City, (02) 710-1693
Munch Mood:
Are you and your honey in need of some comfort food, longing for something a little closer to home? The brainchild of restaurateur Florabel Co, Crisostomo offers traditional Pinoy favorites with a delightful, modern twist.
Fine Flavors:
Your
pulutan
-loving man will go wild for the crispy beef
tapa
dish called
Mang Pablo
(P275). Another choice dish is
Padre Garrote
(P325),
bihon
garnished with chestnuts, quail eggs, and
pata
. For dessert, share some frozen Brazo de Mercedes, called
Kapitana Maria
(P150). Or, if you want true-blue Pinoy comfort food made even more delightful, nibble on
Iday
(P180), which is sticky
suman
served with chocolate fondue.
Resto Extra:
Crisostomo really takes its "turn of the century Filipino cuisine" theme seriously! You'll see familiar figures in pre-colonial 'Pinas lit up on the walls of the restaurant—lending a Filipiniana ambiance to your romantic rendezvous.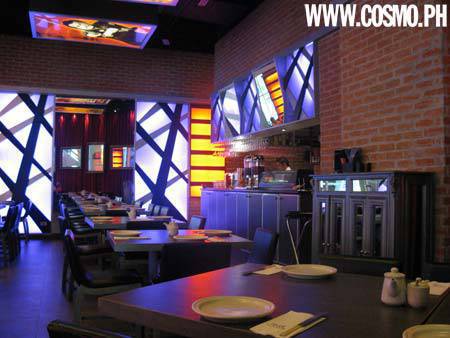 Euro-Japanese: Mr. Kurosawa
G/F Eastwood Mall, Eastwood City Cyberpark, Libis, Quezon City, (02) 901-0825
Munch Mood:
Sample the best of the East and West with your man, as you enjoy Euro-Japanese fusion cuisine together in this chic, cosmopolitan resto owned by actor/entrepreneur Marvin Agustin.
Fine Flavors:
Add pizzazz to your date night by having a dish of
Spicy Tuna Ledger
(P238), which is spicy tuna maki, or
River Kwai
(P308), chicken sushi with egg wrap. If your guy loves pizza, get him to try the
Iwo Jima
pizza (P278) topped with mango bits and grilled chicken, which is big enough for both of you. If you want more meat, try the
Roponggi Braised Pork
(P378), which comes with mashed potato. Wash things down with Flavored
Yakult Shake
(P108) in orange, mango, strawberry, or green apple.
Resto Extra:
You'd love dressing up for him if only to match the hip ambiance of the place! It's a great start to an evening that will find you partying away in Eastwood's happening night spots.
With additional reports by Sharline Bareng

142
Continue reading below ↓
Recommended Videos