Even couples in healthy relationships argue, we know this. But sometimes it's hard to figure out whether a prolonged period of arguing and feeling frustrated and angry is just a "rough patch," or a sign that the relationship has reached crisis point—that you've fallen out of love with each other.
It's easy to shrug off a few weeks—or even months—of crappy times in your relationship as a rough patch, hoping things will get better. But, according to Ammanda Major, a relationship therapist and head of service quality and clinical practice at Relate, some behaviours or issues in your relationship could indicate that it's more than a rough patch, and that the love you once had for each other may not be retrievable.
Please note: Ammanda's advice is based on general relationships, and should not be applied in situations involving abuse of any kind.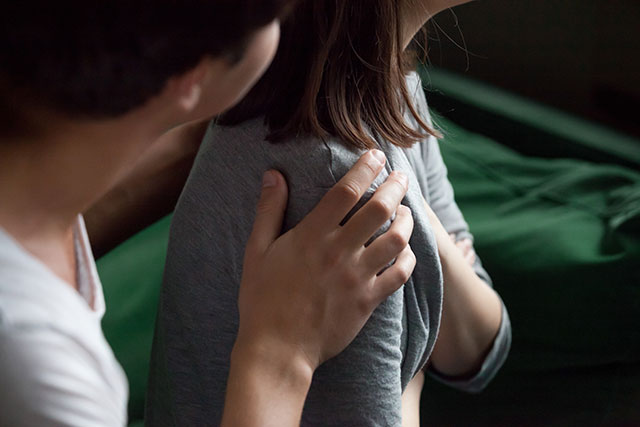 Continue reading below ↓
Recommended Videos
Are rough patches normal?
"Every relationship has rough patches, and they are normal," Ammanda says. "They can arise at any time and be about anything. But, they're usually about two people, so you should be aware of the part you have probably played in it. It's about addressing what is happening in the relationship.
"You might have been working late, or coming home and being snappy for example. Often, what people are trying to say [when they behave like that] is, 'I need your support and help', but they don't actually put it that way. Being sad and angry are often the ways we show somebody we're unhappy. It's much easier if you can ask for that directly. Because otherwise this rough patch will become routine, and if it isn't addressed that's often when it leads to people becoming unhappy."
What constitutes a rough patch?
It really depends on you and what's going on at that time, Ammanda explains. "Clients will often come to me and say they're having a rough patch after a baby, because they're getting no sleep and sex is a distant memory. In that case, it's about being able to see how what's happening at that moment sits into a wider picture, and knowing there will be light at the end of the tunnel. But, you have to be able to help and support each other through that journey if you want to get through the rough patch."
She explains it's when the communication starts to break down, that it can become a bigger problem that may need addressing with professional help.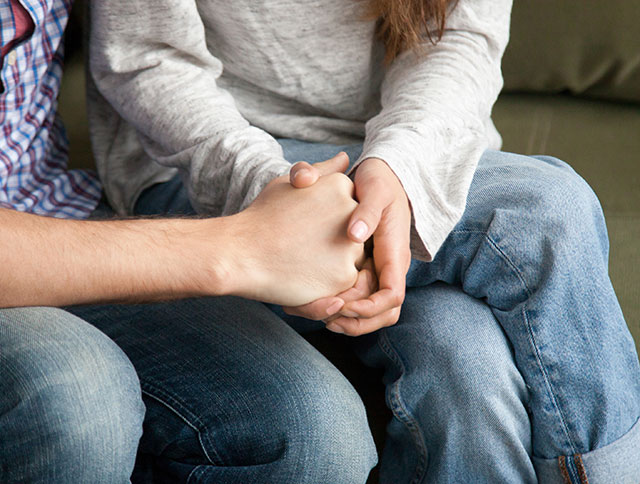 First, determine what "being in love" means to you.
Ammanda says before we can figure out if we've fallen out of love with a partner, we should ask ourselves how we personally define being in love. "People often talk about it as feeling butterflies and excitement, having fantastic sex, not being able to get your mind off your partner, and visualising your time with them. They are the centre of your life and existence."
But, as relationships mature and develop, it's normal for those feelings to die down a bit. Instead, they get replaced with a deeper knowledge and understanding about that partner. So, if you've stopped getting those butterflies, it doesn't necessarily mean that you don't love that person anymore. It just means that perhaps that you've moved to another stage in the relationship - one that most people find more rewarding." So before you can know if it's a rough patch or the end, remind yourself what being in love means to you.
How do you know if the love has gone?
"Sometimes [you can question if you've fallen out of love with someone] after a significant event like an affair, and what you thought you had you now realize you didn't have. Sometimes it can be because you find something out about a partner that causes you to severely question what you had," Ammanda explains.
"Very often I see people coming along feeling whether they're not really sure if they love their partner. It's usually because life has taken over, whether that's children, or relatives or the work/life balance. It's now become very difficult to see a partner as a partner rather than just someone to share the chores. Often, sex has flown out of the window and they can't remember the last time they did it."
But this doesn't necessarily mean the love has gone, and it isn't coming back. "It's very often the case that couples can reconnect and find each other again," she says.
When you're constantly having doubts about the relationship
Having doubts about the relationship and questioning if it's right for you, is totally normal Ammanda says. "There'll be bumps along the way and just because you start feeling something isn't working doesn't mean your relationship is over. What it does mean though is that something has changed, and you need to do something about it."
Of course, you may seek help and still decide to end the relationship. However, Ammanda says usually, "when people do address the problems at an earlier stage, they go on to reinvigorate the relationship and carry on in a way that's happy for both of them."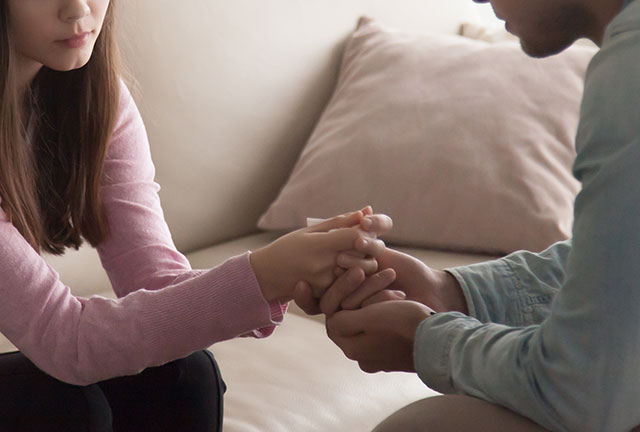 When one of you has changed as a person
It's super common for relationship counsellors to see couples who feel they've fundamentally changed since they got with their partner. She explains, "That might be that one partner has very much changed and feels their partner hasn't changed in tandem with them. Or both partners might feel they've both fundamentally changed and can't meet each others' needs—emotional and/or sexual—anymore. Although you can discuss what those needs might be, it could be impossible to rekindle what you had in the first place."
When it's more than just a rough patch
But, of course, sometimes the love really isn't retrievable. "In this case, couples need to decide what to do about that. Do they want to live in a relationship that is not based on love? And instead stay together in a companionship?" she says. "Some people know if a relationship isn't meeting enough of their needs that they need to end it."
At the end of the day, everyone's needs and boundaries are different in a relationship. Determining whether your rough patch is actually something more, comes down to what you want and need in a relationship. Regardless, it's always helpful to seek professional advice.
***
This article originally appeared on Cosmopolitan.com/uk. Minor edits have been made by the Cosmo.ph editors.