Dating's hard enough for a Pinas-based Pinay, but when you're a Pinay in a foreign land who barely knows anyone, doesn't speak the native tongue, and knows nothing about the unwritten dating rules, you're going to have questions—lots of them. Should you define the relationship? Is it too soon to say the L word? Are you two even allowed to be seen together in public in the first place?
Here, 10 Pinays living abroad get candid about what dating is like in the countries they currently call home. From girls who are single and mingling to girls who have found love abroad to a girl who just last week tied the knot (congrats!), hear about how our sisters across the seas are faring in the dating game.
Deborah
Age: 25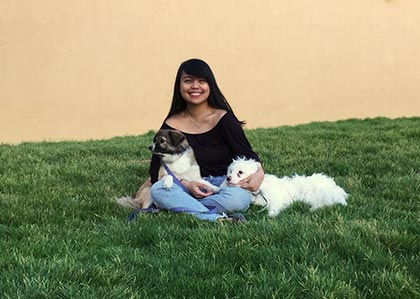 Occupation: Company communications manager
Location: Living in Riyadh, Saudi Arabia for 3 years
Relationship status: Single
"Dating in Saudi Arabia doesn't exist. Well, if you compare it to the rest of the world. There are a lot of restrictions because of Saudi's cultural practices. Men and women not related to each other are forbidden from being together in public; if caught, there will be serious consequences. Also, there are no venues for dating—no movie theaters, bars, or cafes where a single guy and a single girl can hang.
For the most part, locals (Saudis) get together through arranged marriages. Mothers play a huge role as Cupid here. Remember the movie The Proposal, the end scene of which has Ryan Reynolds' character telling Sandra Bullock's character, 'Marry me, because I'd like to date you'? That's what dating is to locals: They marry to date. Not all are like this though; it all depends on the families. 
Despite all the rules, online dating is super popular! More and more people talk through social media, relationships start online, and meeting them in real life is a different success story. It can get really intense, funny, sneaky, and creative. Everything needs to be planned properly and discreetly. 
I rarely meet locals dating expats, but they think that Filipinas are cute, generally because we are short, bubbly, caring, and are always on the hustle at work.
I have a friend who married a Saudi though; according to her, they are very showy with their affection. They are extremely daring when courting, spoiling the woman with gifts and being very romantic. Sometimes she feels like she married an actual prince. Lucky her."
Ethel
Age: 29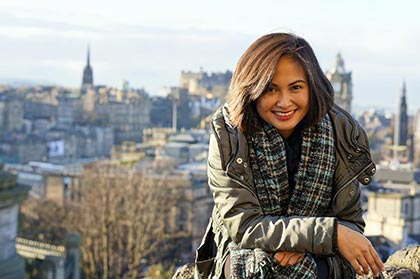 Occupation: Nurse
Location: Living in London, United Kingdom for three years
Relationship status: In a relationship with a Filipino 
"London has always been known to be a melting pot of different cultures, and so one might expect varied ways of meeting and dating. Imagine my surprise when I realized that there's not much difference at all in how Filipinos approach dating and how they do it on this side of the planet. Differences are considered exciting, an open mind and a jolly personality exude confidence and make one more interesting, and for the shy ones—believe me, a lot of men here are more timid than women—dating apps work best.
I learned from friends that British men are more career-oriented and they usually start dating seriously in their 30s. When they like you, they can be very direct, to the point that they will just ask for your number straightaway in a tube station and begin small talk—I've experienced this firsthand four times! Nevertheless, it's worth noting that most still prefer a partner from their own country, and the main reason for this is cultural compatibility.
I dated in London only once, and he's now my boyfriend. He was born here, went back to the Philippines and graduated from college there, then came back here. Even though he's Filipino, his dating attitude is more British. It's a breath of fresh air that he says what's on his mind and he doesn't play tricks. 
Filipinas are seen here to be very caring and loving partners. According to one of my British friends who married a Filipina, it's easy to fall in love with a Pinay because they always have a happy disposition, they are warm and family-oriented, and they cook the best dishes!"
Jami
Age: 26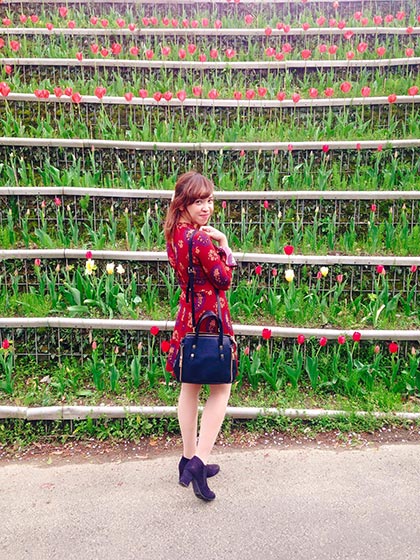 Occupation: Business English instructor
Location: Living in Tokyo, Japan for one year and nine months
Relationship status: Single
"Starting a relationship in Japan can happen so quickly. Being an official couple after three dates—even if you weren't friends before then—can usually be enough if you're interested in each other. In some cases, all it takes is just one date! 
Most of the time, Japanese men can be hard to read. It's well-known about Japanese men that they are the shyest, most inexpressive, and coldest men to be in a relationship with. But they're really kind and would never want to fight. I remember my Japanese ex would say sorry even if it was my fault just to avoid an argument.
However, never expect to be a priority in the life of a Japanese guy. It's always work, themselves, then...you. They also don't want to be told to do anything and they dislike constant communication unless they're so into you. They almost never say sweet things like 'I miss you' and 'I love you.' I guess my ex was typical. The other guys I dated were, too.
Most guys here like cute girls. You'll know they find you cute if they never let you spend a single yen. I guess that's how they impress girls here, by being generous. 
Physically, if you're short, slim, have a small face, have round eyes, you can be popular here. I was never popular back home—well, I'm not saying I am now!—but it's quite common to get approached by a random guy on the street. Happens to me almost once a week."
Janice
Age: 27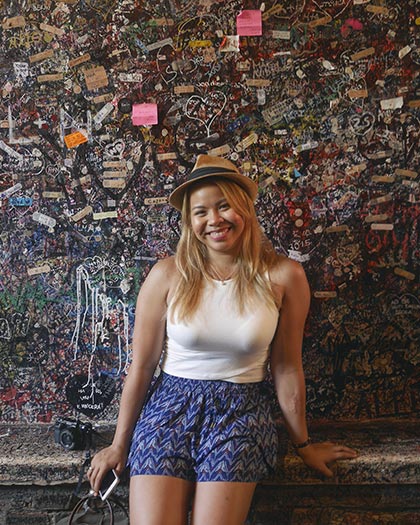 Occupation: Kindergarten teacher, dance coach/instructor, and blogger (TheNeverlander.com)
Location: Living in Istanbul, Turkey for three years
Relationship status: In a relationship with a Turkish guy
"From all the countries that I've ever lived and dated in, I've never felt the most frustration and dismay as I do here in Turkey.
If you're a foreign woman, Turkish men immediately label you as 'easy' and usually expect only sex. They are aggressive to an astonishing degree; they misinterpret any sign of friendliness as a sign of interest in them and they try whatever trick they have in their book to get you to bed and/or to fall for them.
Honestly, attention comes easy as a Filipina here, but it's the quality of attention that is quite scarce.  
Cheating and ghosting are very common here. I've dated a high-profile person who turned out to be married (he took his ring off when we'd date), a guy who was emotionally intimate with me but disappeared all the time, and I have so many more WTF stories. 
My friends and I always exchange dating stories because it's amusingly absurd! Their mind games, jealousy, possessiveness… There's always so much drama.
But if you find one of the good ones, like the guy I'm with now, you will find that you'll have a partner who fully appreciates your worth, who treats you way more than you deserve, and who pushes you and helps you achieve your goals and dreams. All these, plus he and I really get along amazingly.
Dating for two years in Turkey almost drove me to madness, but finding my perfect guy made it all worth it."
Jennever
Age: 29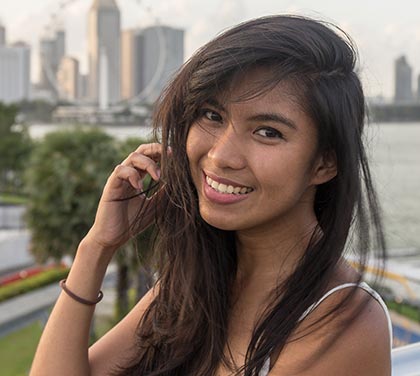 Occupation: IT consultant
Location: Living in Singapore for two and a half years
Relationship status: In a relationship with a Brit 
"Meeting people through dating apps is not taboo in Singapore because most people don't have time to go out and meet new people face-to-face. Compared to other countries in Southeast Asia—and believe me, I checked—I'd say the cream of the crop of online dating is probably in Singapore. It's become easy to just swipe right if there's physical attraction and then narrow down the options by talking to them and seeing if something will click. In fact, I met my current partner through Happn.
My host country is a hodgepodge of foreign talent at a little bit more than two million out of its almost six million population. Ironically, I have dated two guys here who are both Brits with the same first name. That said, dicks will be dicks, and gentlemen will have been raised well by their mothers, regardless of nationality.
I've always thought the man I will marry will not be someone from this country. Or maybe I won't even marry at all. How I feel about Singapore is the same as how I feel about the men I meet here—temporary and fleeting. 
As a Filipina, I don't have any issues with dating here since the men I like also happen to like me back. Although I hear locals and foreigners say Filipinas are beautiful, I don't really think being Filipina is a huge factor in the level of difficulty or ease I experience dating in Singapore. For me, it's about finding a good fit, finding that person I can have a chance to grow with, even if it's temporary."
Julienne
Age: 29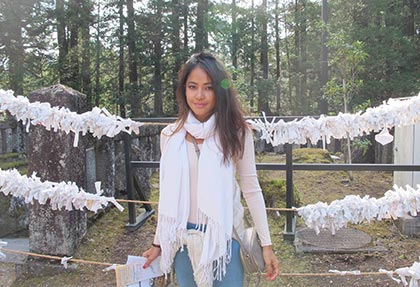 Occupation: Features editor and blogger (MorenaTravels.com)
Location: Living in Hong Kong for six years
Relationship status: In a relationship with an Argentinian 
"The international community in Hong Kong is diverse with hundreds of thousands of successful, driven singles testing the waters. A lot of the guys you meet will be high-flying bankers, lawyers, brokers, architects, etc. They may not always be a match made in heaven, but chances are they'll be a conversational and intellectual match.
Relationships are usually short-lived because Hong Kong is such a transient place and people come and go. Many couples break up because one has to move back home or their visa expires. Unfortunately, I would say there's a lot of cheating because there are so many options; both men and women are in their prime and sexually charged.
There are a few thorny issues for Filipinas because of our stigma in Hong Kong, but that's easily overcome once you show you're 'different'. (Read about my real-life encounters as a stereotyped Filipina here.) A lot of people hook up on the first night, but I don't think that will get you on the right track if you want to be taken seriously. Filipinas need to be extra careful because of that unsavory reputation we've got here.
There has been a lot of mixed feedback about dating Filipinas. The bad: clingy, dramatic, crazy. The good: caring, loving, passionate. 
I've been lucky (knock on wood) to have gone out with such great men throughout my twenties. To be honest, I don't think I would have had the same edge in the Philippines!
Kristine
Age: 33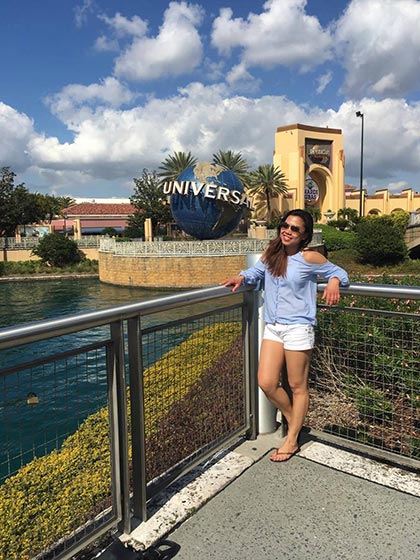 Occupation: Nurse
Location: Living in Memphis, Tennessee, USA for one year
Relationship status: Married to a Slovakian (tied the knot just last week!) 
"As a Filipina who has lived in both London and Memphis, I find that Filipino men are harder to decipher than Caucasians. With Caucasians, you see what you get. But with Filipino men, you still have to guess what you see. White men are more straightforward and vocal about their wants and needs.  
Dating, in its broadest sense, is very different in other countries. Due to work, people have a hard time finding people looking for serious relationships. That's why online dating is so common here—it's the easiest way to find the right guy for you based on your preferences.
There are free online dating sites like Tinder and PlentyOfFish; since they are free however, you can never be sure how sincere and determined the men there are. You meet a lot of men from different backgrounds with different personalities and most of them are straightforward and just want casual romance. In my point of view, you can find better quality matches on paid online dating sites like Match.com, eHarmony.com, and EliteSingles.com.
I met my husband through Match.com after moving to Memphis from London last year. We got married after 10 months of knowing each other. He said that he has wanted to have a Filipina girlfriend since he was a teenager. Filipina beauty is a hit! 
I find that white men like Asians, especially Filipinos. We are known as sweet, happy, religious, and hardworking people. However, people easily abuse our kindness. Filipinas should learn to speak our minds and our hearts."
Maki
Age: 25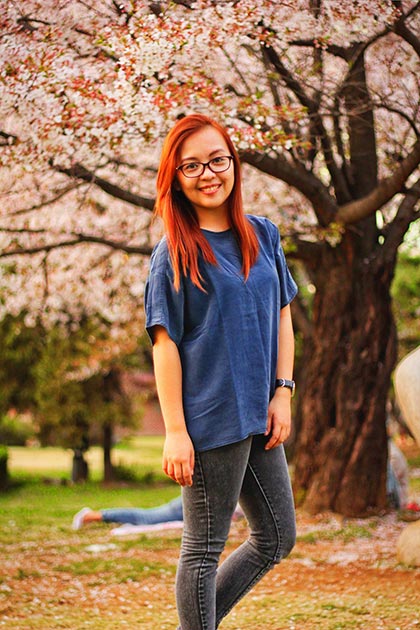 Occupation: Graduate student and student researcher
Location: Living in Seongnam, South Korea for one year and two months
Relationship status: In a relationship with a Filipino
"I met my Filipino partner here in South Korea; we're both graduate students working in different laboratories as researchers. You might think it's easier for us as a couple because we're both Filipino, but living here and trying to fit into the Korean culture also takes a whole lot of effort.  
Koreans work a lot, working 'til late at night and working on weekends. Koreans also have this culture that the new ones or juniors cannot leave ahead of their seniors and that if the professor decides to show up on weekends, everyone in the lab should also show up—and we have to follow those practices. Since my boyfriend and I live in different cities, it's even more of a struggle to find time to spend together.
We are planning to have a family together in the future. But we also consider that married women in Korea who decide to have children, whether Korean or not, are expected to stop working and to concentrate on being a mom and wife.
When I came here, I never planned to find my own oppa. One reason I am not so into dating Koreans is some of them tend to be superficial. Some Koreans I know date only those who are physically beautiful; one Korean guy even said that he would rather have his girlfriend wear makeup 24/7 than see her without it. And I, 80 percent of the time, do not wear makeup.
I am lucky to have met someone who accepts me for who I am, is willing to compromise, and is a kababayan with whom I share my culture."
Miya
Age: 31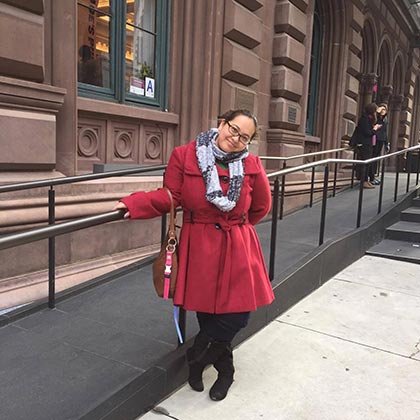 Occupation: Journalist
Location: Living in New York, USA for four years
Relationship status: Single
"A lot of people have misconceptions about single life in New York; thanks to Sex and the City people think it's fabulous and easy what with so many people to choose from. It is not! It's actually very hard to meet someone you can have a conversation with. That's why I use dating apps. In Manila, I went out with people I already knew, but in New York, it's only with people I met online. I find that people don't care that I'm Filipina; they just care that I looked cute and said I like science fiction in my profile. 
New York is a very liberal city, and that extends to dating. When I first started dating, I was definitely stuck in that more conservative Philippine mindset. If a guy wanted to kiss me on the first date, I used to freeze up and say something awkward. But now I'm more relaxed about it.  
I do miss it when guys in Manila offer to bring you home or something similarly sweet. I guess it's a function of people needing different trains to head home, but it wouldn't hurt to offer, particularly if it's already late. One time I couldn't find the restaurant I was meeting my date in and he didn't help me find it, just told me he's already there and waiting for me. Let's just say that was a one-time thing. 
New York dating is exciting but you really have to change your mindset. You're not going to randomly meet some hot dude in a trendy bar, most of the guys you date don't even live in the city, and more often they're not exactly interested in a relationship anyway."
Yasha
Age: 31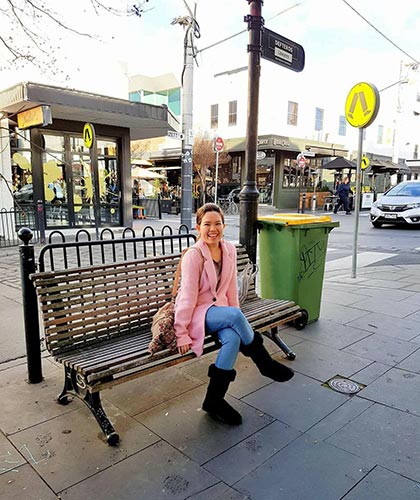 Occupation: Graduate student and bar waitress
Location: Living in Melbourne, Australia for five months
Relationship status: Single 
"What I love about dating, especially in a city with a very diverse population like Melbourne, is that you get to learn heaps about different cultures. Also, it's always fun to get to talk about yours, too, and be met with genuine interest. It also opens up a whole new perspective on the world and how you see things.
I did date Filipino guys, had a serious relationship, but it didn't work out. I'm not saying I don't want to date Filipino men, I could very well fall in love with one even while I'm here! But right before I left the country, my friends and I were having a discussion and we came to the conclusion that the dating scene in Manila, especially for those in our age bracket, is quite limited at this point. Most potential partners are either already married, have dated your good friend and would entail you breaking the ho code if you went for them, or such good friends of yours that they're basically your bros. Abroad, everyone is new, you get to meet a whole new social circle because of the guys you go out with—the possibilities are endless! Also, to be honest, ang daming pogi! 
On the flipside, based on my and my girlfriends' experiences here in Melbourne, guys aren't too keen on putting labels on relationships. They're big on casual dating and just going with the flow. At the moment, it works for me because I just got here and am still adjusting to a whole new life. On the long-term though, we'll have to wait and see."
Follow Cheekie on Twitter and Facebook.