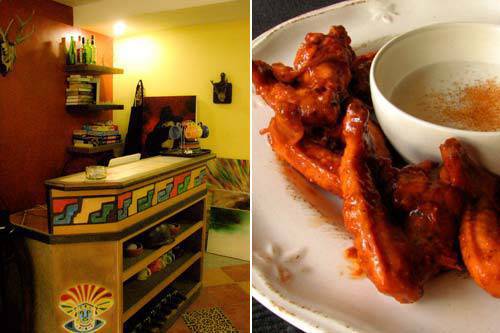 "The shortest road to men's hearts is down their throats"
may seem like an old and unfounded quote, but trust a man to consider it good advice, especially if it involves excellent conversation mixed in with the food. That's why
eating out together
is the most common of dates and for appropriate reason—it's our favorite thing to do. But be wary, the commonness also leads to it being taken for granted the most, and often the small things can ruin an otherwise exceptional thing. The shared endeavor of shoving delectable fare through our mouths should therefore be quite the experience and would only serve to strengthen your bond with your man. More important, though, is
the presence of pleasant company
, with none of the nitpicking and fussiness that may cripple the evening. A meal is only as good as the person you share it with.
Now most men would make do with a hearty dinner, one that fills the tummy and sometimes clogs an artery or two, as long as the chairs are filled with only the nice and enjoyable. So what's a fun and take-charge woman to do to make sure navigating the tricky route to a man's heart is taken care of--so she can focus on the sweet stuff? Read on for a couple of restaurant suggestions.
A Kitchen Tended With Love
They say Latin American food not just fills the stomach but also satisfies the heart, so it's always good to go with the spice and vivaciousness of the cuisine. In the heart of Maginhawa St. in Teachers Village, Quezon City, is a charming and homey restaurant with the revelation that it is Latin-esque in style, but still Filipino in its allure.
Cocina Juan
, which started off as Mexican in theme but later on widened its selection, offers a menu that accommodates food from different regions of Central America, including Guatemalan and Panamanian, with a bit of Argentinean and Spanish, perfect for satiating those gastronomic urges and at the same time keeping the experience interesting with a festive ambiance and bright atmosphere.
Owners Tom, Boogie, and Karlo brought together their talent for culinary arts, know-how in interior design, and appreciation for the Latino culture into creating a restaurant that is unique, colorful, and fun, without the pretense of being too high-brow. The menu genuinely addresses our own culture's preference for feasts, but without the excess, which makes it all the more appealing to the typically proud but modern Filipino male.
"Inspiration De Centro America, Plato Para La Filipino"
As their tagline goes, the food they serve is revelatory to the uninitiated yet still comfortably familiar, with staples such as the classic burrito,
platos con arroz
(rice meals), and different takes on the tortilla pizza, like the
Bolognese and Pepperoni Pita Pizza
(P165) for one. Start with an order of
Mexican Fries
(P185) or
Nacho Supremo
(P205) to get that Latino vibe going and the fingers moving. The Central-American inspired
Alitas Chicken Wings
(P195) is a bit more filling but is also a good choice for openers, as it is no secret that usage of the hands while eating (and the superfluous licking of one's digits) lends a bit of sexiness to the entire affair.
Amp up the experience by ordering one of the Chimichurri Specials in either pork or chicken, unique in that the Chimichurri sauce originated in Argentina but is now common in almost all of Latin America. It is mostly made from finely chopped parsley, good for keeping the breath fresh in anticipation of what comes after the date. Try the
Cerdo Castillo Chimichurri
(P225) or the
Chicken Chimichurri Cheese
(P185) together with a short order of
Gallo Pinto bean rice
(P30), Guatemalan in origin but obviously very Filipino in appeal.
For the weight-watcher in you, a bunch of other delicious items are available such as the
Sofrito Specials
(P250), fish tenderized in aluminum foil partnered with the Spanish sofrito sauce made from tomatoes, bell peppers, and other herbs. The
Limon Shrimp Tortilla Ensalada
(P165) or the
Sizzling Camaron Fajitas
(P195) should be good choices for sharing (with the cheesy but effective placing of food in each other's mouth) and keeping the calories down.
Photo of Alitas Chicken Wings courtesy of Cocina Juan
[nextpage]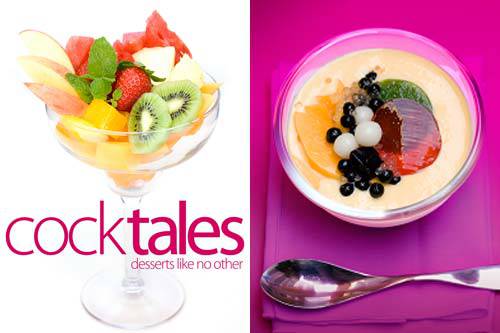 Never Rush, Especially On A Full Stomach
Typically, a meal ends with some sort of dessert, and being the adventurous type, we would suggest having a change of venue to not just allow the man's gastric processes a bit of time to finish, but also to further enliven the experience. A good walk after a meal should get the heart racing too, but in lieu of that, there are plenty of dessert places in the area that aren't designer cafes or ice cream parlor-ish. One of these is
Cocktales
.
Located at Il Terrazzo along Tomas Morato, QC, is the latest in The Lush Group of Companies' fruit-themed establishments. Inspired by the dessert cafe motif common in New York, Cocktales offers a distinctive and healthy menu, from fresh fruit fusions to shakes, juices, and even hot drinks. Try the
Caribbean Dream
(P180), a playful stab at mixing banana and papaya or the
Mango Bananarama
(P180), fruit with sweet rice balls evocative of the Filipino
ginataan
dessert.
Forever Hearty
To firmly entrench yourself in your guy's cardiac recesses may be as simple as chowing down on some good stuff, but to a man, it really boils down to being secure with his woman. So try new things, chill out when appropriate, and have fun. All good advice for keeping a happy heart.
Photos courtesy of Cocktales
Continue reading below ↓
Recommended Videos