It's your first anniversary! He's turning a year older tomorrow (or you are!). You made your first sale at your new job. The two of you just bought a condo together. Whatever the reason is, you're in the mood to celebrate. And your staple date resto is suddenly a bit too bland for the occasion—and your giddy mood.
Splurge, Sosyal Style
If you're willing to spend big in honor of that special occasion, we suggest you and your honey head to
The Establishment
at The Fort, that sprawling lounge/bar/restaurant that caters to the dining fancies of the metro's
sosyal
set.
In The Establishment, you'll find a French bistro called
The Crystal Room
, a tapas bar called
Tulipan
, and
The Hall
, a multi-purpose bar and restaurant that serves modern Asian gustatory delights you won't find anywhere else in the metro.
With designer Anton Mendoza's imposing all-white facade and highly stylized interiors, you might feel intimidated to step in for fear you might soil the seats in this fancy restaurant complex. We say ditch that hesitation and treat yourselves like a king and a queen for once!
Cosmo Tip: Be sure to dress for the occasion. He'd love to see you dolled up more than usual, so take out that stunning LBD you've been saving and those new heels you've snagged and dress to…make his jaw drop.
Challenge Your Tastebuds
A lot of the dishes you'll see on The Hall's menu you won't find anywhere else (truffled popcorn, anyone?). But that's part of the restaurant's charm—their dishes are curiously original yet always spot-on, thanks to internationally trained chef Godfrey Laforteza and consultant Margarita Fores of Cibo fame. New York-based mixologist Joseph Boroski makes dining at this spot even more delightful with his slew of innovative cocktails and mocktails. And you know there's no better way to bond than over great food and drinks.
Start your celebration with something a little more close to home. Order the
Truffled Nori Popcorn
(P375), the snack favorite made unconventional with the introduction of seaweed flakes and truffle essence. Share a bowl of gourmet popcorn with your honey; you may be dining with the
creme de la creme
of metro society, but the comfort food will make you feel at ease. And, it's super yummy!
[nextpage]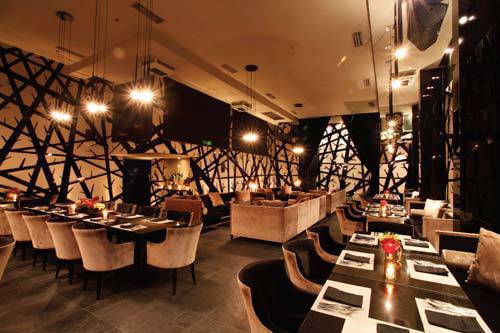 If you and your guy love Japanese raw food, prime your appetites with the
Tuna Tataki with Spicy Aioli
(P195), a plate of seared sashimi grade tuna, mixed greens, tobiko, crispy scallion, and Korean chili paste. Share a plate and delight in the tenderness and smoothness of the tuna strips in your mouth.
For your entree, we suggest you go all out by ordering
Green Tea Crusted Australian Lamb Chops
(P975) topped with slow roasted cherry tomatoes and soy mirin glaze. The green tea breading lends a unique flavor to this indulgent dish.
If you're careful about your calorie intake (and your guy's thinking twice about the check he'll be picking up later), you can choose to go with The Hall's fine seafood dishes. Order the
Broiled Gindara Miso
(P595), a wonderful mix of marinated gindara, Japanese white miso, and pickles. Another choice entree is
Tiger Prawn Katsu with Truffle Lemon Aioli
(P445), which is breaded prawn with red cabbage salad.
Dinner And Drinks
To really enjoy this feast with your honey, sip on
Chocnut Martinis
(P250) as you savor your meal. You'll surely be licking your lips with this sugary concoction (you may want to share a glass first, as it might be too sweet for his palate).
Want to keep the celebratory mood high until the wee hours? Step out of The Hall and into Spanish bar Tulipan for your tapas and cocktails fix. It's open till 2:30AM, so you and your honey can keep toasting your love, success, and blessings till you get seriously tipsy!
Perfect For Date Number: 50 and above
, if you've been together long enough to celebrate an anniversary, your new apartment, or his promotion as a duo! We also recommend this place for dates
1 through 5
, when you and your new honey are still
atat
to impress each other.
The Establishment is located at Unit A The Fort Entertainment Complex, 26th Street corner 5th Avenue, Fort Bonifacio Global City. Contact them at (02) 8446364 or 09164946390.
174
Continue reading below ↓
Recommended Videos