Some people can be incredibly cruel, and this latest story is a clear example of it. A man identified only as "Connor" matched with a girl on Tinder purely with the intention of fat-shaming her, telling her to "be humble and stay in your league." What a complete dick.
The incident became public knowledge when the unnamed girl in question's best friend, Ashley, uploaded the screenshots to Facebook and posted in outrage about the despicable behaviour of "this pure hearted gentleman, Connor."
Writing on Facebook, Ashley said:
"Like many other people I know, she uses the app Tinder in order to connect with and possibly get to know new people from all around the world. Today she connected with this pure hearted gentleman, Connor. He purposely connected with her just so he could tell her how overweight he thought she was, how she should not reach 'out of her league' to look for guys and how unattractive he thinks she is."
As we can see from the screenshots Ashley uploaded along with her post, the friend had unsuspectingly matched with Connor only to receive a barrage of cruel messages.
Continue reading below ↓
Recommended Videos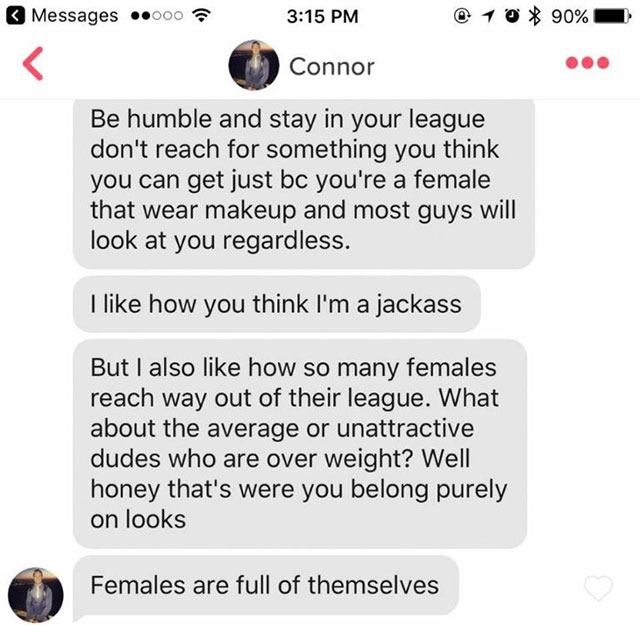 "Be humble and stay in your league," the pig-headed guy writes, adding that she shouldn't "reach for something you think you can get just bc you're a female that wear makeup and most guys will look at your regardless" [sic].
According to screenshots supplied to Elite Daily, the unnecessary victim of this awful abuse even took the time to respond to her verbal attacker; not that she needed to waste her time.
The girl, defending herself, wrote: "I am not full of myself in the slightest. You act as if people have never told me I was fat or overweight before."
It's actually heartbreaking that she even felt she had to defend herself against someone with such a horrible way of thinking about a person who's almost certainly never done anything against him. Why should anyone be subjected to such harsh commentary on their appearance by somebody they've never even met? It makes your blood boil.
Asserting herself, the girl added: "I know what I bring to the table whether it is looks wise or personality and I don't need validation from anyone in that regard." YES.
Following her response, Connor becomes evidently more heated, calling her "one fat mother fucker." This guy does not deserve access to Tinder.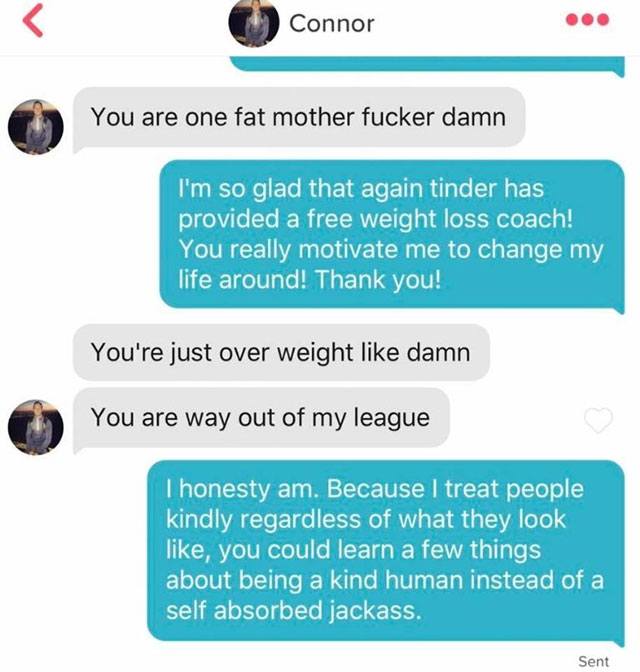 And Tinder themselves are less than impressed with his behavior, too, with Rosette Pambakian, the company's VP of Comms and Branding, telling us:
"At Tinder, we are always monitoring and blocking users who are demonstrating bad behaviour on our platform, and this case is no different. As we stated in our blog post earlier this month in response to those that behave like Connor, we have a zero tolerance policy on those that harass and disrespect fellow Tinder users.
Now more than ever, we want to make sure that all of our users know that this type of behavior is not welcome–or allowed–on our app. We continually encourage our users to immediately report any harassment or bad behavior while they are on Tinder in order for us to quickly ban users who violate our terms of use."
But the joke's on Connor, now, because Elite Daily has published one of his profile photos with his full face in view, so those Tinder matches might be few and far between from now on.
Follow Cat on Twitter.
***
This article originally appeared on Cosmopolitan.com/uk. Minor edits have been made by the Cosmo.ph editors.