I've always believed in true love and the idea of "The One." Sappy love songs, watching the sunset together, holding hands while walking, pa-sway sway pa—that's the kind of love I believe in, and that's the kind of love I was lucky enough to find.
The year was 1992. JP and I were 10 years old. I was the teacher's pet and the class secretary, while he was the class clown. I was the prissy, prim-and-proper girl, and I never gave boys much thought until I met him. I remember how my heart would race every time I'd see him, but I never gave my feelings away. All that was supposed to matter to me then were grades, friends, and patintero.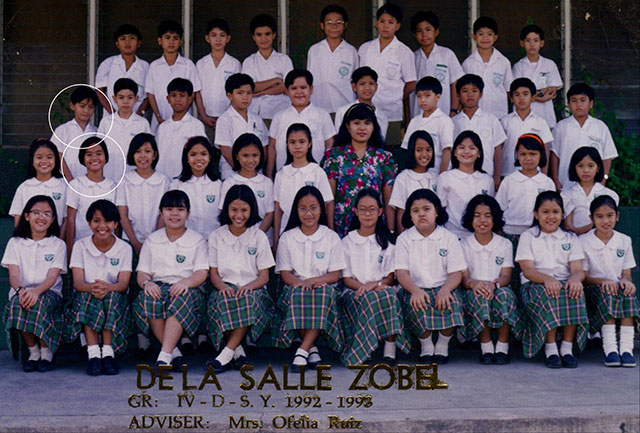 Continue reading below ↓
Recommended Videos
One day, JP announced to his friends that he had a crush on me, and the news spread like wildfire. He would make papansin and pa-cute, and I would pretend to be mortified although I secretly had butterflies in my stomach. The whole class would yell "YIHEE!!!" whenever he approached me or made any kind of gesture to catch my attention. Even the older students were in on the teasing; they would pin our arms behind our backs and push us towards each other. Even our teachers and our guidance counselor knew. But even though inside I was kilig, being Miss Goody Two-Shoes, dedma lang ako.
JP did all sorts of things to win me over. He bravely watched The Little Mermaid at our school's Foundation Week celebration—the only boy in a sea of girls—just so he could be with me. He rigged our Secret Santa so he could give me two sets of gifts. And on Valentine's Day, he boldly marched towards me in front of the whole class and gave me a card that he had made for a class activity. His card read "I LOVE YOU VERY, VERY, VERY, VERY, VERY, VERY, VERY MUCH," while most students' cards were written for their parents.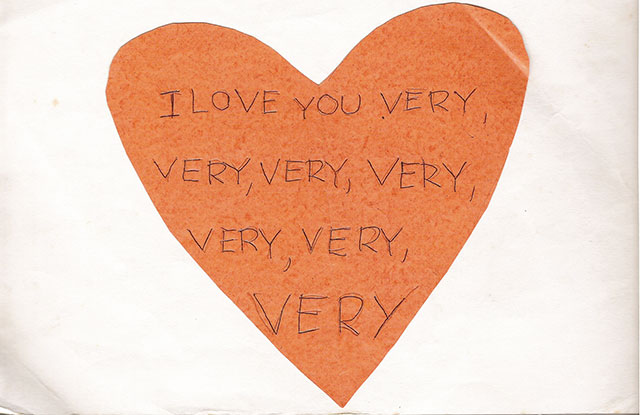 That card was my undoing. I gave in and gave him a card, too, and "confessed" my love for him. From then on, the following days were a blur of kilig moments.
But all good things must come to an end. One day, during summer break, one of JP's best friends told me the worst news that my young self had ever heard: JP was moving to the US, and he wasn't coming back. He never even had the chance to say goodbye to me himself.
My 10-year-old heart was broken. I remember locking myself in my room then and staring off into space, fighting back tears.
The following school year, one of JP's sister's friends managed to give me his new address. She wrote it on the palm of my right hand. I was careful not to wash my pasmado hand until I had a chance to copy it on a piece of paper. I wrote him a letter; whatever happened to it though, I'll never know.
Years went by and coincidentally, both JP and I had babies and started families early. I still thought of him every once in a while; I even searched for him on Friendster and MySpace, to no avail. One of my exes asked who he was when his name showed up in my search history, but I don't remember what excuse I made. And I kept all the things I collected during the time we were "boyfriend and girlfriend." I had an envelope that contained his cards and love letters, notebooks and projects, even test papers from the year we fell in love.
Fast forward to 2009, I was going through a major change in my life. It was a difficult time and I had to make a big decision. And that's when it happened: JP's 10 year-old face suddenly popped up in my head, out of nowhere. I vividly recall this, I kid you not—I remember the exact time and place that it happened. I don't know if it was a sign or if it was a figment of my overactive imagination, but I held onto him. Or to the thought of The One, at least.
Then one glorious day in February 2010, I found JP's sister on Facebook through a comment she had left on a mutual friend's photo. Naturally, I checked out her profile, and lo and behold! There, I saw photos of a man tagged with JP's full name.
I could not believe it. I had found him. Eighteen years and three social media sites later, I had found him.
I sent JP a private message, not knowing what to expect. Funny thing is, he wasn't really an active Facebook user to begin with. In fact, I found out later that he had logged onto his account that same day only because a friend of his had been bugging him to check some girl out. Lucky break? Perhaps. Destiny? Maybe.
That night, I saw JP's reply in my inbox. Two days later, we were Skyping. Two weeks later, he was on a plane to see me. It was a complete leap of faith. And when I finally laid eyes on him after 18 years, I saw that my cute puppy love had grown into a handsome, charming man. It was love at first sight—for the second time.
We did the whole LDR thing. Our Skype record was 14 hours—I literally ate breakfast, lunch, and dinner with him. The beauty of our long-distance love? We talked. And we talked a lot. Instead of being distracted by passion or sex, we talked and really got to know each other. And yes, we were the cheesiest of couples. You would've barfed if you had seen how we were. But I didn't care. I had lost him once; I would not lose him again.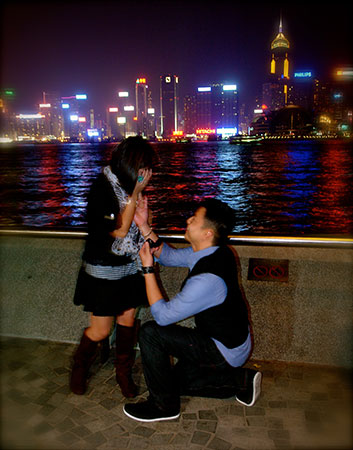 Eight months later, JP proposed to me at a spot overlooking Victoria Harbour in Hong Kong. He had even asked a local photographer to take photos and videos of the occasion. Never in my wildest dreams did I ever think that all my childhood dreams of true love would come true.
The following year, we said our vows in front of our closest family and friends under a beautiful oak tree in Napa, California. I wore a lace dress and clutched a handful of stargazers; he was in a barong, his eyes alight with love and life.
Now, we are a totally modern family, complete with stepchildren and our own feisty toddler who keeps us on our toes. We've had bumps and challenges along the way, but who hasn't?
One of JP's wedding vows to me was, "I will make you ligaw every day." And he does, in his own little ways. I'm no love expert, but I can tell you this: Never settle. When you're in a bad situation, leave. If you have that nagging feeling that something is amiss, bolt. We're women and we should always trust our instincts. And above all, believe. Believe in fate or luck or whatever it is that you trust in. Chances are, your heart—and your head—will lead you to the right path.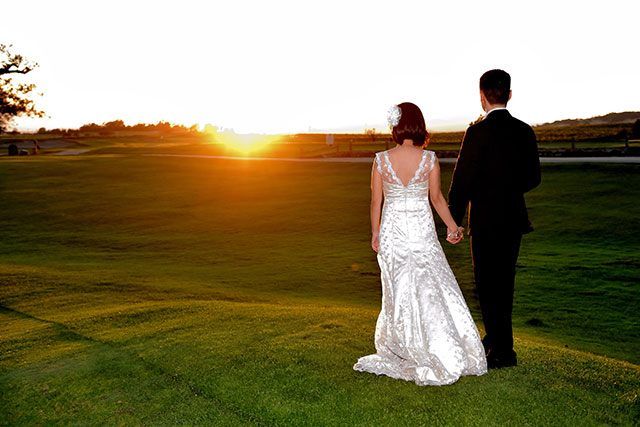 One of our friends once remarked, "Kung magkatuluyan kayo, matatawa talaga ako!" Well, here we are. Twenty-four years since we first met, he still "makes me ligaw." Every day.