It's hard enough to navigate the usual hurdles of hetero dating. Imagine what it's like for our LGBTQIA+ friends, who have to grapple with identity confusion, widespread discrimination, alienation from friends and family, and a host of other issues besides your usual "does he or doesn't he like me" gripes.
In June 2018 and 2019, we gathered cute, heartwarming, and inspiring love stories from LGBTQIA+ couples. This year, we take up this Pride Month tradition once again. Below, read 10 more beautiful stories from couples who represent the different colors of the Pride rainbow—all of them proving that love is love is love.
Wins & Lander
Wins: Lander and I met in college. I first saw him at our University Music Fest; we were both in the audience and he was seated in front of me. Catching a glimpse of his smile put everything in slow motion, just like in the movies. This is when I first fell in love with him.
It took me a while to muster up the courage to send him a message on Facebook and take him out on a date. It was a big step for me since I was still in the closet. We began to build our relationship, and it was incredible, but I started to feel guilty because I was hiding it. He had already introduced me to his friends as his boyfriend, but when we would run into my friends, I would introduce him as my cousin. And I knew he didn't deserve that. Being with him was the most free I had ever felt. He inspired me to not just be true to myself, but to the people around me.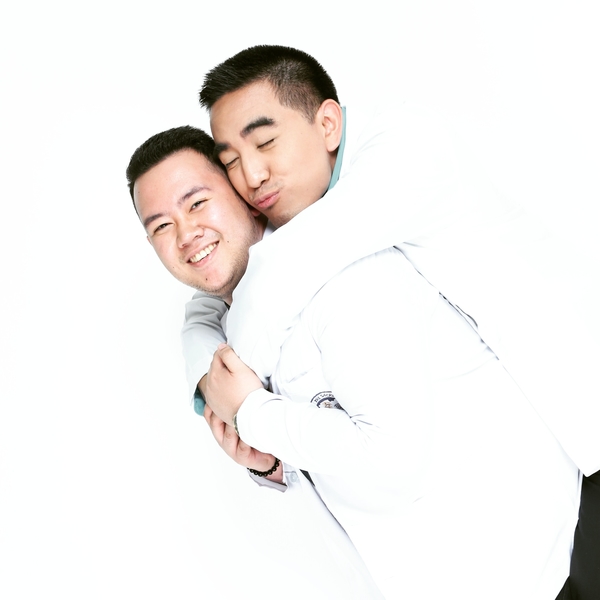 Continue reading below ↓
Recommended Videos
One by one, I started telling my friends and family. Coming out to the most important person in my life, my mom, was the most nerve-racking. But she didn't look at me differently, and I could feel that she loved me the same way. It didn't matter to me anymore what other people thought.
Since then, we've been inseparable. We went through med school together and now we're licensed physicians. He's currently a resident in internal medicine and I'm a medical content creator. We've faced plenty of problems, but with each challenge, we always choose to learn and grow together. He and I are very competitive individuals when it comes to work, and it's just not like us to quit, especially on each other.
Samantha & Leah
Samantha: My good friend and I were out in Cubao X one night. Our usual spot, Mogwai, was full at the time and we decided to cross the street to where Future used to be. I saw Leah for the first time there and, this is incredibly cheesy, but there was just this radiance about her. She was this big, nonchalant energy in the room. I felt that I had to get to know her, and see more of her.
Things progressed, dates ensued, and some friends protested, more helped. We discovered plenty of shared interests and at the same time, we were also quite opposite. All of it made our relationship intense but comforting.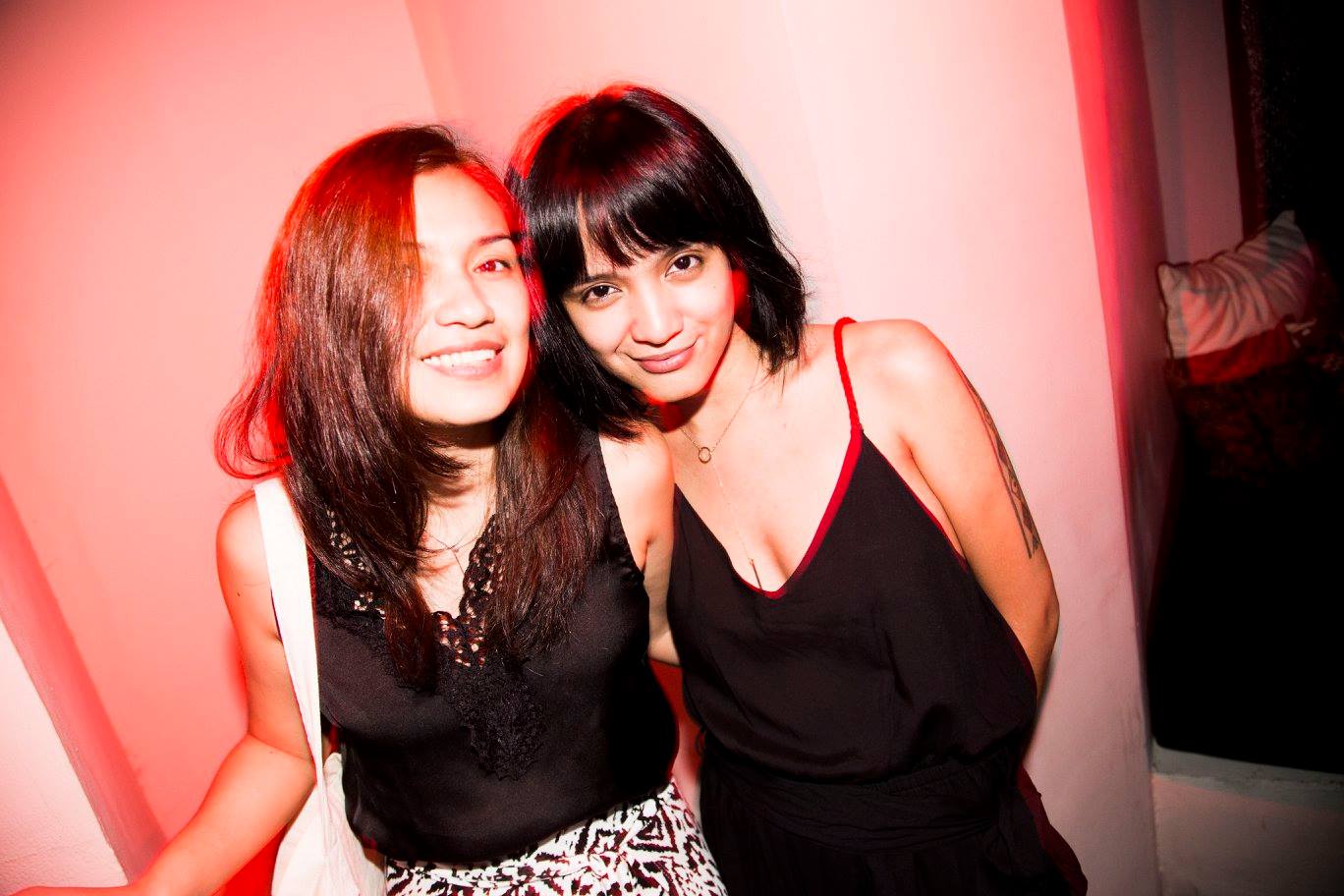 It wasn't the easiest ride. It was extremely complicated because we were seeing other people during that time and the age gap (10 years) was, at first, a defining factor. Plus, there's always this archaic idea surrounding friends and family, in which a woman ending up with another woman isn't supposed to be "serious" or "long-term." However, we wanted what we wanted, so we powered through.
We were (and still are) connected so deeply and we showed our loved ones that "Hey, this is real and for life." That was about 12 years ago. I'd do it all over again. I'm sure Leah would, too.
Gab & Gab
Gab: We met on a dating app. After swiping left so many times, there was this super-hot moreno guy who caught my attention. I read through his profile, looked for more photos, and decided to swipe right. Later on, we matched!

As we talked, interestingly, I learned that he was at the same club the night I was a guest DJ soon after we matched—but we never got the chance to meet considering how small the club was.

We decided to meet for donuts a week after exchanging messages to get to know more about each other. It felt weird, but we hit it off immediately. After a few dates, we had to check where we were in terms of our dating stage. That's when we decided to date exclusively.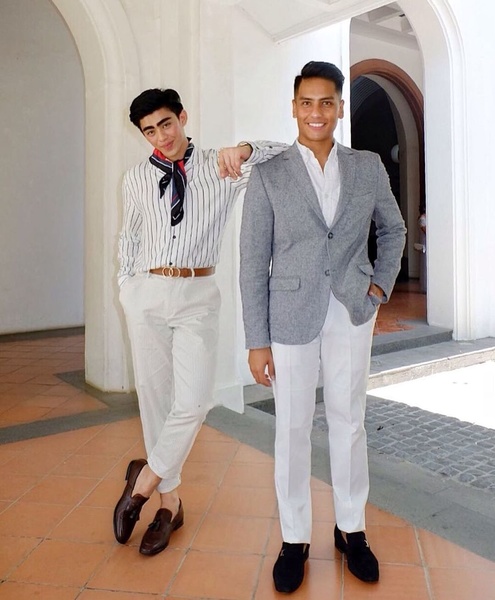 I must say that we've faced a lot of challenges. Mostly petty, but one I struggled with the most was when he got a job as a flight attendant for Philippine Airlines. The thought of him being out of the country most of the time scared the hell out of me. I had a lot of fears about his job. But one thing that I really admired about him is that he reassured me. He made sure everything was going to be alright. And he's right—we managed to get through it.
We've been together for three years now, and the kilig has not changed.
FUN FACT: Since we have the same name, our friends call us "Gab White" (because I'm fair) and "Gab Brown" (because he's moreno)!
Cai & Zar
Cai: We initially met at a bar in Poblacion when we were still with our former partners. It was a friendly thing and we didn't really think much of it. It was about a year later when we were single that we met again on a dating app. We matched, started talking, and I pretended to have never seen her movie, Billie and Emma. She pretended that she didn't remember meeting me in Poblacion.
We both found out later that we were trying to look cool initially. The truth was that I had been crushing on her since I saw her movie, and she remembered exactly what I was wearing when we met in Poblacion.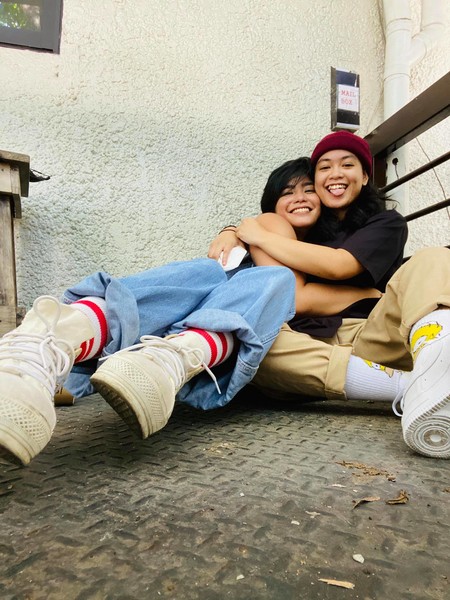 We both agreed that we were tired of the miscommunication and lack of clarity we experienced in our past relationships. From the get-go, we were clear about how we were looking for honesty and authenticity. We then made this system for our relationship: every Sunday we would sit down and talk about whether or not we were still on the same page. We call them check-ins. We'd talk about any issues that came about in the week, things we're proud of, what we're thankful for, what we could do better. What started out as a way to gauge whether we were on the same page has become a central part of our process of communication. In the months we've been together, we've never missed a week. 
Although we're a fairly new couple, we take pride in how we are constantly doing the work to strengthen a love that grows day after day. 
Roki & Tantan
Tantan: Roki and I met again through a dating app in early summer of 2013. I say "again" because we had met a year before. He says he does not remember, but I do. Needless to say, the first meeting did not go well. I don't remember it was that bad. I think I just did not converse interestingly enough to merit a follow-up meeting.
When we met again, I had been casually going out with other guys, but I bade goodbye to them one by one because I had grown fond of Roki. We spent around five months getting to know each other through breakfast dates, weekend movie dates, and out-of-town trips. We grew fond of each other so naturally. He made it easy for me to just be myself. I just knew he was the one.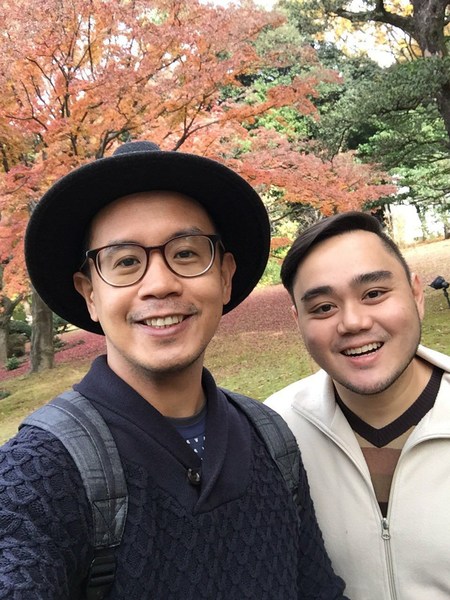 Viber was our platform of choice for early morning and late-night conversations. Through the stickers and doodles we sent each other, we were able to read clearly between the lines. That was where #bubujupjup was born, coming from Roki's gibberish when he was trying to say "I love you" without really saying it. That became our couple hashtag, which caught on with friends and families. They've been collectively referring to us as bubujupjup ever since.
The joy and love in my heart was so overflowing that, on one otherwise ordinary morning in September 2013, while we were about to drive off from a restaurant, I nervously told him, "Stop the car!" I then asked him if we could be official. He will always tell that story more dramatically animated than I do.
I'm just so happy he said yes!
Pau & Geormaine
Pau: I'm here in Manila while Geormaine is in the US. We've been in a long-distance relationship since we started dating, but we've known each other for 14 years because we were schoolmates. We've been dating for over a year, but we've only been together physically for 26 days.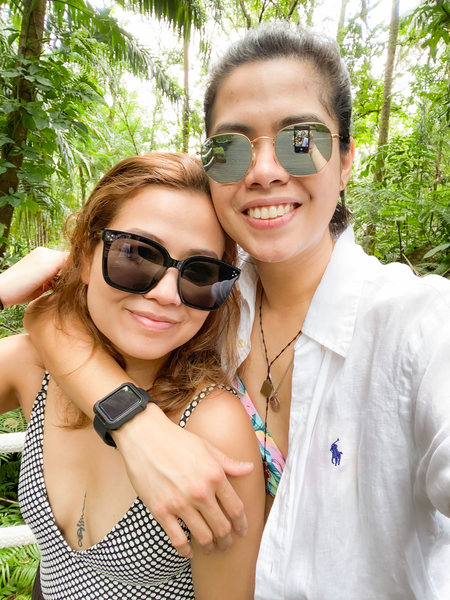 Geormaine and I started talking two months after the lockdown. Aside from the world being in crisis, we were also going through life changes. We both just got out of long-term relationships and happened to notice it through Instagram. Eventually, we messaged each other to catch up. A few weeks after, despite the quarantine restrictions, she started sending me random gifts, like a USB with movies from my favorite director, flowers from a shop that was not allowed to open yet. She went on and on with these random surprises. Until today, she manages to do this consistently—from a simple cup of coffee to party or dinner set-up in my condo.
We've been through a lot of hurdles, from cancelled flights to changes in work schedule. She works for the US Navy so we've experienced being offline for three months, communicating only via snail mail. Every time she will be deployed, we could be in that situation again.
We always reminisce about our days together—the late-night talks, midnight fast food cravings, and road trips. Our good days and tough ones helped us establish the course of our relationship. Frustrating as it might seem to be apart, as long as we have an end goal and timeline in place, we are learning to be more patient and respect the reason why we're not yet together.
Merckz & Josh
Merckz: Before we met, Josh and I were both closeted. All of our exes were girls, and neither of us had ever considered being in a relationship with another guy.
Fast-forward to when we were in the same dance team and got cast to compete in Arizona. We became best friends. During the course of our friendship, whenever we had moments of bromance, I would often tease him, jokingly asking, "So tayo na?"
A week before we flew to the US, we were getting ready to sleep when suddenly, he uttered, "Payag na ako. Sige, tayo na."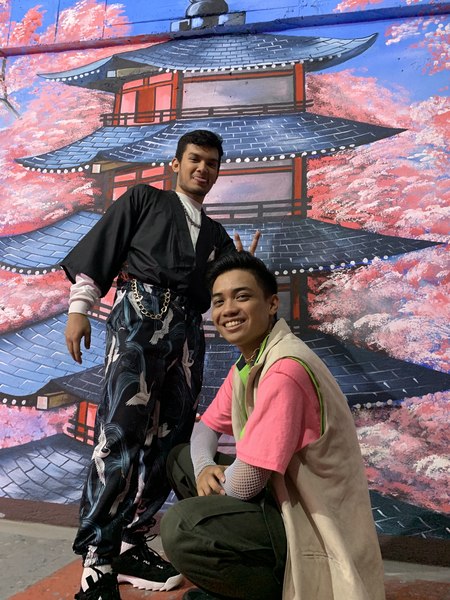 Throughout our relationship, we shared things that we used to do in hiding: from childhood experiences to having internal homophobia. Turns out we were really gay the entire time. We knew it, but kind of needed each other to come out. Now, we're both part of the voguing community in the PH, which is a safe space for LGBTQIA+ dancers. We're also learning the foundations of dancing in heels.
Although we didn't get the chance to come out early, it still is a good thing that we now have each other to help discover ourselves more and learn new things with.
Ehly & Chira
Chira: We met in our college theatre during a rehearsal. I was instructed by an org manager to look for someone named "EJ" (her nickname in college). Until now I'd say it was love at first sight. Little did I know that the girl I was looking for at that time was the one I'd spend the rest of my life with. 
We became best friends throughout our college years. I had to brush off my feelings for her back then because of a lot of factors, but the feelings never went away. So when I finally got the chance when we met again for work years later, I did everything I could to show her and make her feel all the love I had been keeping all those years. 
It was a very rocky first couple of years in our relationship. Family and friends didn't really support the relationship in the beginning, seeing it as, of course, "not the norm." It really became you-and-me-against-the-world years for us.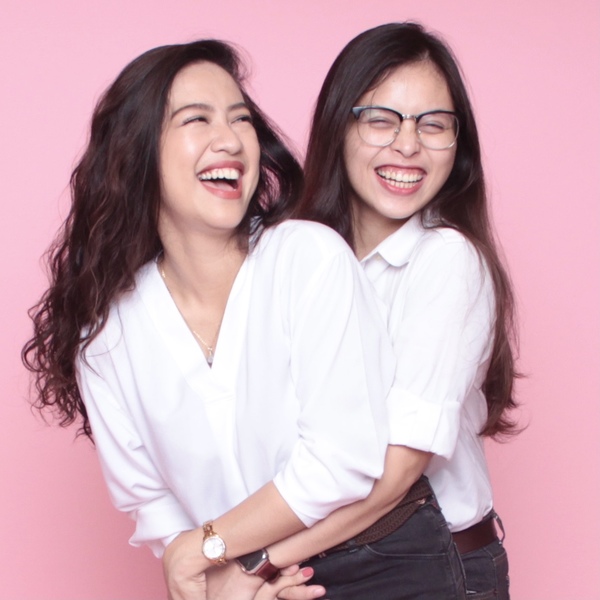 Things turned around eventually when family and friends started seeing that we were in this for the long run, that the relationship had flourished into something beautiful.
We got engaged in March 2021. It was one of the most magical moments for us so far. We are in love, excited about our future together, and we couldn't ask for anything more.
Ehly says she feels like we are always just in the early days of our relationship. We get kilig over the smallest things and laugh together over the silliest things. We intend to keep it this way for as long as we can, forever if possible.
Ice & Brian
Ice: We were initially set up on a blind date by a mutual friend and she gave our contacts to each of us. Though he messaged me after he got my number, I failed to respond.
After months of not responding, I got an SMS from him saying that he would remove contacts that were not active. And that's the only time I replied—out of curiosity, and a sense of wounded pride that someone was trying to remove my number or doesn't "like" me. After a month of exchanging messages, we decided to meet up in December 2009 in Alabang. As cliché as it sounds, the rest is history.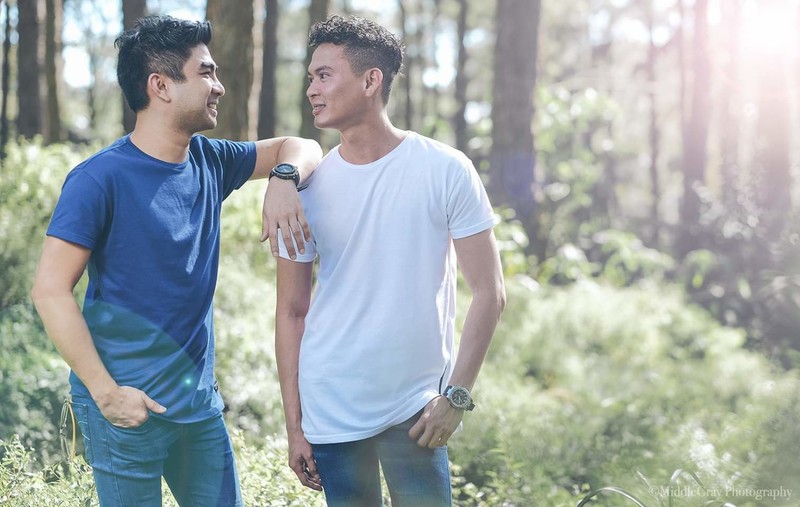 Back story: I'm the "rowdy" one who grew up in Malate (literally and figuratively) so I really explored everything GAY and FUN during my early days! And him, he's the "romantic" and "perfect partner" type of guy. We're exact opposites, but we're both ambitious, dominant, and have clear goals in life. We both had a very rough time growing up so we only had ourselves to really depend on. Today, we are each other's mentor, critic, competitor, wingman, basher, and supporter.
But, just like the other stories here, our love story was never perfect! Either we're lucky to have very understanding families who support us regardless, or we just really don't give a damn what other people think about us. As long as we are doing right, we do us. We know what we have now is LOVE definitely, but we ended up merging it with a lot of things to keep our relationship stronger and more intimate: trust, respect, family, learning, motivation, and all the rowdiness in between.
Alla & Michee
Alla: I met Michee at a bar that my friends and I were patrons of. She was a friend of a friend's. Nothing really spectacular happened when we first met, except that I was annoyed that I was somehow designated to be the relatively sober one so we could all get home safe.
Michee started hanging out with my group of friends, and then we started hanging out, just us two. After a few weeks, Michee confessed that she had feelings for me. I outright told her I did not feel the same way, but that we could still hang out as friends. Yeah, right. Friends. Here we are, together 11 years later, with two puppies and two cats to boot!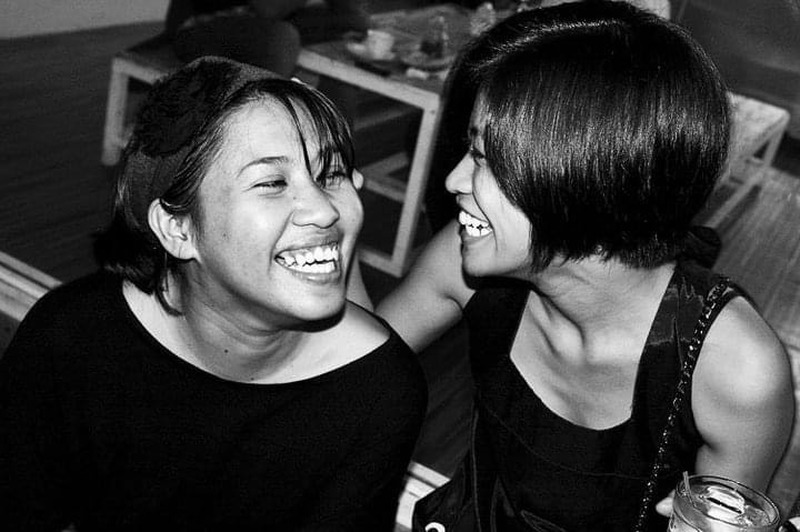 The first few years of our relationship were really hard. We were always fighting. We had a huge communication problem. We eventually had a sit-down and laid down some ground rules:
We can be angry at each other for up to only one hour.
We have to apologize after the hour is up. It's not about who is right or wrong.
Both our feelings are valid. Whether it was not your intention to hurt or whether your words or tone were misunderstood, you can't dismiss that you did make your partner feel bad.
We need to always communicate how we feel, be honest with what we are upset about.
Eleven years ago, Michee and I were two total strangers with very little in common. And then one day, our hearts collided. And with a lot of hard work and perhaps just a sprinkle of magic, we became stronger and better together. Love wins always, if you let it.
Follow Cheekie on Twitter and Facebook.
Cosmopolitan Philippines is now on Quento! Click here to download the app and enjoy more articles and videos from Cosmo and your favorite websites!