Long-distance sex has some obvious disadvantages compared to the in-person kind, but it's got its own great thing going on too. For one, you're guaranteed exactly the kind of stimulation you want, you can indulge your voyeurism and/or exhibitionist tendencies, and best of all, no one has to deal with sleeping on the wet spot. So if you've found someone you can absolutely trust and you need them bad, here's what to do.
The Literal FaceTime
A surprisingly sexy twist on a FaceTime sesh is to show your faces only. As you touch yourselves with toys or hands, tell each other what you're doing and let your imaginations handle the rest. Watching someone's face—and being watched—reacting up to and through an orgasm can be surprisingly intimate. It's also super comfortable—just lie back in bed and you're good to go!
Continue reading below ↓
Recommended Videos
The Remote Rumbles
Give your partner the next best thing to you by investing in some teledildonics. You can outfit yourselves with a sleeve and vibrator toys—or each use your favorite vibrator–and control your partner's stimulation remotely via apps. Just sit in your beds with phones in your hand so you can operate the controls and behold your powers at work. Take turns wrecking each other or go full power on each other at once. P.S.: Figure out all the tech junk beforehand so you waste no time fumbling around.
The Private(s) Caller
If you're not into transmitting your O-face or just don't want to have your face and your junk in the same frame (completely legit!), have your genitals connect remotely. Get on your knees, prop your phone or laptop so it just shows your torso and masturbate to the sight of each other. You'll still be able to hear each other's moans and you can stare at your partner's hand stroking themselves as much as you want.
The Cam Star
Play cam girl for the night and give your partner an all-access private show (or vice versa.) Wear something super sexy and slowly undress, teasing them. Be a little porny if you're feeling it or let them take control and tell you what they'd like to see next. It's more suspenseful and exhilarating than any Netflix cliffhangers, that's for sure.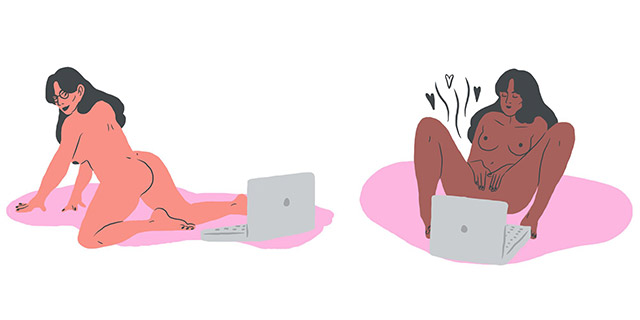 The Online Date
Don't just have an orgasm, then sign off—have an actual date. Plan it ahead of time, dress in whatever is sexy is to you, talk a little over a drink or food. Strip for each other, taking your time and building anticipation. You can prop a phone or laptop by your knees or get on all fours so they can imagine plunging into you while you play with yourself with a toy. This is a next-level date night for all parties involved, trust.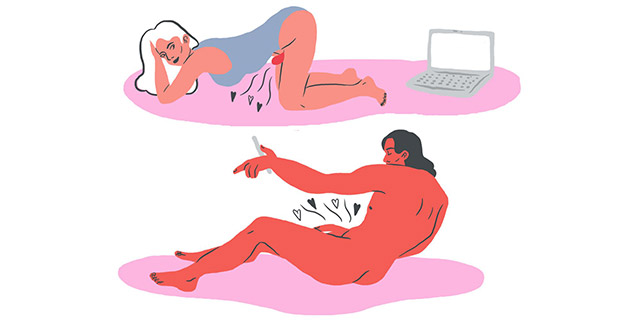 ***
This article originally appeared on Cosmopolitan.com. Minor edits have been made by the Cosmo.ph editors.